SmartTask
How to Manage Leads From IndiaMART Through SmartTask Integration?
By Deepesh KotwaniSep 6, 2019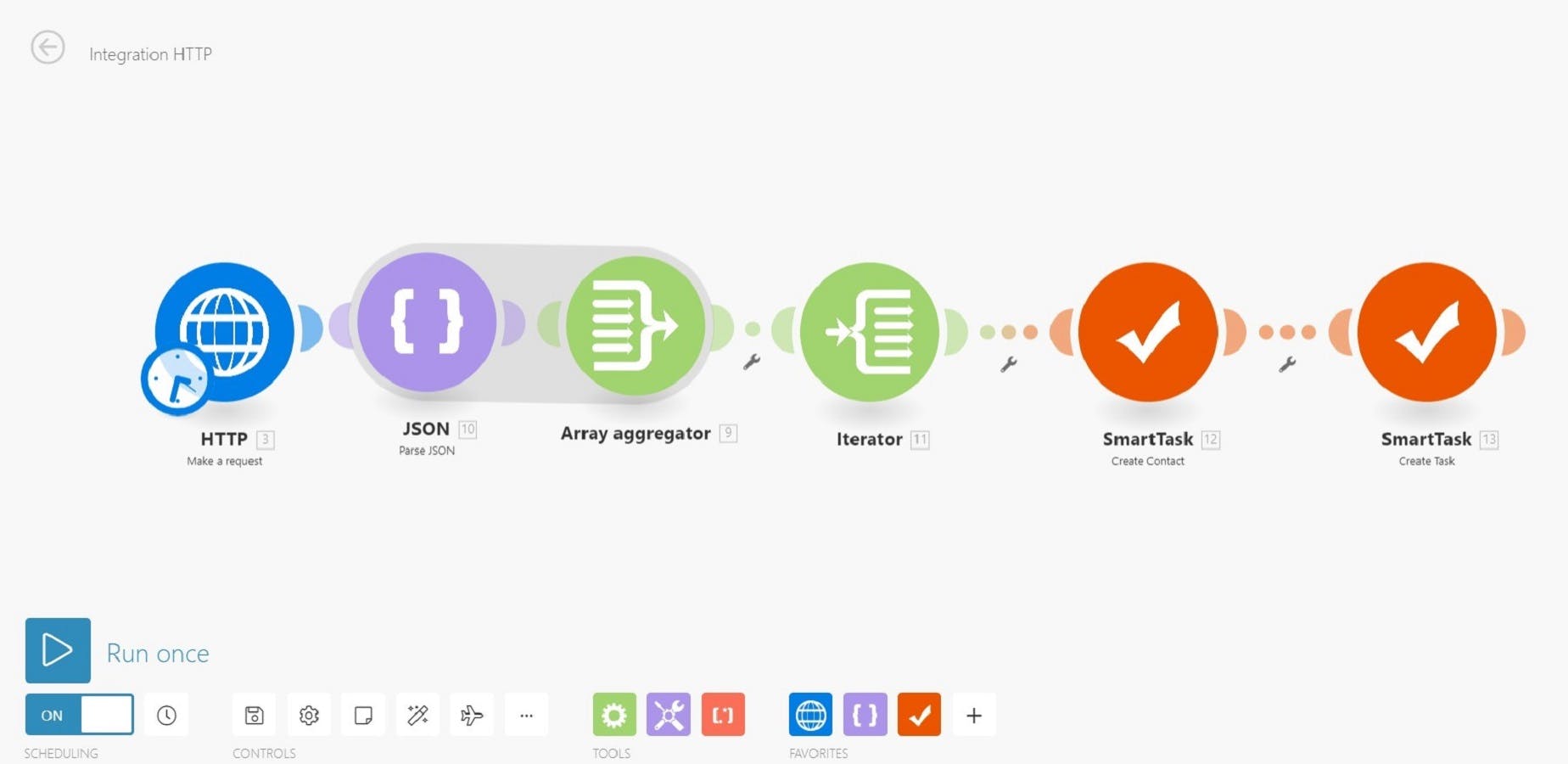 IndiaMART is India's largest online B2B platform, connecting buyers with suppliers. Suppliers get a lot of leads from Indiamart. However, handling those leads is crucial to being successful in a competitive environment.
This is something that a lot of suppliers have realized, handling incoming leads in an efficient way is what is going to bring them more business. This is where they are looking for a tool that would help them manage an inquiry across their deal pipeline. This is mostly addressed by a good CRM however, once a deal is won, the work process after that is not feasible in a CRM.
Given SmartTask handles both the Inquiries and later stages of the workflow, we were getting a lot of requests from our prospective clients for integration with IndiaMART. The aim here was to create an inquiry within SmartTask as soon as an inquiry is placed in IndiaMART. Though we knew this is something possible through Integromat, we never ventured into creating such an integration. Push came to shove when one of our recent customers' Aarjav Foods' approached us with these requirements.
By this time we had already received so many similar inquiries, that we wanted to test this out. We already have an integration with Integromat which has the option to trigger an HTTP request. So that is what we chose to explore.
Integration of Smarttask with IndiaMART through Integromat: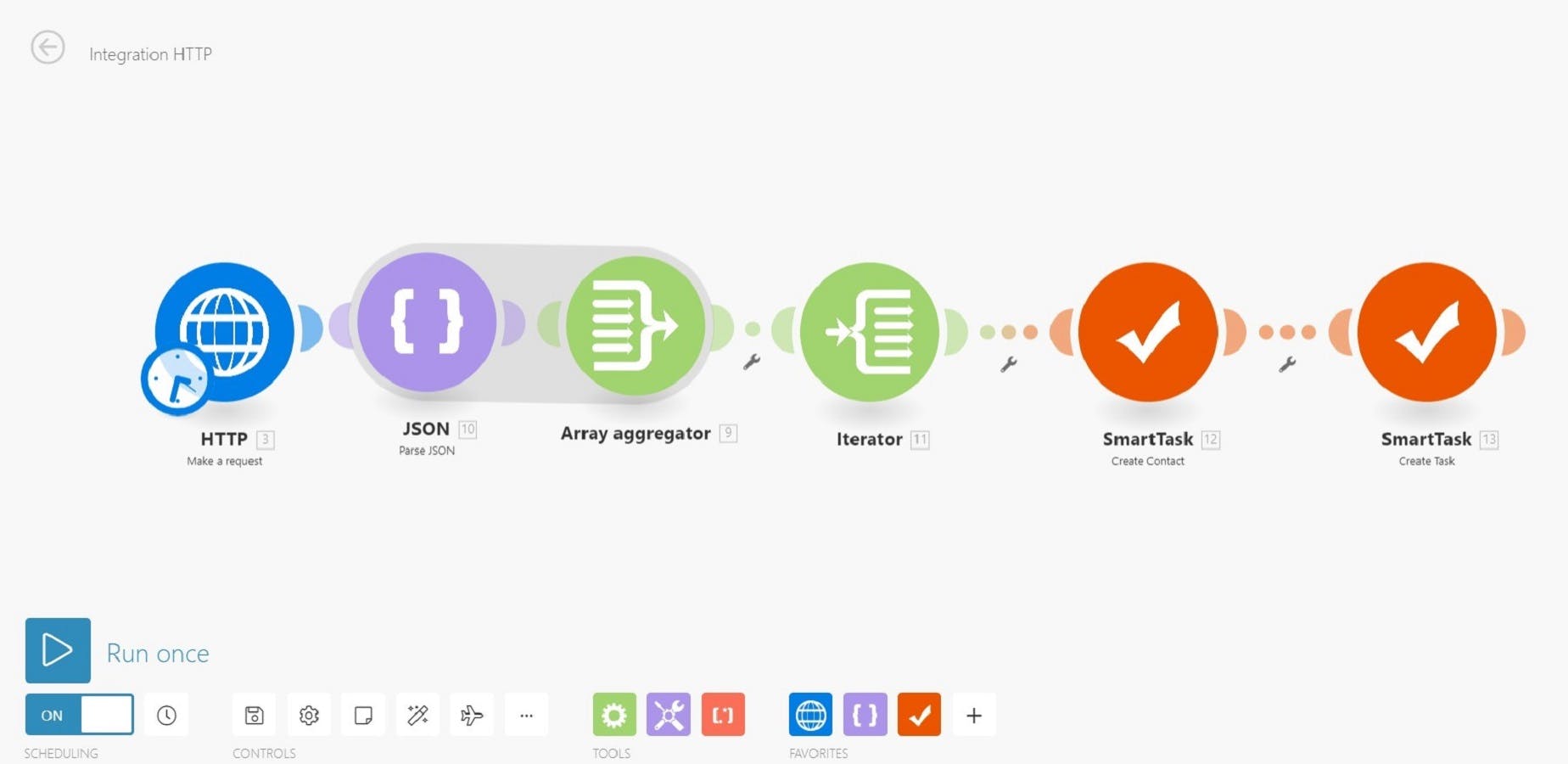 Integromat is a powerful automation tool that can connect your apps and services. This will automate the process that you currently handle manually, which in this case was to create contacts and tasks in SmartTask. Thus, by using Integromat, we created an automation that will directly save all the leads of IndiaMART as a contact in the CRM feature and create a deal pipeline too.
We set up the integration to fetch new leads from Indiamart every 30 mins. Here's an example of the HTTP call we make to Indiamart. (Do take care of the API limit of only one call per 15 mins that Indiamart has).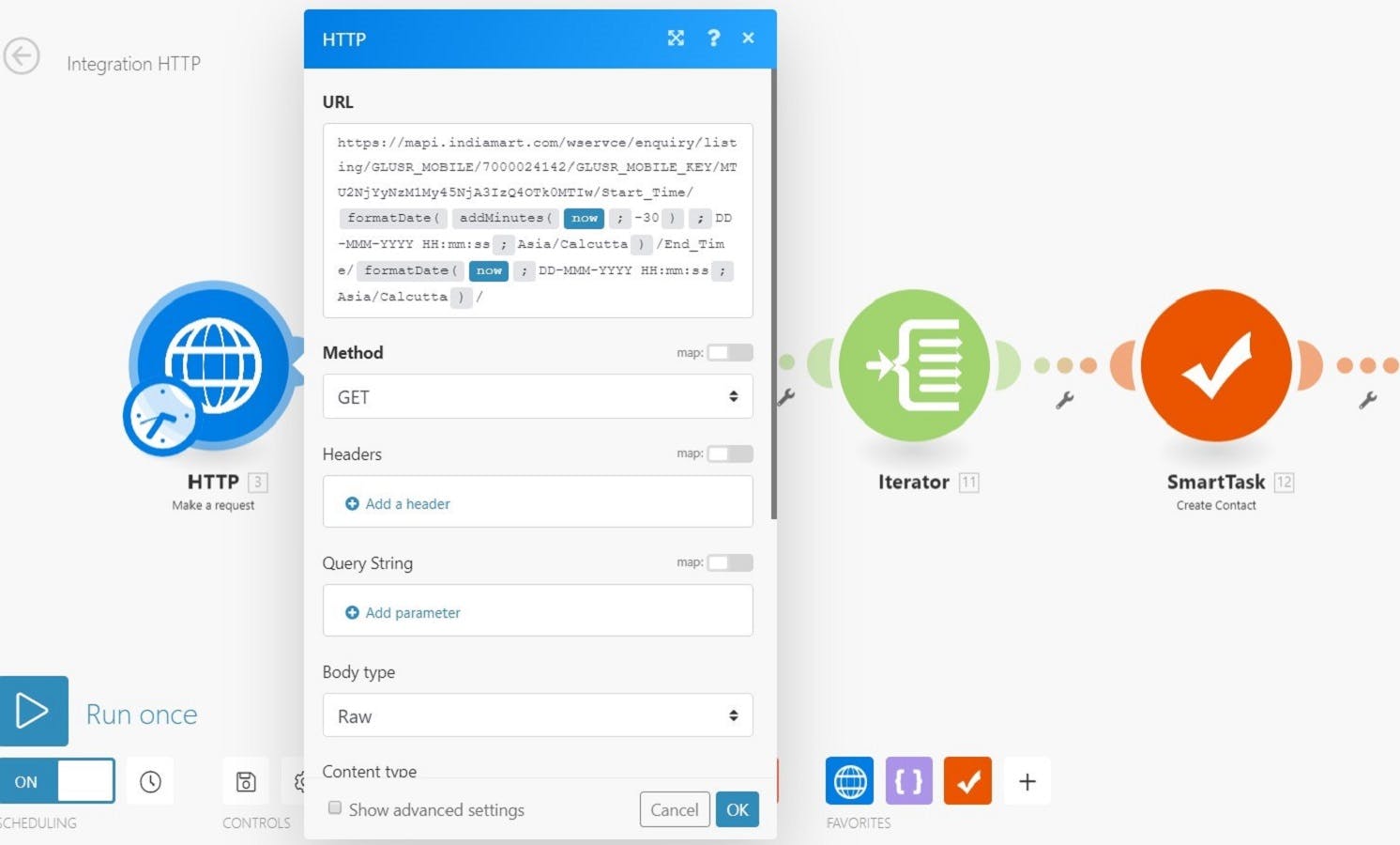 The incoming leads will be converted to contacts and tasks in SmartTask. The image shown below illustrates how a task module is triggered in Integromat.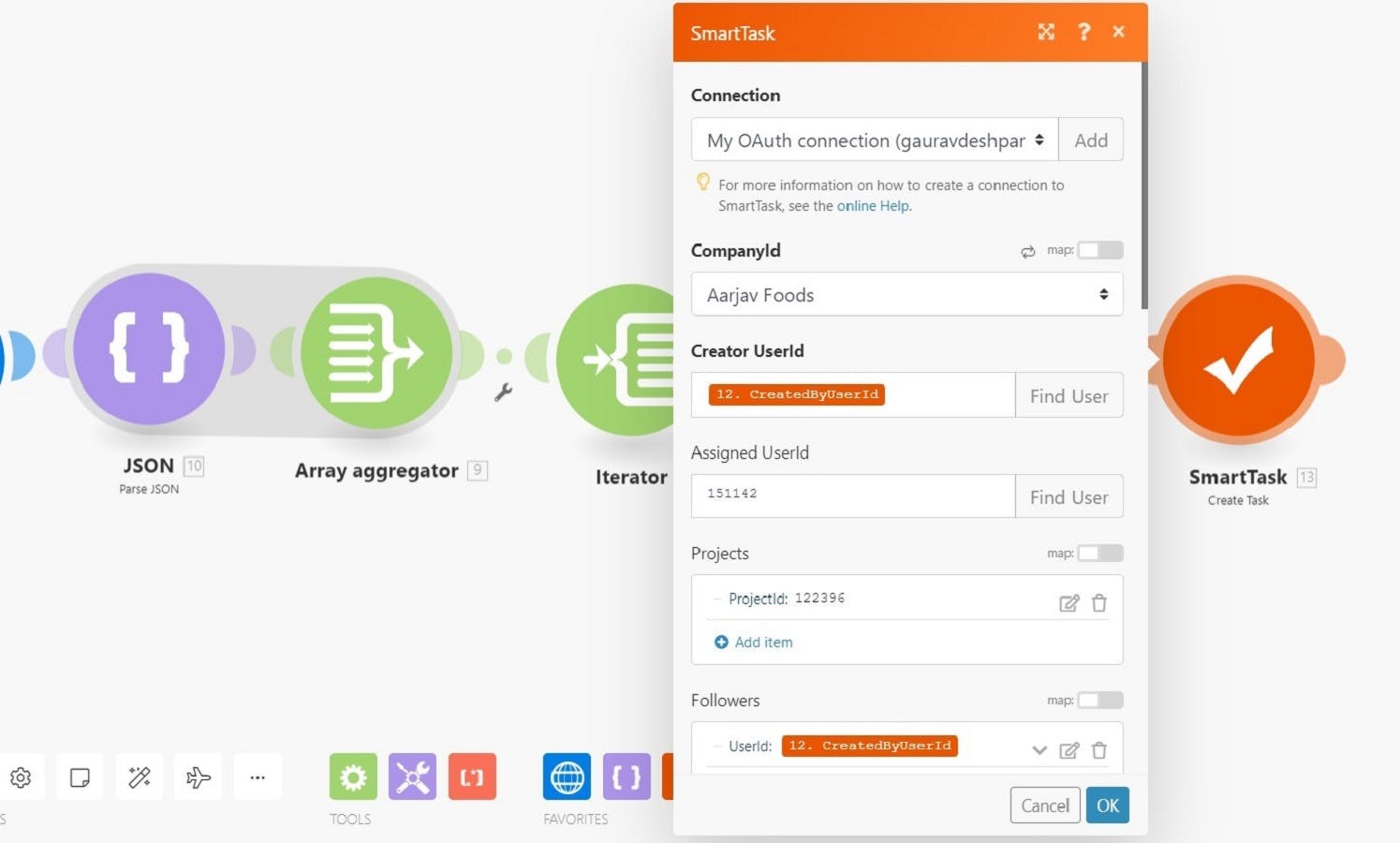 The contact is attached to the task and all the information on the lead is saved in the description directly through automation. The task can now be assigned to the members or you may choose to allocate it through the integration itself.
Here's an example of what your inquiry pipeline will look like once the leads start coming into SmartTask. From here, your internal sales team followups with the incoming leads and move them along the deal pipeline.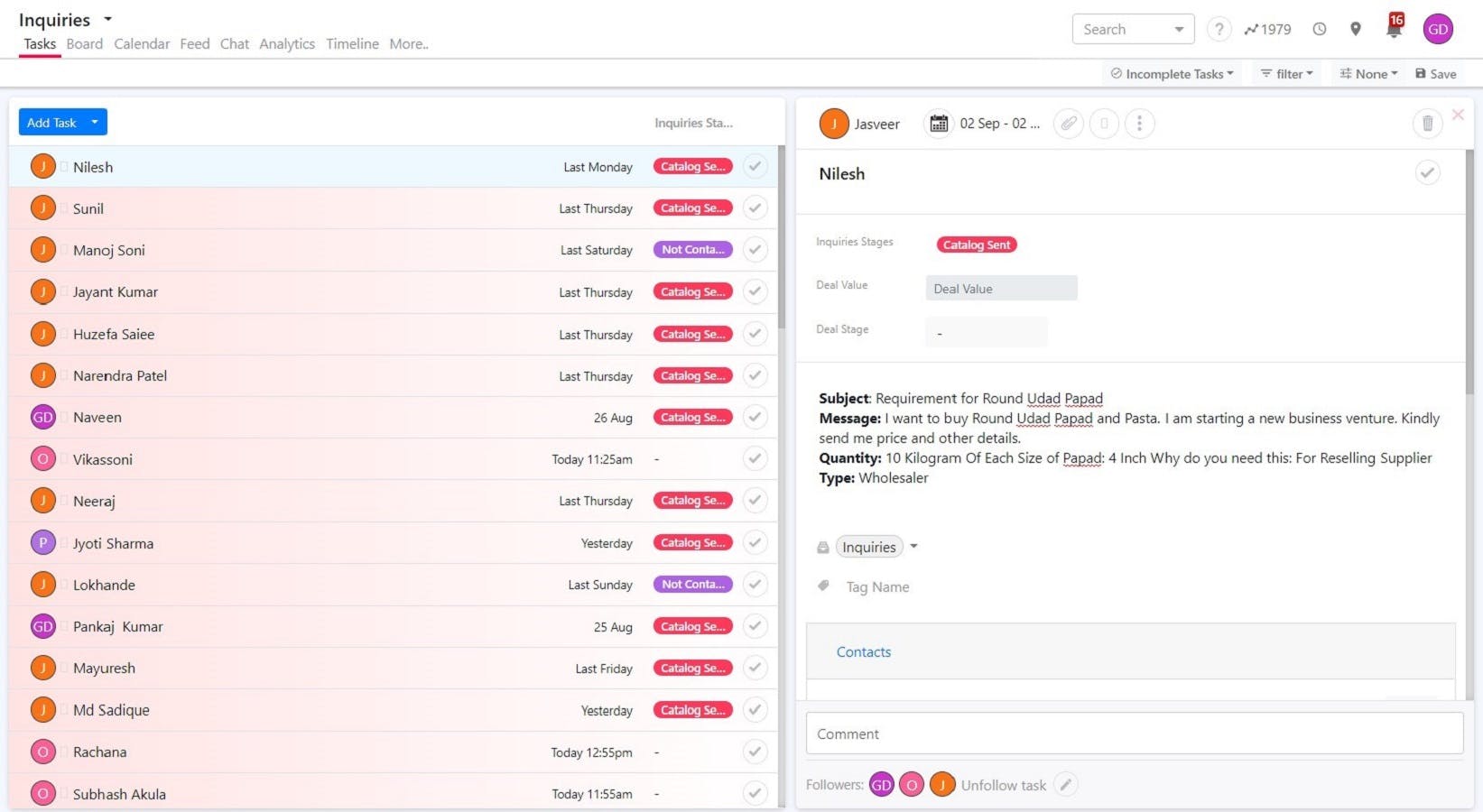 Once the deal is won, you can create an order of it and here also with the help of custom fields you can add all the information of the order and you can use it as a sales invoice too.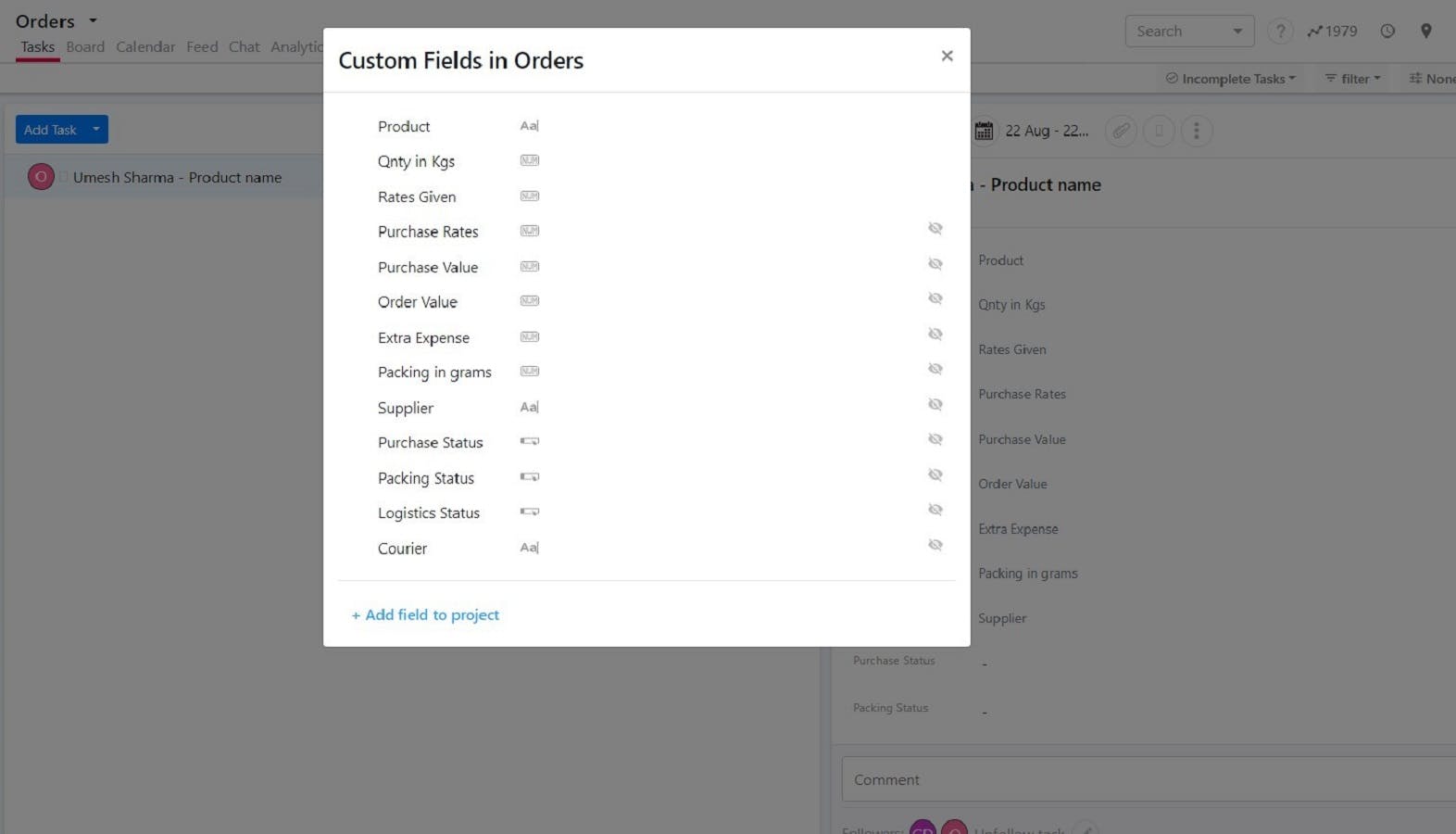 Thus, with similar kinds of Integromat integrations, SmartTask can help you in making your work simpler and more efficient.
We would love to know what you are planning to automate and simplify at your organization.
Subscribe to SmartTask Blog
Get the latest posts in email.