SmartTask
Contents
How To Stay Focused At Work When You Don't Feel Like Working?
By Nidhi ParikhJun 23, 2019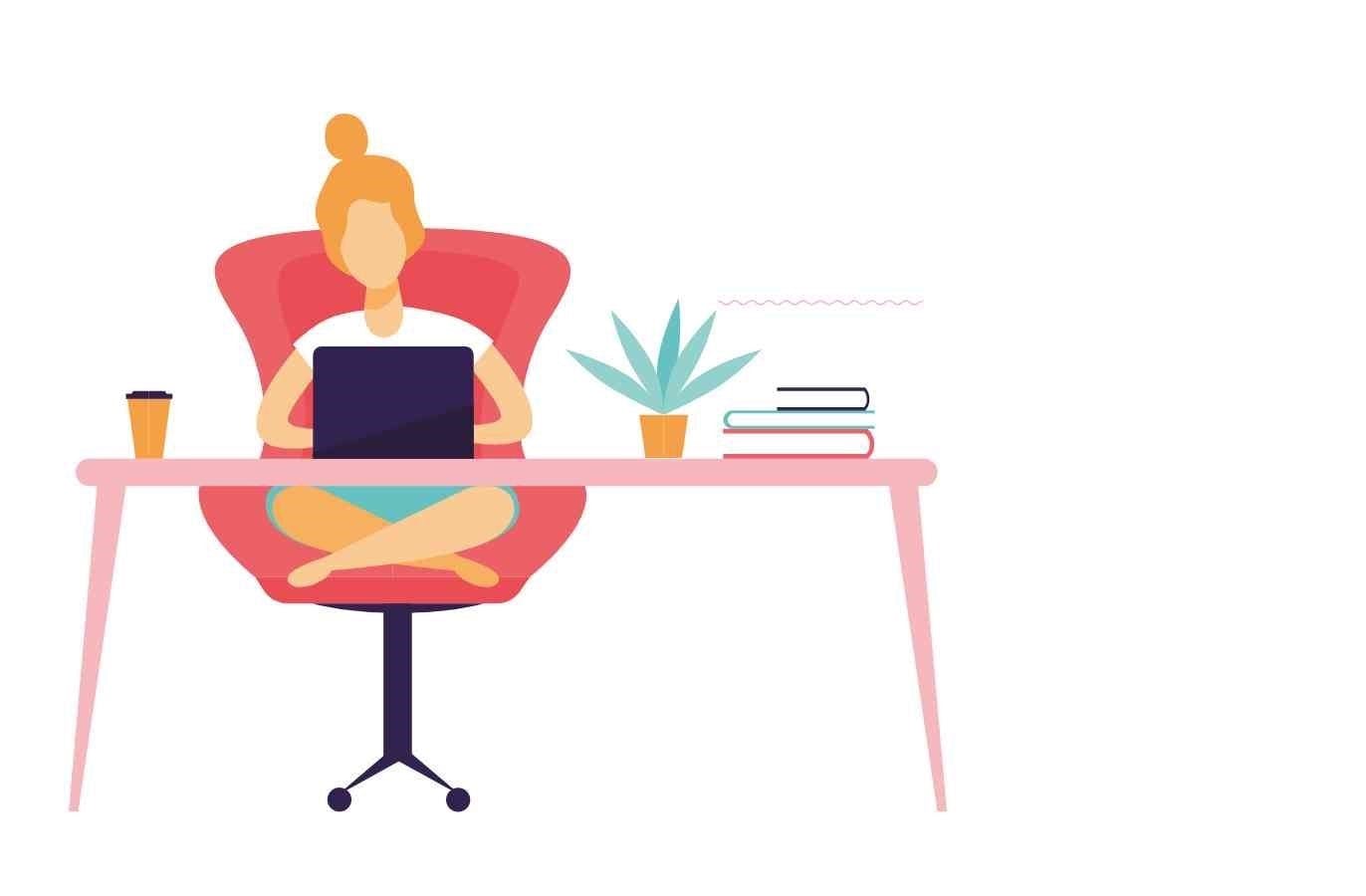 There are 7 unread emails lying in my inbox. One unfinished draft on my laptop. Two client presentations I need to work on. Instead, I am sitting at my desk staring at this very uninteresting wall that has suddenly become as stimulating as an F.R.I.E.N.D.S episode.
If only there was a magical genie that would come around to complete these tasks.
But worry not. With the right steps and strategies in place, we would be able to tackle this problem.
And what's more? Think about the amount of stress, guilt and frustration that will go away if you get work done even when you don't feel like working. Not to mention, the happiness and a feeling of achievement that comes along with a complete to-do list rather than a delayed one.
Below are a list of steps that can help you understand and better deal with this problem.
1. Find out the reason
Take some time to think why you are putting off doing something. I figured out that the reason why that unfinished article was lying on my desktop wasn't a lack of time as I told my supervisor. It was because the article demanded a lot of going into depth of some research studies. To be precise, I found the work to be tiring and unpleasant.
Now that I knew the reason, finding the solution became easier. I made it a point to devote two hours (6-8) in the morning to work on the article. This released my mind from thoughts like, 'I should complete this other task and then maybe at a later time, I will work on this one.'
When the clock strikes 6, I know I have to put off everything else and get on with this task.
If you're avoiding doing something due to fear, think about the worst consequence. Yes, that's what Tim Ferris says in his TED talk. "Fear sometimes shows you what you shouldn't do. But more often than not it shows you exactly what you should do. And the best results that I've had in life have all been from asking a simple question: What's the worst that can happen?"
This helps you in figuring out ways to deal with it if it happens. It also makes you realize that most things you are afraid of aren't that big. What if that presentation goes bad? Yes, you might have to listen to your disgruntled boss but you also learn about your mistakes, about different perspectives. Look into the past. Most of the things we have learned and remembered are because we made mistakes, we listened to someone's angry remarks and we overcame.
2. Make an effective schedule
A research on ultradian rhythms- a cycle that runs repeatedly throughout a 24 hour circadian day show that there are certain peak times in your day when you are most alert and productive.
To make a schedule that enables you to work on those most demanding tasks during peak hours, you first will have to track your productivity cycle. Note down those time periods when you were able to work without taking breaks, those periods when you needed frequent distractions like logging on to Facebook or checking your inbox time and again, time periods when you completed the same task in lesser time than what you were used to and so on.
Doing this will make sure you have an effective routine with your most demanding tasks scheduled in the peak hours and the least demanding ones like data entries, maintaining records in non-peak hours.
Apart from this, I also use a task management software to schedule every tasks, prioritize them, log in due dates and receive notifications to stay updated. It makes sure I don't have to unnecessarily remember everything.
3. Take the first step
You might have noticed that when you take one step towards your goal like writing a paragraph for an article, making 2 cold calls, wearing your gym clothes, etc. it becomes easier to carry that momentum.
This continuous momentum towards a goal or a task then creates a compound effect, meaning that small decisions or steps taken continuously can produce dramatic changes over time.
What you can do to carry on with this momentum is break a task into smaller fragments. It will become easier to complete one more step than to complete an entire task at stretch. For example, consider this.
Alternative 1: I tell a person at front to write a research article on a topic within 2 months.
Alternative 2: I tell him to conduct a survey and come up with the results in two weeks.
Which alternative has greater chances of getting me results?
Yes, the latter one because it doesn't feel so overwhelming.
4. Don't start something new unless you've finished the dreaded task
How many times has it happened that instead of working on a difficult task, you started replying to emails? If you haven't done this any time, please let us know your secret.
But, most of us have. This is what is termed as structured procrastination in an essay written by John Perry. It is to do with getting things done but marginally useful things. This makes us think that we are effective. After all, we are not doing absolutely nothing, right?
And yet important tasks keep getting delayed. To avoid this happening over and over again, make it a point to complete that important task first. If need be, take breaks. But don't bide away time working on non-essential things.
5. Don't chase motivation
Jeff Haden in his book The Motivation Myth: How High Achievers Really Set Themselves Up To Win, describes motivation as, "It is the fire that starts burning after you manually and painfully coax it into existence. It thrives on the satisfaction of seeing yourself make progress."
What it essentially means is that motivation isn't something that exists at the start of an activity, it's the result of getting things done.
There will inevitably be days when you don't feel like doing anything at all. Instead of running after motivation, tell yourself that you don't need to feel like it to take an action. Oliver Burkeman in his book The Antidote sums it up perfectly, "Who says you need to wait until you feel like doing something in order to start doing it?"
Remember. Motivation won't find you when you're sitting idle, it will catch up with you once you get going.
6. Get enough sleep and stay healthy
On the scale between doing too much and doing too little, you need to be somewhere at the center. Make sure you put in hours for exercising daily, eat right and get proper sleep.
If you are too tired, chances are that you won't be able to focus. A study done by The University of Pennsylvania School of Medicine finds that there is a direct correlation between sleep deprivation and impaired cognitive function which includes your work memory and cognitive speed.
On the other hand, if you become too sluggish, the only thing you would want to do is bide time away at work and go home to sleep.
7. Take more breaks
Just going out for a walk, stretching or listening to calm music can give you that much needed jolt of inspiration and creativity you require for the task at hand.
You should especially take breaks when you feel mentally fatigued because of work. Think of yourself as a mobile; you need to keep charging yourself now and then to avoid getting burnt out. You can't expect to keep working effectively without scheduling breaks into your routine.
8. Keep your workspace neat & organized
When there's a pile of papers stacked up on your desk or any other kind of a mess, it impacts your productivity. It seeps your ability to focus.
When you think about it, it's very obvious. When you have a clean and tidy workspace, you feel good and energized. You don't get that feeling of work overflowing. And what's more? A clean workspace makes sure you don't get distracted by the things lying at your desk.
9. Think of your purpose behind doing this work
Think about why you are doing this job? Is it to provide food and shelter to your family? Is it because the company is great and you are learning a lot? Is it because you have a great affinity towards your colleagues?
When you think about your purpose, it becomes easier to re-focus your mind at work. Let's understand this through an example. Mary doesn't feel like studying. She has an exam tomorrow. Just two minutes ago, someone came to her room and told her that she got a job at a big, renowned company. Now this leads to Mary thinking about her future, about her purpose behind studying and getting good grades. She realizes that she can't endanger her future just because she doesn't feel like studying.
This is a classic case of impending negative consequences motivating you to do something. Like the risk of losing your stable income, not getting the desired promotion, not getting to work on a project and so on.
10. Inculcate mindfulness
Research has shown that practicing mindfulness meditation over a long period of time can improve your focus and attention. Participants in the study also found that their emotional well-being increased and they performed better on tasks.
Apart from letting you focus at work, it also helps you understand your emotions and better deal with it, de-stress, remember things, inspire creativity, look through things with a new perspective, enhance empathy and so on.
11. Surround yourself with people who are busy doing things
Just being around people who are tapping away at their keyboards, getting things done can have a great effect on you. You feel guilty to be the odd one out and unsettling that work environment.
You could even take a stroll in your workplace (without disturbing anyone, of course), look at people working away on something and get in that frame of mind.
12. Make yourself accountable
Have you ever noticed that when you work with a colleague on a project, you are likely to finish the work on time?
It's because we are prone to not letting people down. If someone is there to monitor you, work with you, you feel more driven to accomplish your goal. To make this work to your advantage (i) set deadlines for every task with your manager lined up with continuous status updates (ii) if your colleague is handling some difficult tasks, make it a point to set time together and complete your dreaded tasks too.
There are also some applications like Pact and 21habit that work around this idea. For example, in 21habit, you pledge 21$ for a 21-day commitment challenge. Every successful day, you get your 1$ back. And every unproductive day, that 1$ goes to various charities.
13. Find the right work for you
If you think you have been unwilling to work for quite some time, it is likely that the current job or work you are doing is not stimulating for you. Maybe, you would be happier in some other job or in some other work environment that does not stress you out.
Before you make a hasty decision to quit, take some time to think. Note down all the reasons you think you should stop with your current work. Talk it out with someone, preferably someone outside of your workplace. They will be able to give you a clear view about things.
Conclusion:
We all face days when we feel like not working or just doing the minimum to get by. Don't berate yourself for it.
If you feel like taking a break, take it. If you feel like pulling yourself out of it and getting on to work, follow some of these tactics and find the right one for you.
Remember, there is no one-size-fits-all remedy to be productive, you will have to try and test out different strategies and ideas.