SmartTask
Contents
How to build resilience to effectively deal with stress?
By Nidhi ParikhMay 7, 2019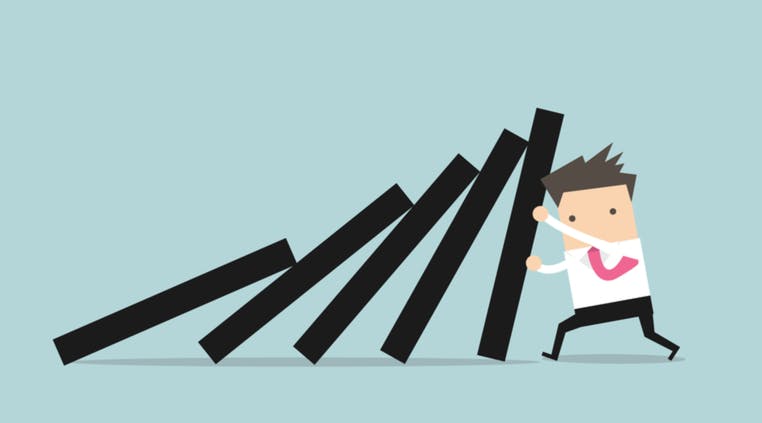 Every second or third person you meet can come up with a brilliant business idea. What is it that separates them from successful entrepreneurs?
Why is it that in times of close matches, a team that almost came close to being defeated crosses the finish line?
What is it about people who are just about average that they go through the pressures of life with flying colors while the most intelligent ones succumb?
When I started working, I thought it was the combination of intelligence, quick thinking, experience and the ability to spend long working hours at the job that made a person successful. But as and when time kept passing, I realized that is far from the truth. It's not the most intelligent people that win the race, it's those that know how to cope with the pressures on the job like impending deadlines, sour meetings with the boss, organizational changes, incessant competition from co-workers or business rivals.
The champion that stands out in every successful people's story is not their background or their industry or even their intelligence. It's a characteristic called resilience. Despite popular belief, resilience does not mean going through life avoiding stress or adversity. It means having the ability to persevere and continue despite failures or setbacks.
Thankfully, resilience is not a trait that we can only be born with. It can be cultivated by imbibing certain behaviors, thoughts, actions and by constant practice.
Why is resilience so important in today's workplace?
According to a study by the Centres for Disease Control and Prevention, a quarter of all employees view their jobs as the number one stressor in their lives. It isn't a surprise that three-fourths of employees believe that they have more on-the-job stress than workers had a generation ago.
Most of us now work in a 24X7 connected and highly demanding work culture where stress is constantly tapping our minds. It's not likely that the pace and intensity of contemporary work cultures are here to change so it's more important than ever to build resilience to effectively navigate through the burdens and pressures of work life.
Research shows that the way we deal with little stressors strongly predicts how we will cope with the bigger ones. So, let us see what steps we can take to build resilience in our everyday lives.
Do you ruminate too much?
Imagine this scenario. Your manager had given you an important project to handle. You submitted the same yesterday evening. On your drive to work today, you get a message from him: 'This is not what I expected from you.' Let's face it. Communication is a skill we all badly need to learn. The most important of it being, 'What the heck are you trying to say? Don't leave me with half information.
But on to the most important part. We all face situations like this from time to time. You have two options in front of you (i) concentrate on the road ahead of you, sing along to that music playing on the radio, do a mini dance or (ii) keep thinking about the problem and how this world is only unfair to you.
So many of us end up working with the latter option. By keeping on thinking about various aspects of a situation that are upsetting, we fall prey to the act of rumination. Unless you put a break to this, chances are you'll stay in a bad mood for hours or even days.
To escape from that loop, try diverting your mind doing things that you love or even try solving crossword puzzles or sudokus. This will give you some time not to jump onto unrealistic conclusions and look at the situation through a clear mindset.
Another thing that is known to reduce rumination is practicing mindfulness. Not only that, world-renowned neuroscientist Richard Davidson has found evidence that mindfulness increases resilience. More mindfulness meditation you perform in your everyday life, more resilient your brain becomes.
Read more: 3 ways to avoid feeling overwhelmed and being more productive
Can I do something about it?
A research conducted in the University of Capetown and the Ashbridge MBA program in UK found that those who believe their success is largely their responsibility take too much stress on themselves by assuming ownership of the events happening in the outer world.
Renee Jain, the founder of GoStrengths, advocates using the concept of ABCs of resilience to teach students about building a resilience mindset. She says that adversity alone doesn't lead to consequence. Instead,
Adversity -> Belief -> Consequence
Let's take an example to understand this concept.
Suppose two students, X and Y fail at an English test. X believed that one failure wasn't the end of the world and that she could improve by putting in more efforts. On the other hand, Y believed that her chances of getting into a good college were gone and she could do nothing about it.
X knew she could do something about the situation and so she enrolled into some classes and started putting in more hours for studying. While Y quit doing anything and stopped going to her classes.
There will inevitably be things that you can't control like weather, traffic jams, other people's behavior, global financial crisis or a bad test. The important point here is to recognize that while you can't change these situations, you do have the ability to choose how to interpret or frame them.
Is there a way to think about this situation positively?
A year back, one of my neighbors - Maria was going through a lot of stress in her work life. Her firm was being acquired by some company. So, the level of autonomy she was used to earlier just outright vanished. Everything she did, she had to run by her senior counterparts which many times led to unnecessary delays in her work. I literally saw her lose it at times.
Just a few days back, I met her and asked, 'You seem to be doing good these days. All back to normal at work?' She told me that things are still the same but one day, she decided she had had enough and she made these three changes into her life-
(i) There were still a lot of good things going on in her life – a roof over her head, being able to spend time with her children, supportive colleagues and despite work troubles a career that she enjoyed. As we typically spend a lot of time thinking about the bad things in our life, the good things go into the background because they're stable. She started being grateful for them.
(ii) Instead of asking, 'Why me?' she started asking 'What can I learn from this?' She chose to see difficult circumstances as learning opportunities. She realized that learning doesn't have to be confined to just skills or knowledge, it could be learning to identify and manage her emotions
(iii) She thought about how things might have been otherwise if she didn't have this job in the first place as compared to how things are right now. She was more satisfied with the situation when she considered the benefits of her current job. 'I would never have got to learn from and interact with some of the best clients if it weren't for this job'. This type of strategic positive thinking helped increase gratitude which in turn built resiliency.
Do you have a purpose?
Viktor Frankl, a holocaust survivor of four concentration camps writes in his book Man's search for meaning,
'We who lived in concentration camps can remember the men who walked through the huts comforting others, giving away their last piece of bread. They may have been few in number, but they offer sufficient proof that everything can be taken from a man but one thing: the last of human freedoms – to choose one's attitude in any given set of circumstances, to choose one's way'
This excerpt shows that despite everything, there was still some hope left among the inmates. Frankl quotes Friedrich Nietzsche in his book, 'He who has a why to live for can bear with almost any how' He goes on to tell that some people survived unimaginable atrocities in the camp but still they wished to live.
They had a 'why' i.e. their purpose was in place- to get back to their family or their loved ones.
This clearly shows that a strong sense of purpose – knowing why you're doing things, a clear direction and knowing what is important to you can act as an anchor when you go through challenging times.
Do you have social support?
Admiral Robert Shumaker, a POW in Vietnam was isolated from other captives. What he did next was invent an ingenious method of communication. He started tapping on the wall of his cell. The fellow prisoners could hear it and they would tap back. This was named the tap code. It was so simple and yet proved to be an effective mechanism to let the prisoners know that they weren't alone.
We need social support to function optimally. People with strong social support tend to better deal with stress and stay healthier and happier throughout life. It isn't that surprising considering that when we feel alone, we find ourselves more vulnerable.
Meg Jay, a clinical psychologist at the University of Virginia writes, "It's a myth that resilient people don't need help. Seeking support is what resilient people do."
More so, connection with others releases oxytocin which calms the mind and reduces stress.
Oxytocin's actions in reducing amygdala activation and arousal may help to explain why positive support from others can reduce stress (Heinrichs et al., 2009; Lee et al., 2009) - Resilience: The science of mastering life's greatest challenge
Do you take time to de-stress?
Resilient people don't go around every day dealing with stress. They realize that some days or just some hours in a day should be a no-disturb-stress-free zone. Be it exercising, sketching, sleeping or just cooking and eating great food.
While what we do instead when our workloads increase is eliminate our de-stressing time first. It's like blaming your mobile for getting switched off when the battery is dead. We all need to recharge ourselves from time to time.
It's also important to leave your work-related pressures in the office itself. Author Cal Newport follows a work shutdown ritual at the end of each day. It starts with updating his to-do list and ends with him actually saying the magic words, 'Schedule shutdown, complete' as he switches off his computer. Saying this phrase out loud allows him to stop unnecessarily worrying about work-related problems and leave them aside for the night.
Conclusion
We all are far more resilient than we think we are. Look back into your past and you will find at least 3-4 situations which you thought you could never overcome be it failing a test, not getting the job you want or going through a bad breakup. But you still did. Kudos to you for that!
And remember, tough situations are where you get to learn the best. After all, you have to walk through the rain to learn how to dance in it!