SmartTask
Best Work Management tool for Content Marketers and Writers
By Pranav MistryMar 13, 2019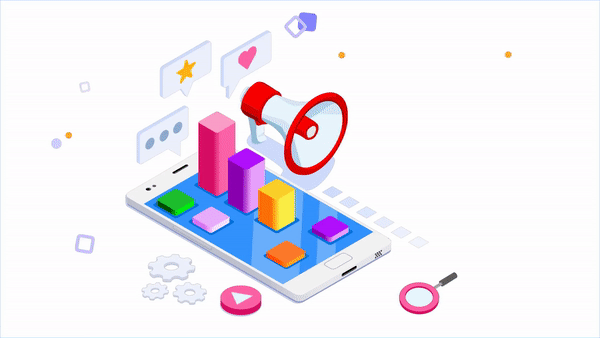 Content Marketing has grown rapidly in recent years with no indication of slowing down. A study claims that 93% of B2B marketers use content marketing to generate traffic. There is a ton of content to be managed by the content marketer, Whether you're managing your company's blog or creating ebooks and whitepapers, you can track every step of the editorial process through SmartTask.
Editorial Pipeline: Content Marketers can use board view available in SmartTask as Editorial Pipeline.
Here's a template that you can use as a checklist of what needs to be done. You can use SmartTask to maintain your social media and content calendars.
How content marketers can use SmartTask
When you create a new project in SmartTask, it's better to start by creating a list, a list can be anything, it can be the schedule to be followed or it can be various stages of the content. The list you create would be automatically converted into the editorial pipeline in the board view. Go to the board view. There you can customize your entire content marketing approach. As SmartTask allows you to bifurcate your tasks through sections, you can either organize your editorial pipeline periodically(week 1, week 2,..) or you can organize it through stages(Idea, In Production, In Review, etc).
When you have clear due dates, everyone will know who is responsible for what by when. The editorial pipeline would be the go-to place for understanding the team's workload. Your editorial pipeline in SmartTask would look something like this: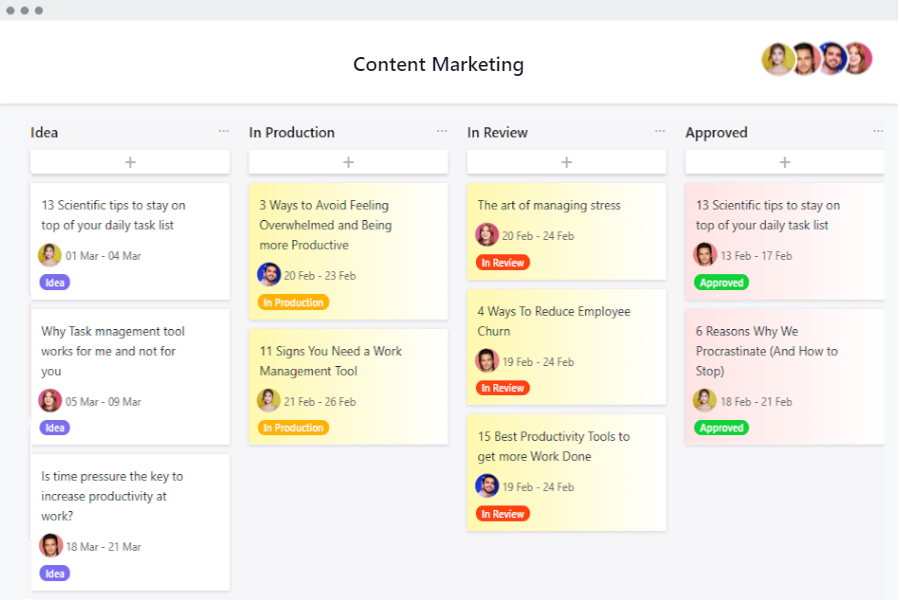 When you have a new idea, you can simply modify the template according to your need.
You can use Sections to organize your content, set due dates and use tags to identify tasks more easily. You can also comment on a particular task.
Section automation in SmartTask allows you to automatically convert assignee and custom field when a task is dragged from one section to another. To try it yourself,
Click on the three dot icon next to the section name.
Click on Automation.
Select the custom field.
Select assignee.
Click Save.
Hit deadlines with clearer handoff and approvals.
Most content deadlines are very tight and crossing those deadlines can be costly. Working on content might get a little confusing, you have to keep track of due dates, and the confusion increases further when there are unclear handoffs or confusing review cycles. You have to have a good enough view by keeping all documents, review feedback, and comments in one place.
With SmartTask's custom fields you get to highlight the status of the content. You can have a dropdown showing whether a post is an "idea", "in progress" or "finalized".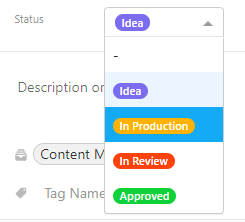 You can not only use custom fields to classify the status of the content, but also use them to identify the type of content i.e if it is a company blog, guest post, ebook, whitepaper, etc. You can also use them to group similar type of tasks.
Marketing Strategy
Developing a good marketing strategy is all about holding brainstorming sessions, informal discussions, questions, and feedback. Having every comment and feedback in one place just makes our life easier.
There is a lot to consider when developing a marketing strategy.
Audience: What is the demographic? It's always great to be specific.
Objectives: What is the target? Is it to increase your web traffic, drive revenue, spread awareness, or acquire more users? You need to set priorities on your tasks to meet your objectives.
Medium/Channel: Understand where your target audience spends most of their time and what type of content they like to consume.
Timing: When do you want to achieve the goal.
Once the strategies are finalized they need to put in a place where they are easily accessible. Putting them as tasks in SmartTask would not only allow you to collaborate but will provide reminders on time.
You can also ensure stakeholders to start their part of the work when the time comes by adding them as followers.
Manage marketing campaigns with portfolio
A content marketer is often faced with managing multiple campaigns at one given time, monitoring them doesn't have to be a headache. Instead, monitor your campaigns with portfolios. Portfolios give you a comprehensive view of all your campaigns and they offer real-time monitoring. Keep your entire team updated on the progress of multiple campaigns with portfolios.
Moreover, You can also track the status of a campaign through milestones. They represent the most important achievements in your marketing campaign.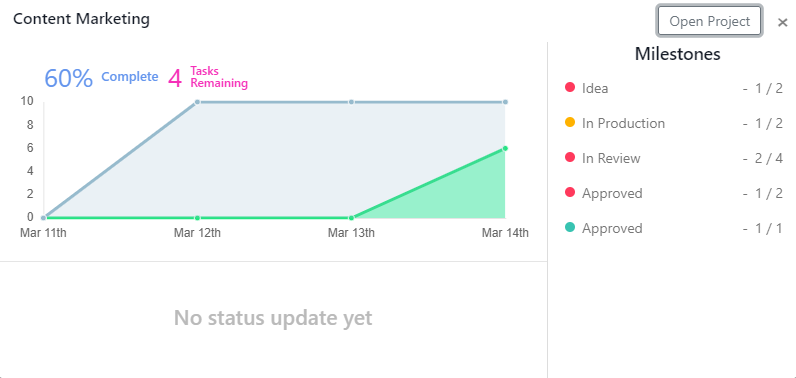 How content writers can use SmartTask
When writing a post it is necessary to have a clear sense of time. As often a content writer's to-do list is filled with to-do's, and when a deadline exceeds writers are overwhelmed with the burden of finishing the current topic as well as starting the next topic at the same time.
When there is a clear scope of time, writer's are able to sense the deadline approaching and putting all they got into finishing the current post. To get a clear sense of time set timeframes in SmartTask to get reminders when a deadline is nearby. To do that,
select the task
go to the Task Dates sections on the top right sidebar
Set the timeframe from start date to end date.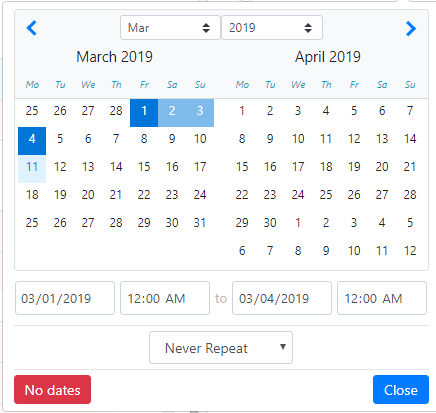 You can also look at the progress made in the past through the calendar view.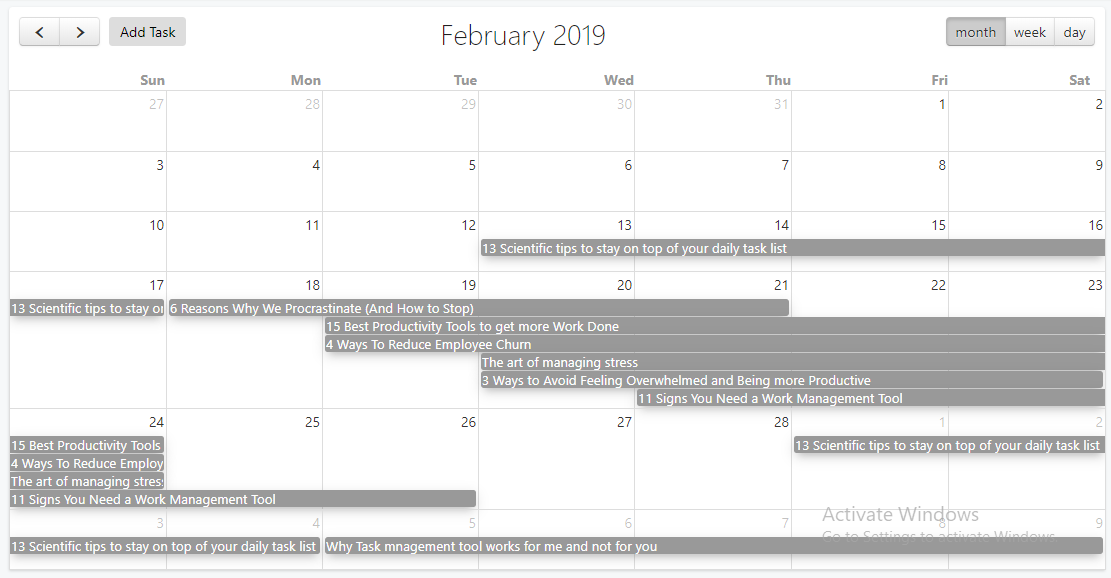 Store all the relevant files related to your post in the same place whether it is a doc, video or image file you can upload them on SmartTask and your teammates and stakeholders who are added to the project will be able to access them.
Read more: 3 Ways to Avoid Feeling Overwhelmed and Being More Productive
Conclusion
Generate an awesome marketing plan, don't miss a single task, keep track of everything in your campaign and work on a centralized space with your team with SmartTask.
If you don't have a SmartTask account, create a free account to get started.
Subscribe to SmartTask Blog
Get the latest posts in email.