SmartTask
Contents
Context Switching: How it Kills Productivity & Ways to Overcome it
By Shyamal ParikhMay 22, 2022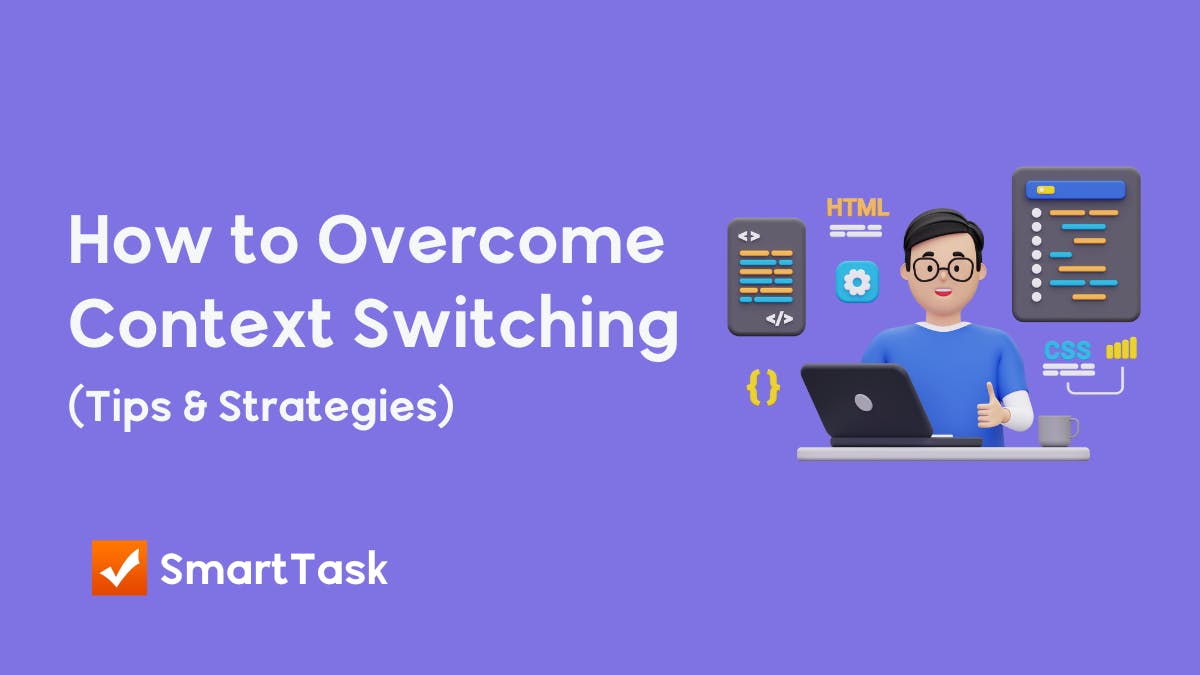 Workplace productivity can be defined as the amount of work produced by employees over a given period. It is a measure of the total output produced against the total input at any given time. A study by Gallup's State of the Local Workplace found that up to 85% of workers are not actively engaged in the workplace, leading to about a $7 trillion loss in productivity.
Most workers are forced to balance different tasks at the workplace, moving from drafting reports, attending meetings, taking calls, or even writing emails. They easily switch from one task to another, hurting their productivity. This switching from one task to another is known as context switching. Would you believe that if we told you that you can stay productive, and meet goals efficiently even with Context Switching?
Keep reading...
What is Context Switching?
Context switching was originally used to describe how computers run different tasks at the same time, but focus processing power on the task at hand while the others are on hold. Even though this can now be handled through API integration where tasks can be shared between applications, it is still a problem.
In the workplace, context switching can be used to describe how an employee switches focus from one task to another and then comes back to the first task later.
For example, let us assume that you are working on a marketing report for your company. You get a notification on Slack to share the total website traffic received in the last 7 days. You stop working on the report, open a new tab on your browser and launch the Google Analytics app. You share the numbers with your colleague on Slack and return to the work you were doing initially. That is context switching.
How does Context Switching Affect Productivity?
Taking care of tasks as soon as they are assigned to you might seem like the best way to handle things at the workplace for most people. In addition, most of them think that multitasking is one of the best approaches to saving time.
Unfortunately, these two are examples of context switching and can kill productivity at the workplace.
Here is how context switching affects your productivity;
Pulls your focus for long - A research found that it took workers about twenty-three minutes for them to get back to the original task they were working on. That is too much time taken by context switching.
Drains your energy - The human brain is responsible for about 20% of the entire energy consumption in the human body. Switching between tasks means more work for the brain, and therefore, it ends up draining your energy.
Diminishes cognitive function - Just like a computer starts to get slow when a user opens many applications at the same time, the brain, too, gets tired and slows when switching between tasks, diminishing cognitive function.
Clouds priorities - Switching from one task to another means that a person does not know which tasks are more important. This might leave them handling a simple task at the expense of another one that could make or break a company.
Diminishes attention - Employees are supposed to be attentive when handling all tasks assigned to them. Switching between tasks is going to diminish this attention, meaning that tasks might not be handled with the seriousness that they deserve.
8 Ways to Prevent Context Switching
1. Prioritize Tasks & Visualize Your Work
You need to understand the scope of everything you should do for you to achieve effective prioritization. It does not matter the kind of tasks you are handling in a day or even a week, always make sure that they are all considered.
If you want to effectively visualize your work, make sure that both workday and personal tasks are included in your to-do list. This list can be created in a to-do list software.
After making sure that everything you need to do is included in your list, you can start prioritizing the most important tasks. This depends on things such as rewards for accomplished tasks, the length of tasks, and their urgency and importance.
Doing this is going to help you prevent context switching. You will know which tasks need to be handled first and avoid leaving any of them unattended. In addition, you will be able to time yourself and achieve your goals every day.
2. Use Time Management Techniques
The term time management is often misunderstood. The fact is that you cannot manage time, but can manage your life events in relation to time. Understanding this is going to make it easy for you to prevent context-switching through project time management.
To get started, you need to understand how you spend your time. You can do this by recording yourself at certain intervals for some time and then evaluating your findings. After that, look at the tasks handled, and see which tasks were not accomplished and why.
You can increase productivity by improving time management and employing the following techniques to prevent context switching:
Time blocking - Time blocking is a technique by which you are required to block off time in a day, week, or even month to handle a particular task. For instance, you can divide a day into blocks of meetings, emails, and reports.
Timeboxing - Timeboxing requires one to allocate a maximum and fixed amount of time to a particular task. This time is referred to as the timebox - the time within which a task is handled.
Pomodoro method - The Pomodoro time management technique requires one to alternate work sessions with frequent breaks. For instance, if handling task X, set alternating 25 minutes sessions with 5-minute breaks and make sure that the schedule is followed strictly.
Get things done method - The get things done (GTD) method requires one to move all the tasks, items of interest, issues, projects, and relevant information from their mind and record them externally. They are then supposed to break them down into work items with each of them allocated a certain time limit.
3. Focus on a Single Task at a Time & Avoid Multitasking
As discussed above, context switching, as well as multitasking, drains a lot of energy compared to handling a single task at a given time. Since you have divided your attention between multiple tasks, simple tasks are going to take a longer time than they are supposed to.
As a result, your daily schedule will be hurt leading to stress since you might feel like you are falling behind. Fortunately, this can be solved by focusing on a single task at a time and avoiding multitasking.
Single-tasking helps one get into a state where one can focus on a particular task deeply. This ensures that a person is going to dedicate all their energy to that task and ensure that it produces the expected results.
In addition, timing each of the tasks that one is handling helps one accomplish them on time. This ensures that there are no backlogs, something that is vital in improving productivity at the workplace. That notwithstanding, you can manage multiple projects at the same time with proper management and organizational hierarchy.
4. Group Similar Tasks
A typical day at the workplace involves a lot of tasks. You might be required to read and respond to emails, attend meetings, work on finances, onboard new employees, and prepare reports among others. All these tasks have to be completed within a day.
Depending on the tasks that one is handling, one can decide to group similar tasks and handle them at a given time. This is going to ensure that your attention is focused on that particular group of tasks at a given time.
Since your role in a company handles certain tasks for the company, it means that you are going to repetitively handle the same tasks - grouped - every day. When the same movement is repeated for some time, the brain creates a long-term muscle memory dedicated to that particular movement, in this case, that group of tasks.
Eventually, you will find yourself in a situation where you can handle those tasks without any problems, and with minimal effort. This process, in return, is going to decrease your need for attention and create efficiency when handling tasks. This helps one prevent context switching.
5. Create a Routine for Distracting Applications
Technology has provided us with hundreds of applications that we can use for work, socializing, and handling other tasks in our day-to-day life. However, did you know that these applications play a huge role when distracting people at work?
For example, let us assume that you are busy working on something important for your company. You get a WhatsApp notification, it is a message from your spouse. Chances are that you will read the message, taking time off the task that you were handling.
This is an example of context switching and is going to hurt your productivity at the workplace. You can avoid this by creating a routine for these kinds of applications that distract you from the task you are handling.
Creating a routine ensures that you have set a particular time of the day when you are going to look at these applications. Following this routine strictly is going to help you focus on the task at hand, and no matter what happens, you will not be tempted to leave them before they are completed.
6. Take Regular Breaks to Recharge
As discussed above, the brain is one of the human organs that drains the most energy from the human body. When working on something, you probably concentrate on it and make sure that you have handled it well.
Sometimes, you might feel opaque, or rather feel like you cannot handle that particular task. When this happens, you might be tempted to switch to other tasks. This is a wrong move that doesn't help at all.
The best way to handle this is by taking regular breaks when handling a task. You can set a time interval, for instance, 30 minutes, where you will work on a task, then take a 10-minute break before resuming. This will help you avoid context switching. Using SmartTask's time-tracker while working on tasks is also an efficient way to stay on track.
7. Resist the Urge to Respond Quickly
Responding to requests immediately after they come in is natural. Take for instance a situation where you are writing code for a certain application, then an email from the human resource manager comes in. Chances are that you will respond to the email immediately.
In doing so, you will be creating an impression that people should expect responses immediately from you. You will also be developing a habit where you will be responding to requests immediately after they come in.
Responding immediately is going to take you off the task at hand - context switching - and can hurt your productivity. You, therefore, need to resist the urge to respond immediately to requests.
8. Use APIs To Communicate Between Apps
APIs (Applications Programming Interfaces) are a set of rules that dictate the communication and sharing of data between applications. In other words, they allow applications to communicate with each other.
Instead of having to switch from one application to another, maybe in a bid to update something, your development team can integrate APIs to allow your work applications to communicate and share information.
This way, everything that has been updated on application X, for example, can be shared automatically with application Y. You will not have to switch between the two applications. This helps prevent context switching.
Conclusion
Context switching is very expensive for businesses especially when it comes to the productivity of employees. Fortunately, above-given work management strategies coupled with effective project management techniques can help prevent context switching in the workplace.
Increase your productivity by 50% with SmartTask - Signup Today