SmartTask
Contents
How to Use Social Media Promotions to Grow Your Business
By Vaibhav KakkarJan 17, 2023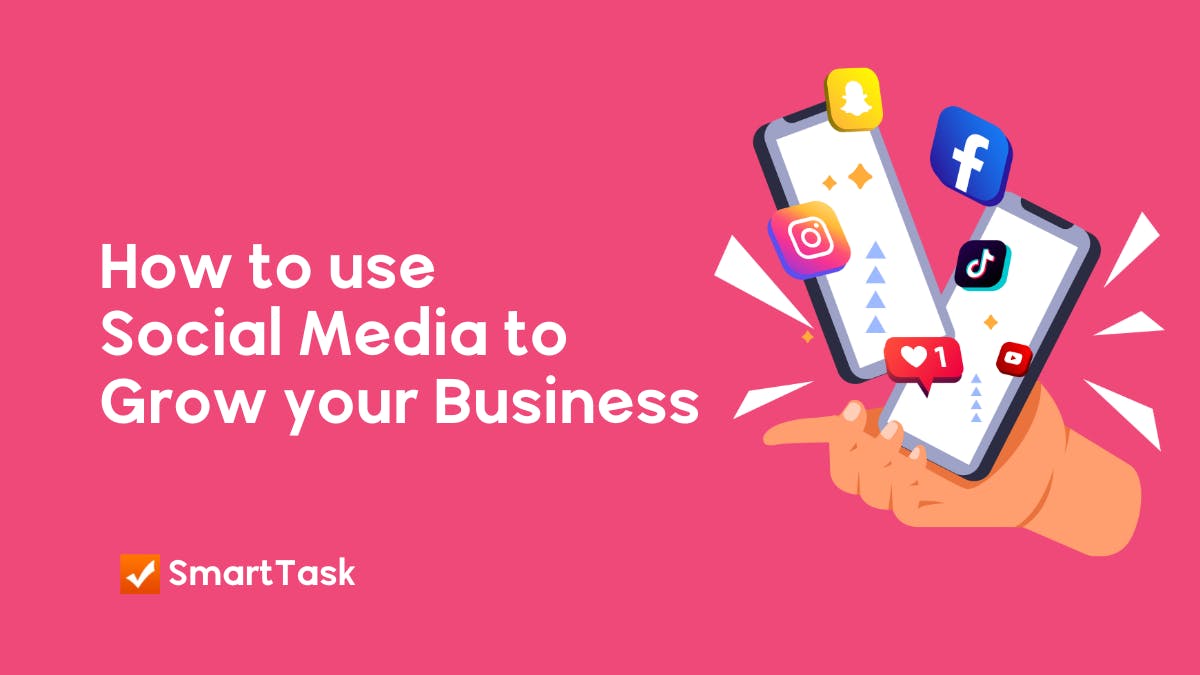 The last decade has seen a digital renaissance of the new technologies and innovations that have become an inseparable part of our lives. With the digital revolution changing our habits, be it education or shopping, the impact is widely attributed to the increasing prowess of the internet.
In this sequence, connections with friends and family in the digital age have become heavily dependent on social media platforms and a stable & fast connection to the internet. At least, that was the idea behind the creation of these platforms.
But today, in addition to helping with building connections, social media platforms have transformed themselves into multiutility avenues by providing additional features such as shopping carousels, entertainment features, video streaming, and much more.
Social media is used by about half of the world's population today. Social media platforms have also become an integral part of digital marketing as it provides a plethora of promotion and advertising options. Businesses globally use social media promotions to grow their brand and generate more sales. Without a proper social media marketing plan, no digital marketing strategy can achieve the results it aims for.
Want to learn more about social media promotions and their relation to business growth? Keep reading.
In this article, we will begin with understanding the importance of social media for digital marketing. Moving ahead, we will list out and discuss in detail the methods through which you can use social media promotions to grow your business and drive more sales and profit. So, let's begin without further ado.
Why is Social Media Important for Marketing?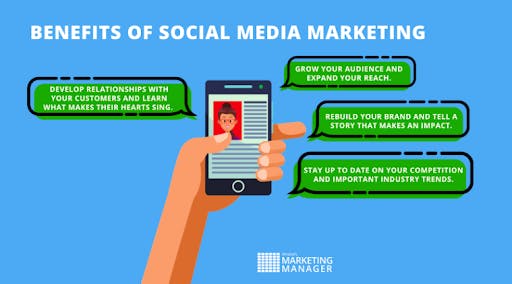 Social media is now integrated into our digital lives to an inseparable extent. Most of the population that has access to the internet uses some social media platform or the other. Therefore, the opportunities for connecting with their target audience are endless when businesses use these platforms properly.
Social media platforms act as a direct source of contact between brands and their prospective customers. Businesses can use social media platforms to increase awareness about their products and services, attract the target audience, provide information about the latest deals and offerings, etc. These platforms can thus help businesses to grow their reach and expand their audience base.
Social media acts as a vehicle for digital marketing because businesses can use the storytelling capability of these platforms to build a positive and exciting image for their brand. Companies can learn more about their competitors and their products through social media and improve their own based on the information that they attain.
Overall, social media is a vital part of the digital marketing ecosystem today, and no serious business or company can overlook its existence and importance if they want to drive successful digital marketing campaigns.
8 Ways to Use Social Media Promotions To Grow Your Business
We will now discuss some of the most crucial ways in which you can use social media to grow your business to the next level.
1. For Increasing Leads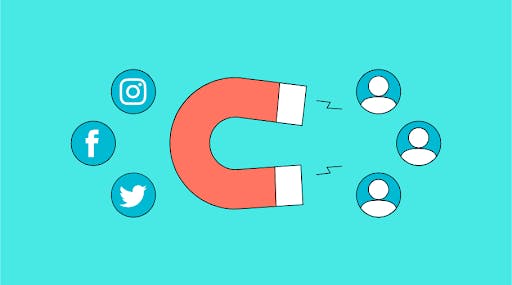 Social media platforms are perfect avenues for you to connect with your target audience and learn about their preferences, interests, problems, and other vital information. You can use this information to create relevant content and appeal to them. Popular tools like Jasper and Smartwriter can be of great help when you are creating social media content. But there are also a few less expensive and better Jasper alternatives that are helping marketers. Your goal should be to build a rapport with the target audience and become a go-to source of information, entertainment, or other means that suit your business.
The idea is to persuade your target audience to first become your followers. Once the target audience starts following you, they look forward to your posts, stories, tweets, and more. They believe what you have to say and follow your advice when it comes to your industry.
In the next step towards increasing leads for your business, start posting regular links to gated content for your followers. Gated content is any content that can only be accessed upon signing up.
When your followers click on such links, they are redirected to a page where they have to provide their contact information, be it a phone number or email address, along with other basic personal information.
Therefore, you can leverage your social media following to generate legitimate leads for your business and take a forward stride towards your goal of growing your business.
2. To Drive More Traffic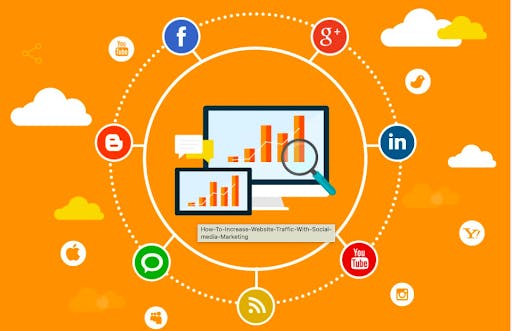 Growing your business in the digital age is only possible if you generate continuous traffic to your business website. The traffic can be generated through either paid methods or organic ones. The latter is preferred as it increases the authority of your website. Social media is one of the best ways of generating organic traffic.
First of all, you need to create profiles for your business on all popular social media platforms. This will ensure that you are moving in the right direction to increase the reach of your business. Always make it a point to add the URL to your website on all of these social media profiles, somewhere where they are easily visible to the audience.
The next step would be to start creating customized content for each platform and maintaining its quality without compromise. Make sure that your content is engaging enough by using appealing visual elements, such as images, graphics, infographics. Video content works the best as it conveys more information in less time.
You need to ensure that you are using relevant hashtags effectively to increase the reach of your content among your target audience. Your content should be easy to share so that it can reach far and wide without any hassle.
Lastly, make use of the paid advertising methods provided by a given social media platform additionally so that you overcome any difficulty faced in generating enough organic traffic.
3. To Develop Customer's Trust
Without customer trust, no business can imagine being successful at any given point in time. Social media can help you achieve this end and foster trust for your brand among your target audience prospects and existing customers.
Gaining customer loyalty is a function of fostering trust in them for your products/services and, by extension, your brand. You can work towards gaining a user's trust by taking the help of social media influencers. When popular influencers with a loyal fan base talk positively about your business or its products from their personal experience, you gain much-required credibility.
Therefore, you need to collaborate with popular influencers, stay away from controversies, appeal to your target audience, and resonate with your brand's identity. Once you tick all of these boxes, you must ensure that your product/service stays true to what an influencer says about it.
Social media platforms are ripe with promotion opportunities through influencer marketing, and you should make it a point to collaborate with big and authoritative names in the field. Some points to note before influencer collaboration are:
follower count, niche, public image, and average rate of engagement.
4. To Improve SERP rankings
The amount of traffic directed to your website is directly proportional to the ranking of your website on the search engine results page(SERP) against relevant user search queries.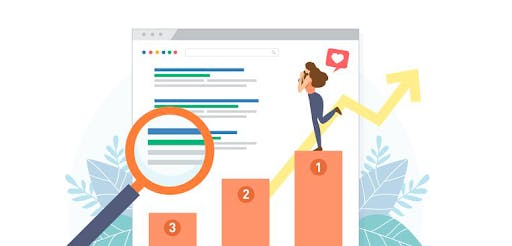 Although there has been a longstanding debate whether social media can improve SERP rankings, the answer has turned out to be a resounding yes. Social media platforms can play a crucial role in improving SERP rankings through social media shares. How does it work?
Well, SERP rankings are dependent on the domain authority of a website. Domain authority increases when the social media share rate of your website increases. Therefore, the result of an increased share rate on social media results in an improved ranking on the search engine results page.
Additionally, prospective customers like to visit the social media handles of brands that they are interested in buying from before visiting their website for taking action. As the number of visits on your business's social media pages increases, their SERP ranking also improves for user queries involving the relevant keywords.
The bottom line is to focus on sharing content on social media platforms that is palatable for the target audience and adds some value to them. Focus on making content engaging and visually appealing to ensure a greater number of shares.
5. To Watch and Learn from Competitors
To give an edge to your business and its offerings, you need to know what your competitors are doing. Social media platforms are a great place to keep an eye on your direct competitors. You can monitor different aspects of your competitor's businesses through their social media handles.
The first thing that you will notice is the type and the quality of the content that your competitors publish to woo the target audience. Next, you have the engagement numbers in front of you (likes, shares, comments) to ascertain the impact of their content. You also get to learn how your competitors interact with their followers through their outreach ideas.
Going through these aspects of your competitors' businesses gives you an idea of what they are doing right. You can use this information to tweak your social media strategies — to not completely imitate the content that works but draw inspiration and give it your own twist.
Competitive analysis should be centered around learning from the hits and misses of your competitors. In the process, you also get the opportunity to reflect on your business and its social media strategies. Having a good understanding of your position in respect of your competition allows you to make necessary changes wherever required.
6. For Building Your Brand's Reputation and Recognition
Attracting the target audience becomes easier with a good brand reputation and recognition. Therefore, you must focus on enhancing the same for your brand. Social media platforms can give you the perfect stage for doing so.
People like to buy from a brand that they can recognize, and social media, when used right, provides you with the tools to create that recognition. Social media has the capability of putting your brand on the map and presenting it to the target audience faster than any other medium.
The prerequisite is to create relevant content that resonates with your target audience and their beliefs. Invest time in creating quality content and making it interactive and interesting enough. Add appealing visual elements related to your brand in your content on priority. Focus on perfecting your profile and cover images as they create a lot of impact on a user's mind.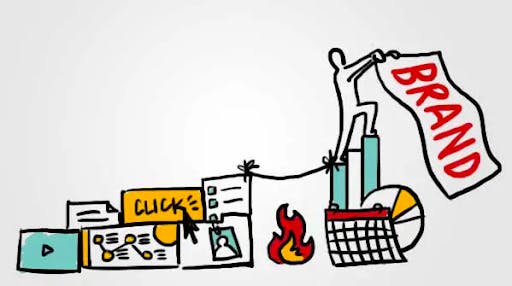 Your logo needs to be present in your posts, but not too aggressively. It must be subtle and yet easily visible to your target audience. The idea is to put a subconscious image of your brand's logo in a user's mind. Simplicity goes a long way, don't try extra hard. If you wonder how to create one you can simply use a logo maker tool to take inspiration on how to streamline your design efforts.
7. To Establish Your Business as an Authority In Your Industry
It serves your brand in the long run if it can become the authority of a given niche or topic. The direct result of having a topical authority is building trust surrounding your business. A trusted business gains returning customers and good word of mouth.
Social media platforms can help you in your quest to establish topical authority in your industry.
The first step towards this journey is being consistent and regular with your posting habits on your social media profiles. Regular content helps search engines to recognize your expertise and authority in your niche. As a result, search engines start indexing and ranking your social media posts higher.
A higher topical authority is directly proportional to increased website traffic, as has been discussed above. You want to push content that contains valuable information for your target audience. The trick is to maintain the quality of your content along with its consistency.
8. To Increase Conversion Rate
When you achieve high-quality traffic to your website, your next goal is to increase the conversion rate. When your website visitors become your paying customers, only then can your business make a tangible profit.
Whether you own an ecommerce website or provide an online service, it's always important to maximise your conversion rate by any means possible. For example: many online stores use dropshipping tools to bulk import new products and rapidly increase their range, without having to purchase more stock. Ultimately, this leads to a better conversion rate.
Social media can be used to increase the conversion rates of your business through the following methods:
You should add strong calls to action:

A call to action helps guide the prospects to what step they should take next after viewing your content. A CTA can motivate prospects to make a buying decision, get a subscription for a service, and more.

Make it a point to include CTAs in your social media content, form posts, stories, and even your bio. The greater the visibility of a CTA, the higher is its chance of influencing the target audience.
You should offer discounts, organize giveaways and contests:

Discounts are a great way of incentivizing your target audience to consider buying a product/service on offer. Use your social media profiles to provide exclusive discounts to your followers.

Similarly, giveaways and online contests have gained massive popularity of late and increased engagement on your social media posts. Everyone likes to participate in content that promises a good reward. Make sure that you organize giveaways and contests.

You can massively gain popularity as users flood your posts in the hopes of winning a prize.
Conclusion
Social media is a powerful tool if you know how to make the best use of it. You can implement all of these methods in your marketing strategy and see visible results in your conversion rates and website traffic in a short amount of time. Social media promotions will help you grow your business if you play your cards right.
You can use SmartTask to streamline your social media projects and tasks so you can achieve the best results.
Frequently Asked Questions
1. What are some examples of social media promotions?
There are many ways businesses use social media for promotional efforts. Here are some examples:
Discounts and Sales: One of the most common types of social media promotions, where businesses share discount codes with their followers to boost sales.
Giveaways: Many companies run giveaways on social media platforms, where users have the chance to win a product or service for free. This often involves asking users to follow their account, like the post, and/or tag their friends in the comments.
Contests: Similar to giveaways, contests usually require more effort from the participants, such as submitting a photo, video, or written entry. The winner, chosen either by the company or through public voting, receives a prize.
Product Launches: Companies often use social media to generate buzz around new products or services. This might involve a countdown to the launch date, sneak peeks, or early bird discounts.
Influencer Partnerships: Many businesses collaborate with social media influencers who have a large and engaged following. The influencers promote the business's product or service in their posts or stories, which can help reach a wider audience.
User-Generated Content: Brands often encourage users to share their own content related to the brand's products or services, often with a specific hashtag. This kind of promotion not only provides the company with free content but also makes the users feel more connected to the brand.
Collaborations with Other Brands: Businesses may team up with other companies for mutual promotion. This could involve joint giveaways, product bundles, or shared content.
Educational Content: While not necessarily a promotion in the traditional sense, sharing valuable, educational content related to your industry can help to establish your brand as an authority, build trust with your audience, and indirectly promote your products or services.
Remember, the key to effective social media promotion is to offer value to your followers, engage with them authentically, and make them feel a part of your brand's community.
2. What are some creative ways to promote on Social Media
Here are some creative ways to promote your brand, product, or service on social media:
Use Storytelling: Instead of directly promoting your product or service, tell a story that involves them. This could be a success story from a customer, the history of your business, or how your product is made. People are more likely to engage with and remember stories than direct advertisements.
Interactive Content: Use quizzes, polls, or contests to increase engagement. Encourage your audience to share their results or submissions, which can increase your reach.
User-Generated Content (UGC): Encourage your followers to create content related to your brand. You can feature these on your profile, which makes the users feel valued and increases the authenticity of your brand.
AR Filters and Effects: If your audience is largely on Instagram or Snapchat, consider creating a custom AR filter related to your brand. This can be a fun way for users to engage with your brand and share it with their followers.
Live Q&As or Demonstrations: Use live video features to interact directly with your audience. This could be a Q&A about your brand, a demonstration of a product, or an interview with a key member of your business.
Interactive Ads: Consider using interactive ads that allow users to swipe through a product catalog, play a game, or otherwise interact with the ad.
Use analytics to understand what types of content they engage with most and tailor your strategy accordingly. Consistently engage with your followers through comments, messages, and other interactions to create a community around your brand.