SmartTask
Contents
Best Excel Alternatives For Your Teams To Be Productive
By Nidhi ParikhAug 19, 2019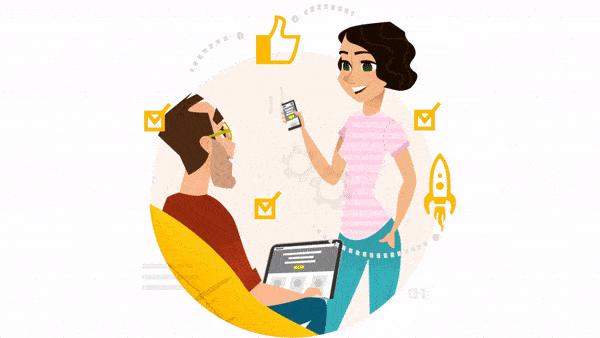 From when we were in school, we were taught the basic functions of Excel. MS Excel has been around for a very long time. This has been the main reason why it has been so popular and widely used everywhere – be it in schools, research projects or when it comes to the day-to-day business functions.
So, it doesn't come as a surprise that Excel is used by 750 million people worldwide for functions like data summary and organization, reporting and analysis.
But it isn't free for businesses. Most people use Excel as a part of the MS Office package and just a single-use license for this package can cost 69.99$/year. And what's more? It isn't that effective if you are using it for all your business functions. Let's find out why.
1. MS Excel isn't collaborative in nature. People can't work on the same sheet simultaneously and every time a correction is made, an updated sheet needs to be sent to everyone on the team.
2. Data retrieval becomes hard as it excel sheets are stored locally. The files can even be prone to cyber threats or virus attacks.
3. It doesn't keep track of changes and so there is no accountability.
4. As Excel files are not on the cloud, you need to keep calling or asking your colleagues to share the files as and when needed.
5. Excel doesn't provide you the features that a task management software or a project management software can bring into the picture.
These are some of the reasons why you need to re-think using Excel as your only medium for your business requirements.
Which are the best Excel alternatives?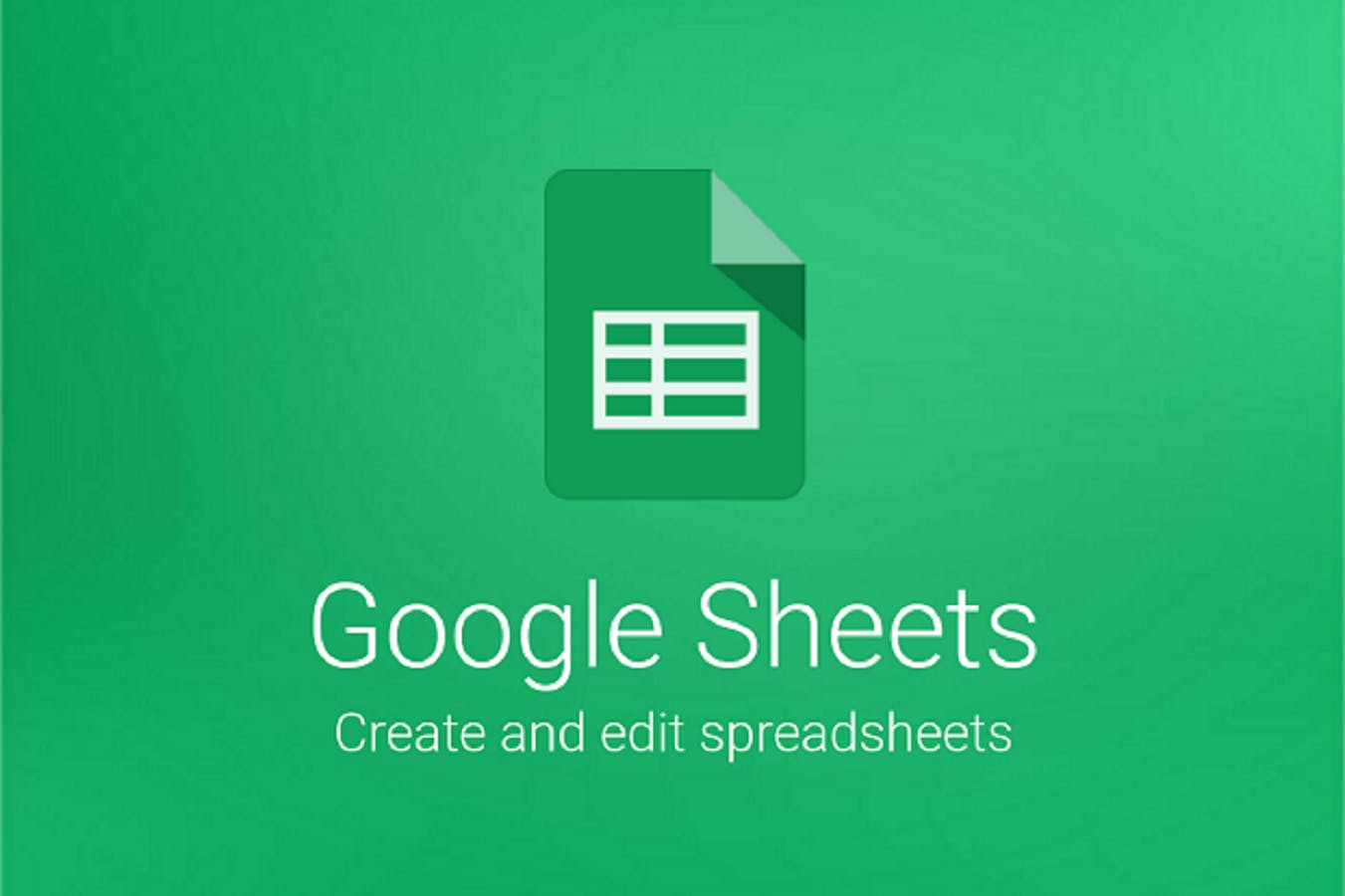 If you have a Gmail account, you can access Google sheets from anywhere, provided you have an Internet connection. Google sheets has pretty much the same functionalities that Excel provides but there's one major benefit – it is on the cloud. Which means that you don't need to worry about storage issues. You just need to give permissions to your teammates to access the Google sheet.
It makes collaboration much more effective and easier as it tracks every single change made by a person. This makes sure everyone on the team is accountable and you don't need to keep sending different versions to keep the team updated.
If multiple users are active on the same Google sheet, a user can see the cursor position of the other person and can also chat in the document window. Google sheets also provide you templates through which you can adjust to this new medium easily.
And what's more? Google sheets is free to use.
Google sheets though come with some cons – it has limited formulas and functions, customization and data visualization options aren't that many and if you are working with a lot of data, it slows down.
But if you are a business that isn't an Excel power user and you want to find ways to improve your team collaboration and communication, Google Sheets is the way to go.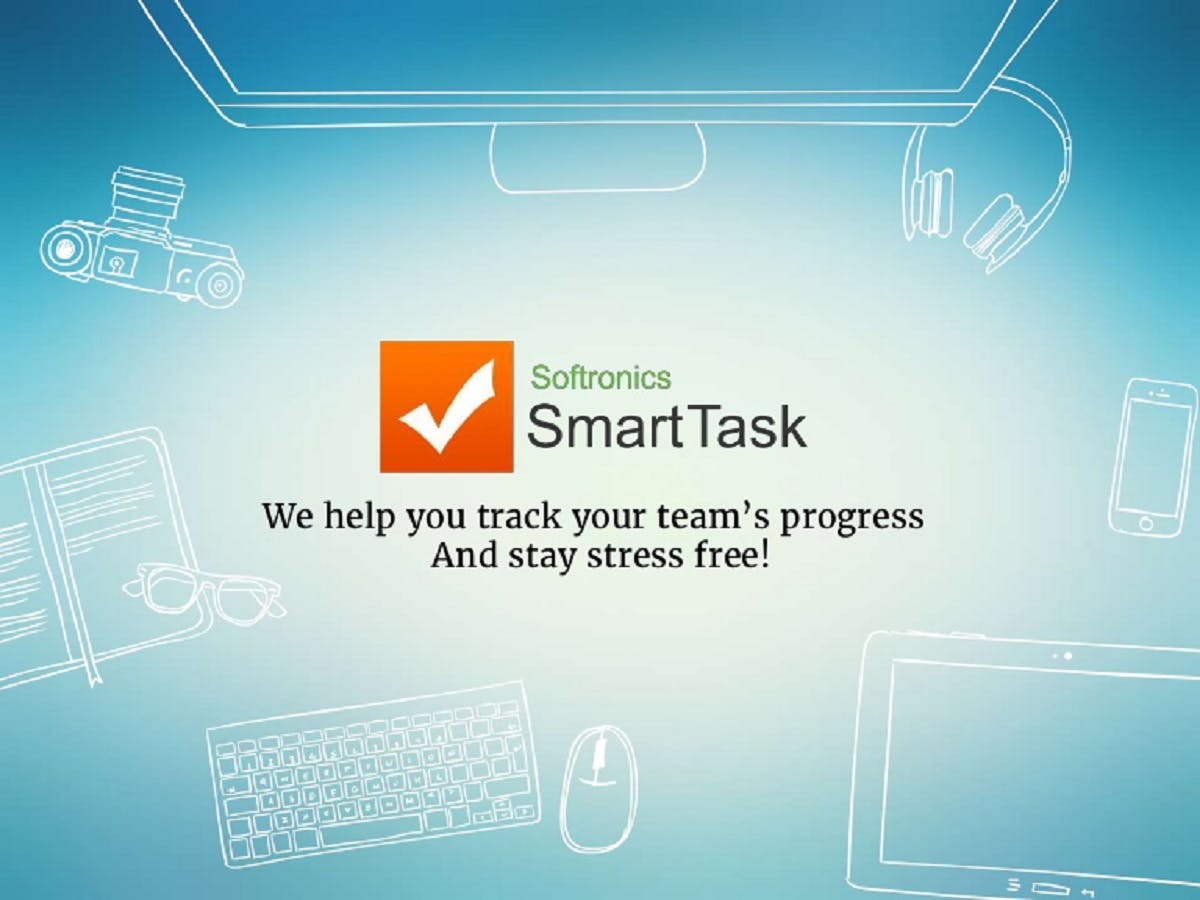 If you are using Excel for your project management requirements, you are bound to many errors and misunderstandings. Why? Successful projects are based on good team communication, collaboration and effective time management. Excel doesn't provide you that.
SmartTask serves all your project management needs. From making a project scope, project proposal to conducting effective project scheduling, it is there to help you. As it is a cloud based software, you can monitor progress across all your projects in real time. You don't need to access multiple Excel Sheets for that.
Team members can share files, comment on the tasks and update everything on the software. Features like project milestones, portfolios, custom charts and custom fields make everyone's work easier.
It also comes with many third-party integrations and you can upload Google sheets or docs from your Google drive itself. While Excel doesn't facilitate remote working, SmartTask lets remote workers stay connected with the team from wherever they are working.
SmartTask lets you create templates so that you don't have to repeat similar steps/workflows again and again. For example, if there is a sales process for every quarter that remains the same, instead of creating excel sheets every quarter, SmartTask lets you create a template for the same. So, the next time you want to use a similar workflow, all you have to do is duplicate that template.
The best thing about SmartTask is that it also fulfills your task management and CRM requirements and all at a far lower cost than Excel.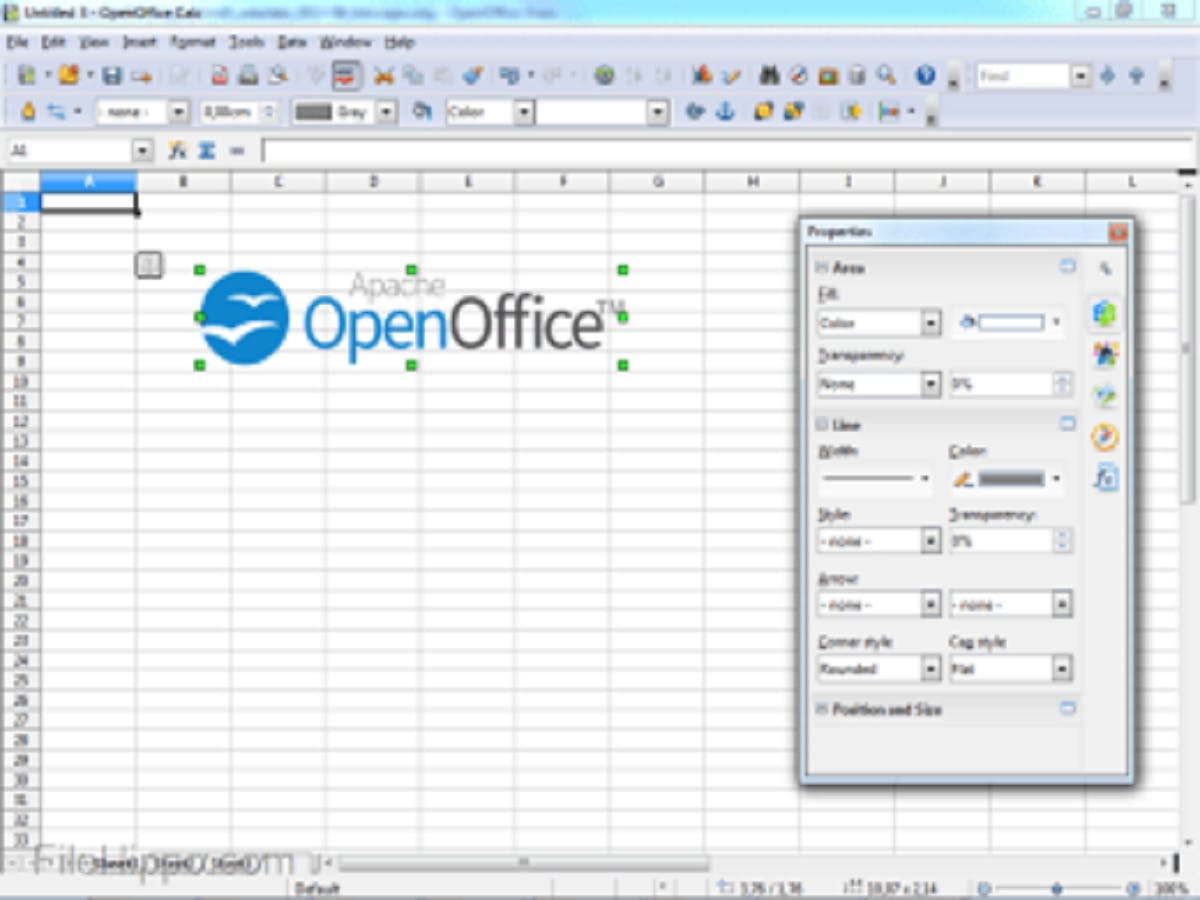 Like MS Excel, OpenOffice does not require you to have an Internet connection to keep using it. You just need the Internet to download it to your computer and that's it. It runs on Windows, Linux, and Mac OS X, almost all your operating systems so everyone can easily use it.
It has almost all the features that Excel has and is free to use. It has Calc (Excel's alternative to perform data analysis) and Write (For your MS Word needs). Before adopting it, do have a look at its user manual to figure out if they have all the functions in Calc that you use in Excel.
The best thing about OpenOffice is that it has an open source code. Which means if you are a programmer or have one on your team, you can customize or improve the program to meet your company's needs and requirements.
While you have to pay for updates for Microsoft (If you want to move from Office 2013 to Office 2016), the updates for Apache are free. And you don't have to worry about licensing too. You can download Apache OpenOffice on as many computers as you want to which isn't possible for Microsoft Office.
But what if you're afraid that it doesn't work out? Worry not. Apache OpenOffice lets you open, edit and work on your Excel worksheets as well so you can keep working on both if required. It also makes the transition easy.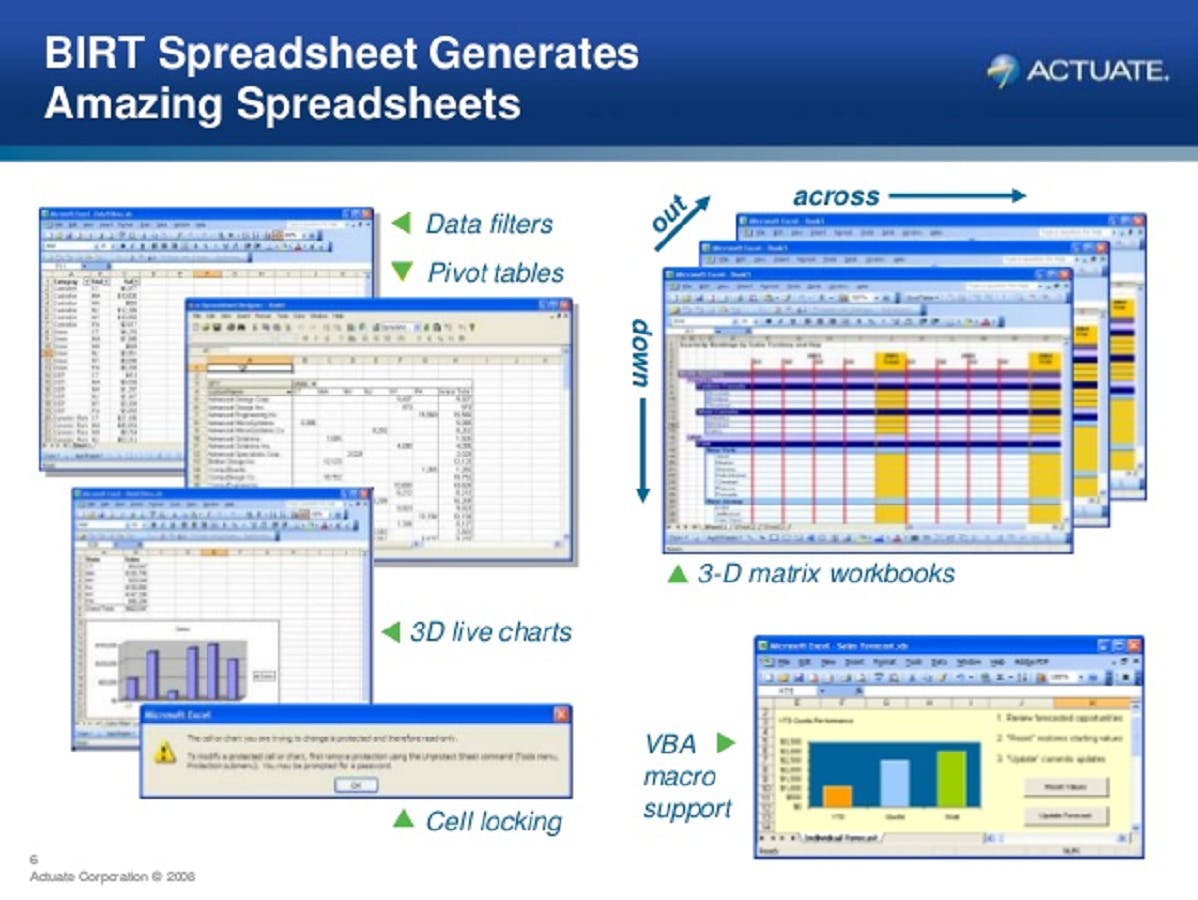 Birt spreadsheet has many of the same features and functions that MS Excel provides. It also provides live features as it was initially developed as a business reporting tool. Using various charts, you can retain live information.
It also makes giving presentations easier and more effective. For example, if you include a hyperlink into a video within your Birt spreadsheet, you can click and view it while giving a presentation. You can also hyperlink to other spreadsheets thus navigating while giving a presentation is no longer a problem.
For thorough data analysis, it provides pivot tables, hyperlinks and live formulas and data-driven layouts. It also provides you templates to make your work easier and quicker. What if you want to make your own customized template? Worry not. Like Excel, Birt spreadsheet lets you create one. This can make things easier for everyone as every time you need to use the same workflow or process, all you need is to duplicate a template.
It also automates and centralizes your spreadsheet maintenance and security. It retains formulas, live charts, formatting and other data connections.
You can also save your Birt files as excel files which helps you use both the mediums and transition smoothly.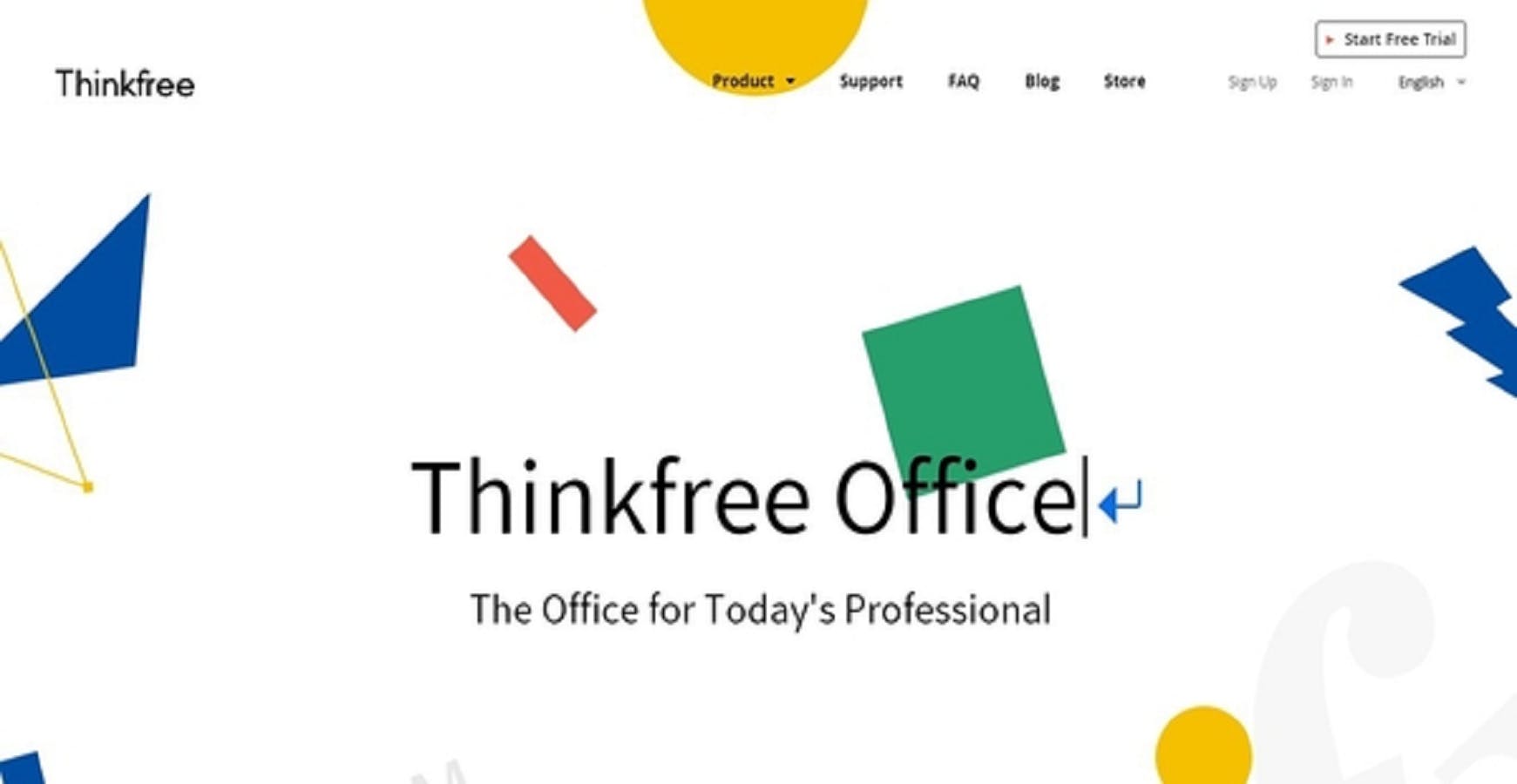 Thinkfree is very similar to all your Google Drive apps. It combines web-based word processor, spreadsheet and presentation into one software. It names these as Word, Cell and Show respectively. Cell being the alternative to MS Excel.
Like Google drive apps, it doesn't require any installation. Moreover, by using Thinkfree Office Mobile, you can edit and view your documents on your mobile. It also lets you make changes to your spreadsheet from your mobile. You don't need to be constantly on the computer for that.
It is also compatible with Microsoft office which means users can create and edit documents within the web app. Collaboration also becomes real-time as it works on the cloud. Like Google sheets, people can communicate and work together on Thinkfree.
With cloud storage, you no longer have to worry about storing all those files on your computer.
Thinkfree does have some limitations when compared to Excel. Its formatting and spreadsheet designing options are quite limited. It also doesn't give you advanced formulas that Excel does.
But if you are using Excel only for data entry purposes which require limited mathematical functions, Thinkfree is worth a go.
Conclusion
While Excel has become the go-to program for data analysis and data entry purposes, there are a lot many tools that provide you the same functionalities at a lower cost. If not completely doing away with Excel, you can slowly transition to newer and even better software that are available. It's time to stop using Excel for everything – data entry, data formatting, data analysis, project management and so on. Let's take a step towards finding new and better ways of doing things at a much lower cost.