SmartTask
Contents
18 Wrike Alternatives That You Should Look Up Today
By Angad SinghFeb 13, 2023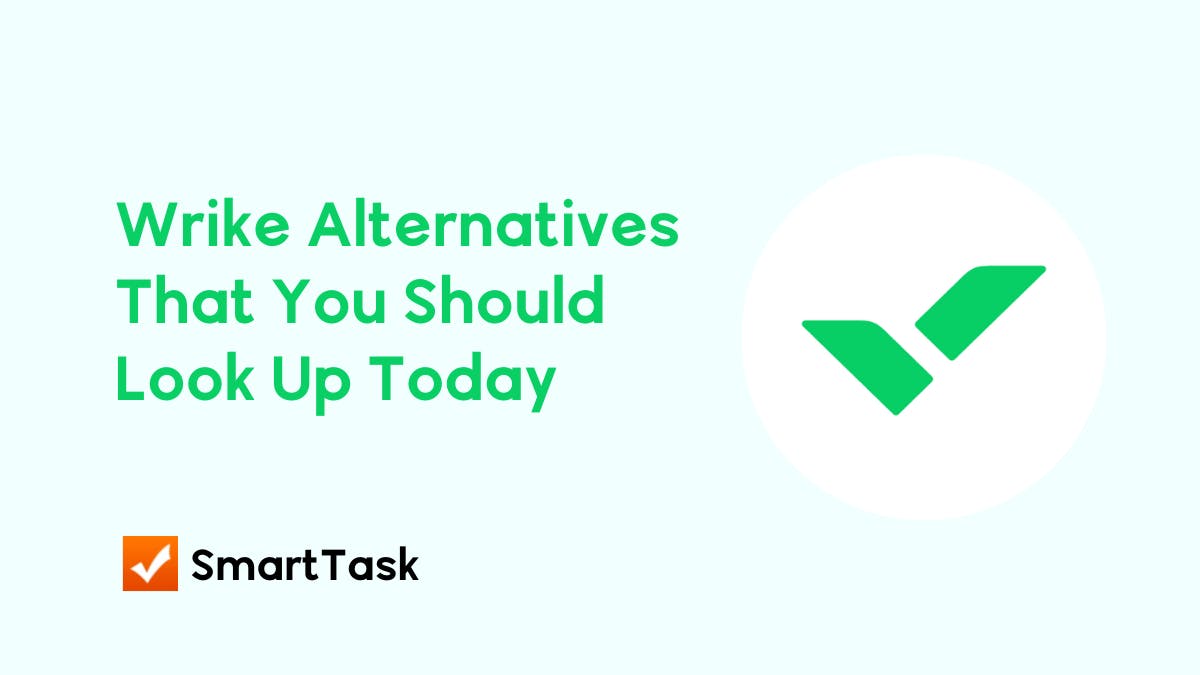 Wrike is a phenomenal project management software.
It's loved by 20,000+ users, some of whom are from places like Google, Siemens, and Lyft. What's more? Their team recently pulled off a massive update. Now called Wrike Lightspeed, the tool is the best it's ever been, with sharper looks and improved performance.
But still, Wrike isn't for everyone. Alongside product improvements, its pricing has also risen. The plan that most businesses will use costs $24.80 per user per month.
Forget resource management, even custom item types are off the table if you can't afford this. And for Mac users, seamless performance isn't guaranteed even if you give in to the price tag. For many, these issues can stack up, and prime the need to search for other options.
If that happens to be you, you're in the right place. Below is a list of the 18 best Wrike alternatives money can buy:-

Best Wrike Alternatives in 2023

1. SmartTask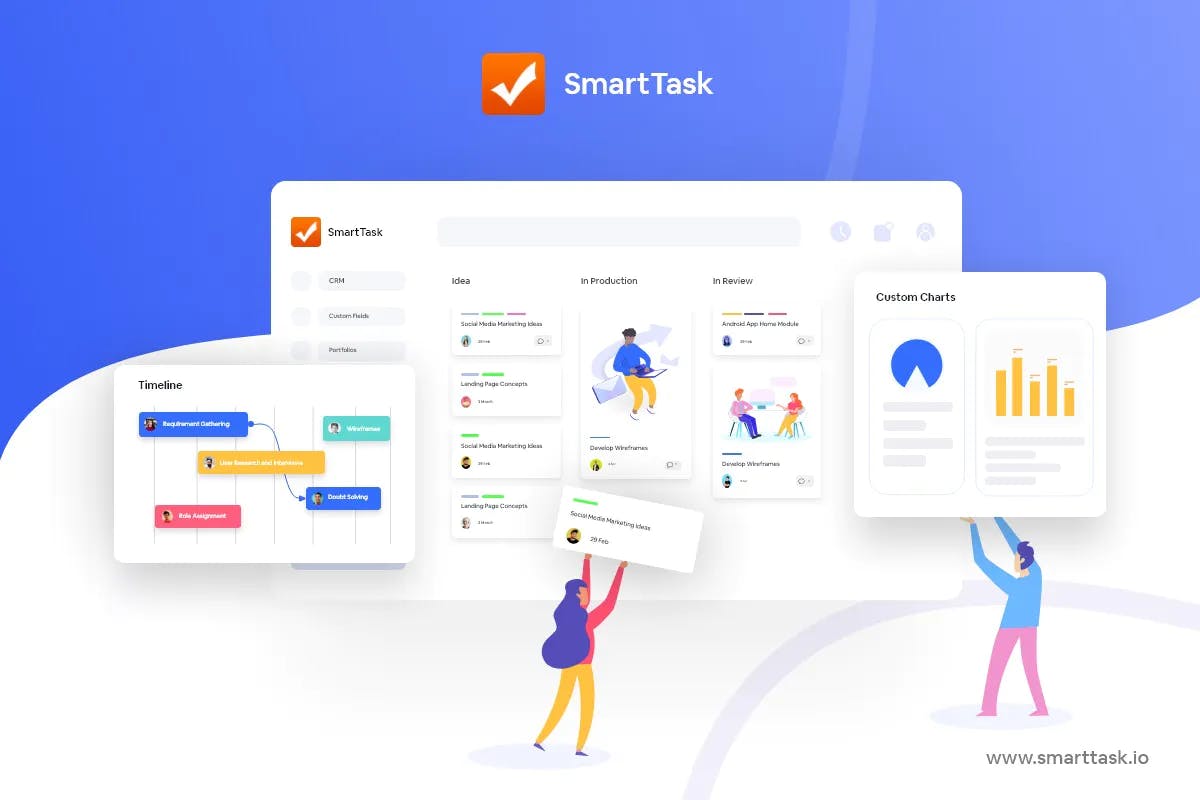 What Wrike delivers for almost $24/user/month, SmartTask does for $8. Here's a glimpse of the value you can expect:-
Multiple Views: Understand work from varied vantage points. Choose from Board, List, Timeline, Calendar (and more) views and weave your personalized success story.
Portfolios: Make sense of every ongoing initiative in your organization — from one centralized view.
Time-tracking: 360° time-tracking with reporting capabilities, so you're never in the dark about resource utilization and profitability.
Task Management: Set task dependencies, due dates, priority, and tags.
Workload view: Understand your entire workforce's commitments from one place, and promote balance when you spot overworked resources.
Comments & File Sharing: Share important information, attach files, and give feedback via comments. Do all of this on the task itself. No need to keep switching windows.
Activity Feed: Save hours of standup meetings with feed updates and automated check-ins.
Team Communication: Real-time communication with individuals (or teams) via chats, voice-recorded messages, and video meetings.
Automation: Automate repetitive project tasks for better project performance.
CRM & Sales: Visualize sales analytics - estimated sales, sales funnel, and user-wise analytics. Move inquiries across multiple stages, have clarity on past conversations, and plan future action points.
White-Label: Experience seamless client management by adding your custom brand to the SmartTask platform
Custom Analytics: Check key performance metrics for finished projects and download reports to study at your convenience.
Reminders: Alerts, notifications, and reminders to keep teams on track.
Pre-made templates: Expert-designed templates to help you kick things off straight away.
And if that wasn't enough, know that SmartTask and churn rarely go together in the same sentence. Once you become a user, you're far too busy getting things done 3X faster to ever consider a change.
Don't believe us? See for yourself what working at light speed really feels like.
2. Trello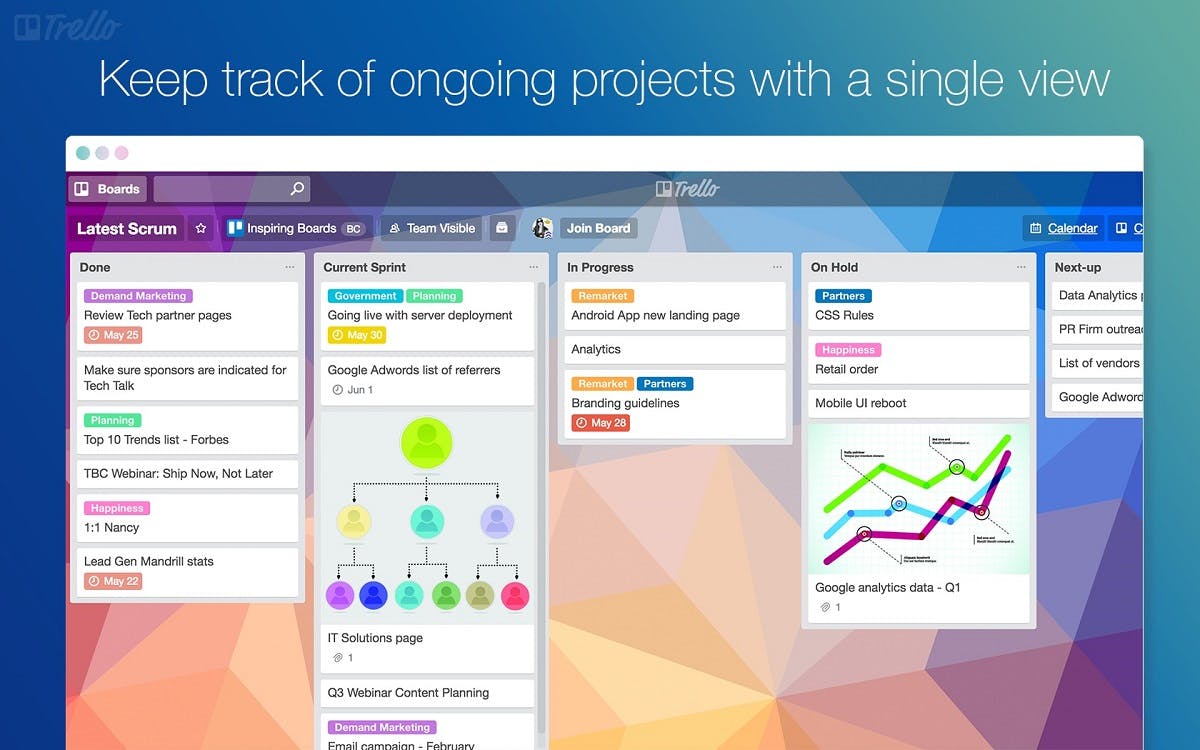 Trello, a Wrike alternative that's been active since 2011, is a lot more than a name that rolls off the tongue. It's a simple-to-use project management software used by Visa, Coinbase, Zoom, and more.
Apart from being easy to adopt, Trello gives you a refined Kanban experience. The cards (called Tacos) in a Kanban board support tons of customization. You can enrich them with checklists, due dates, assignees, files, and more.
Other project views, albeit somewhat new to the platform, are just as polished. Tables, calendars, timelines, and dashboards... they're all there and are crafted with care. However, using them isn't possible in the free version or entry level tiers.
Pros
Very simple and intuitive
Massive integration library
Terrific mobile apps
Available in around 20 languages
Delivers great ROI for those new to project management
Cons
Does not have built-in time-tracking or resource management
Additional views are available in the most expensive plan ($10/user/month)
Does Kanban really well, but not built for complex use-cases
Notifications can be overwhelming
Cost
Trello comes with a generous free version and follows it up with 3 paid tiers. They are:-
Standard – $5 per user per month
Premium – $10 per user per month
Enterprise – $17.50 per user per month
There's also a 14-day free trial for Trello Premium to help you better decide if it's the right fit for your team.
3. monday.com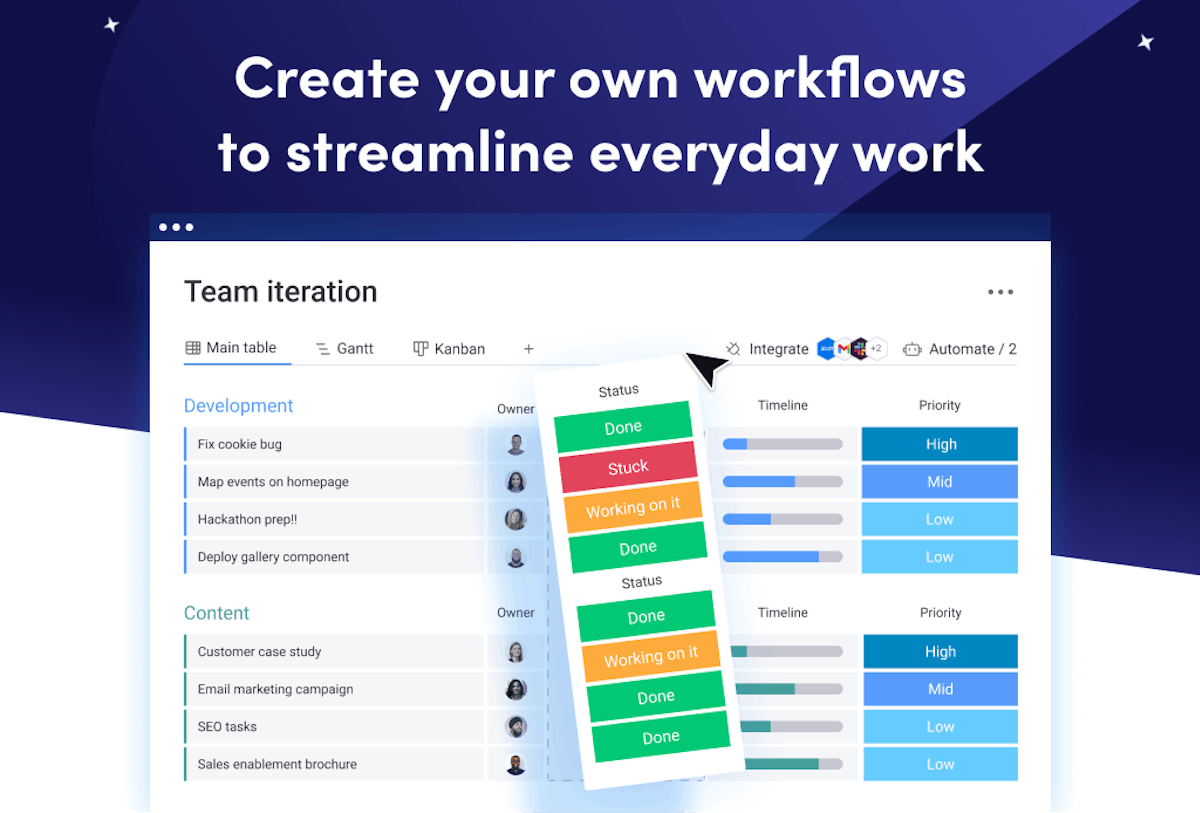 Now a publicly-traded company valued at $1.9 billion, monday.com is a disruptive force. The company's bread-and-butter, the monday work OS, is a mix of five tools.
The base layer here is Work Management, on top of which Monday Marketer, CRM, Dev, and Projects exist as add-ons. We're fans of the neat use-case based segregation, but it comes with a major downside: The pricing.
Currently, it feels like you have to pay extra for what are essentially templates added to the base layer. However, the dev team at monday.com is putting in hours to enrich what's at offer.
Soon enough, we'll see the Portfolio view (and more) teased at their 2022 annual conference.
Pros
Great interface (especially if you use color-coding to organize information)
Tons of integrations
Dashboards have tons of widgets and are very customizable. The Llama Farm widget is equal parts fun and informative
A good number of automation presets that are a breeze to set up
A new portfolio management system in the works — announced in annual conference in 2022
Cons
Minimum of 3 seats are required on all plans (that's a pain for small businesses)
Some users report it being a little clunky at times
Mobile app is limited when compared to the web-based app
Not the best option for solopreneurs, freelancers, or creators
Lacks portfolio view, and adding dependencies in timeline view is not drag-and-drop supported
Cost
monday.com comes with a confusing pricing system which can surely incite a few hair-pulling moments. However, the base layer (upon which you can purchase add-ons) has 4 paid tiers. They are:-
Basic - $8 per seat per month
Standard - $10 per seat per month
Pro - $16 per seat per month
Enterprise - Contact Monday.com
A free plan is there but limits you to two members and three boards.
4. ClickUp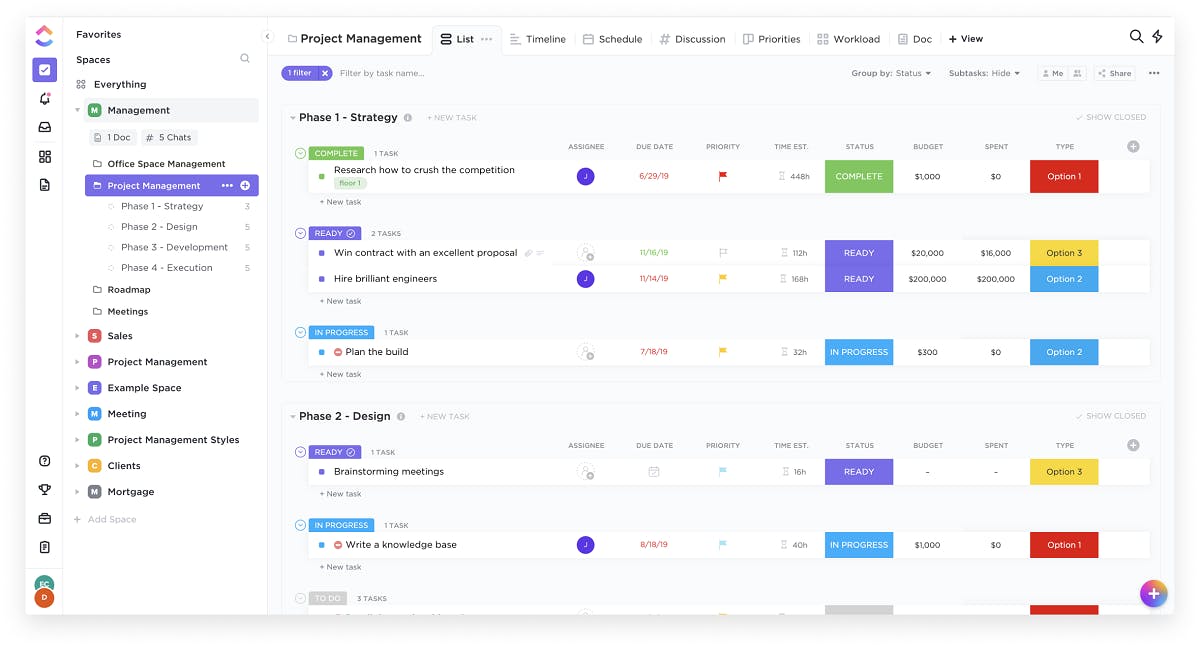 In just a few years, ClickUp has not only matched most competitors, but outdid them. It packs enough under the hood to become your everything app in no time.
Project management, time-tracking, white-boarding, doc-creation... There's little that ClickUp doesn't let you do. Even the tool's free version comes with most, if not all modules unlocked.
Their annual conference, LevelUp, is around the corner, and will unveil ClickUp 3.0. Why is that exciting? Well, the team has hinted at how the newer ClickUp will rid the platform of its infamous slowdowns. If that claim rings true, the only reason not to try ClickUp would be if you are looking for something simpler.
Pros
Intuitive UI
Exhaustive self-serve documentation/knowledge base
Has been buggy at times but customers have found that tech support has kept their word — bugs do get fixed on time
Massive 3.0 update on the way
Easy imports from Trello, Asana, Basecamp, Todoist, Jira, Wrike
Has a huge community. You can also hire ClickUp consultants for easy onboarding and adoption
Cons
Performance issues have been a problem for a while
Can be too complex for people new to project management and even for veterans
Search needs improvements. It doesn't always lead to expected outcomes
ClickUp docs are nice to have but aren't at par with industry leaders yet
The sheer amount of features make the tool feel too much
Cost
ClickUp lets you choose from 4 paid plans, with the added option to strike a custom deal for their entry level tier. Here's what all plans cost:-
Unlimited - $5 per user per month
Business - $12 per user per month
Business Plus - $19 per user per month
Enterprise - Contact their sales department
There's a Free Forever version too which small teams and freelancers will love most.
5. Notion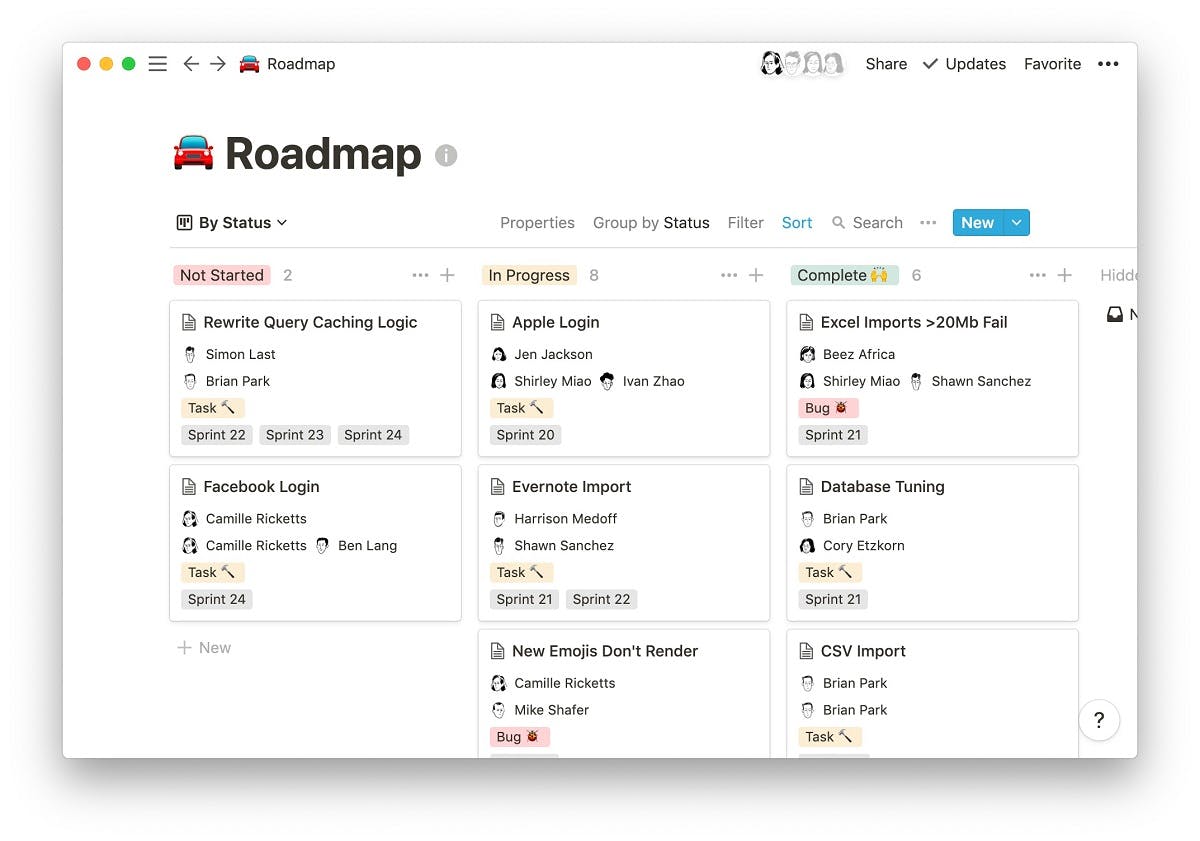 You'd be forgiven to mistake it for a simple note-taking app but Notion is so much more. Used by 50% of all YC companies, it is a full-blown low-code, no-code platform. Now powered with AI assist, it's the best it has ever been.
What makes it stand apart though is the community that has come to love the tool. Avid Notion users have created hundreds of templates for every use-case you can think of. All teams, from dev to HR, will easily find something of interest.
However, the templates can only do so much. Notion's expansive scope for customization also gives it a learning curve. So, expect to do a good amount of legwork for the first few weeks of usage.
Pros
Sleek and user-friendly interface with a standout design language
Highly visual doc/wiki creation with rich-text editing
Note-taking experience is so good that it has replaced paper note-taking for some users
Works really well as a second brain (kudos to its note-taking finesse)
Great for creating public webpages
Has great filtering options
Cons
Performance woes when dealing with big databases
Steep learning curve — if you didn't enjoy playing with legos as a kid, chances are Notion isn't for you
Mobile app feels a lot clunkier when compared to desktop and web apps
No native time tracking support — need integrations for the same
Note-taking app first, work management solution second
Cost
Notion is reasonably priced for both teams and individuals. The three paid plans to choose from are:-
Personal Pro - $4 per month
Team - $8 per user per month
Enterprise - Contact notion
A free version also exists which skews more in favor of individuals than teams.
6. Smartsheet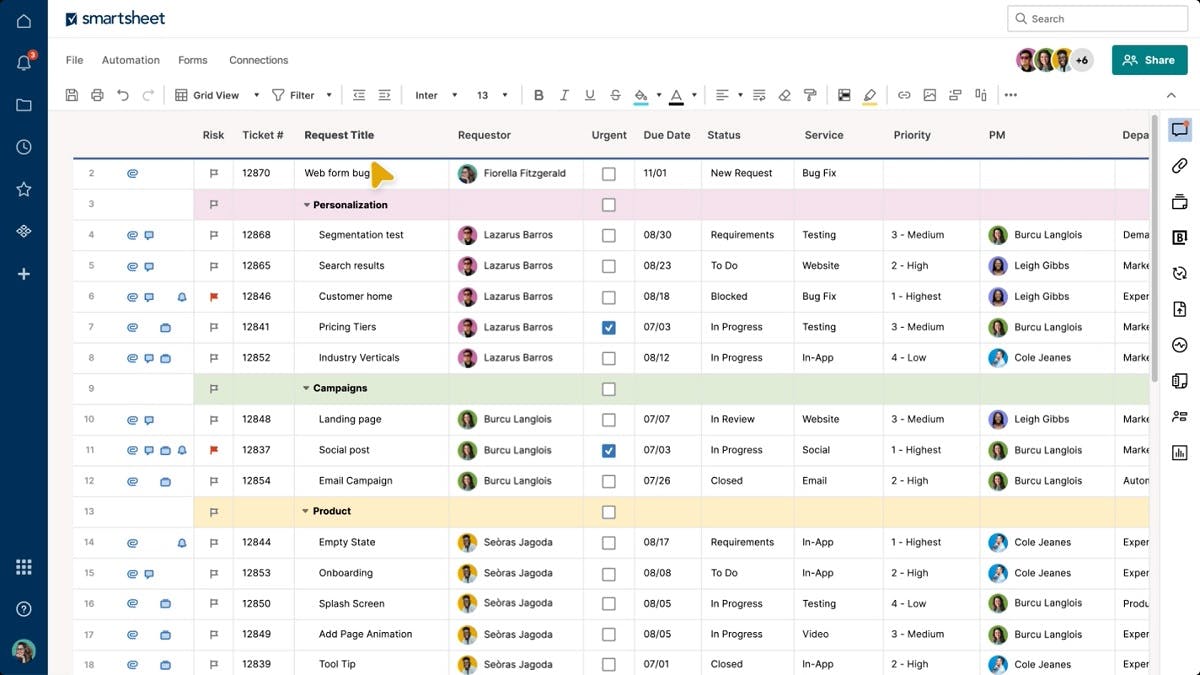 Smartsheet, as the name suggests, is Excel with superpowers. It packs its features and abilities in a familiar UX marked by cells and columns. But it does so with a dash of modernisation.
Just as capable as Wrike, if not more, it finds users in places like Lego, P&G, Pfizer, and other Fortune 100 companies. The bells and whistles you'd expect to see in a project management software are all there. You can toggle between four project views, automate workflows, manage resources, and even create no-code work apps.
Enterprise users can depend on Smartsheet to handle heavy data sets, that too without any data security woes. Where the platform runs into churn is in places where new users find it hard to learn. Even for those familiar with spreadsheets, Smartsheet's endless capabilities are challenging to master.
Pros
Can map complex workflows perfects using intelligent workflow creation
Can buy professional support if you want help in getting Smartsheet set up and adopted
Extensive self-serve resources available
Workflow automation available in all plans
Importing data from other applications is easy
Can create customized no-code apps if custom dashboards don't do the trick
Cons
Massive learning curve once you start exploring the platform's advanced capabilities
No free plan;10-user limit on entry level ($7/user/month) plan; expensive mid-level plan ($25/user/month)
Being like Excel is a double-edged sword — those who like more modern UIs find Smartsheet uninspired
Cost
Smartsheet is priced well for all that it can do. However, it's not the easiest on the pocket for small businesses. The pricing options available are:-
Pro - $7 per user per month
Business - $25 per user per month
Enterprise - Contact the sales department
A new free is now on the roster which allows one user to create a maximum of two sheets. That's quite limited but better than nothing.
7. Basecamp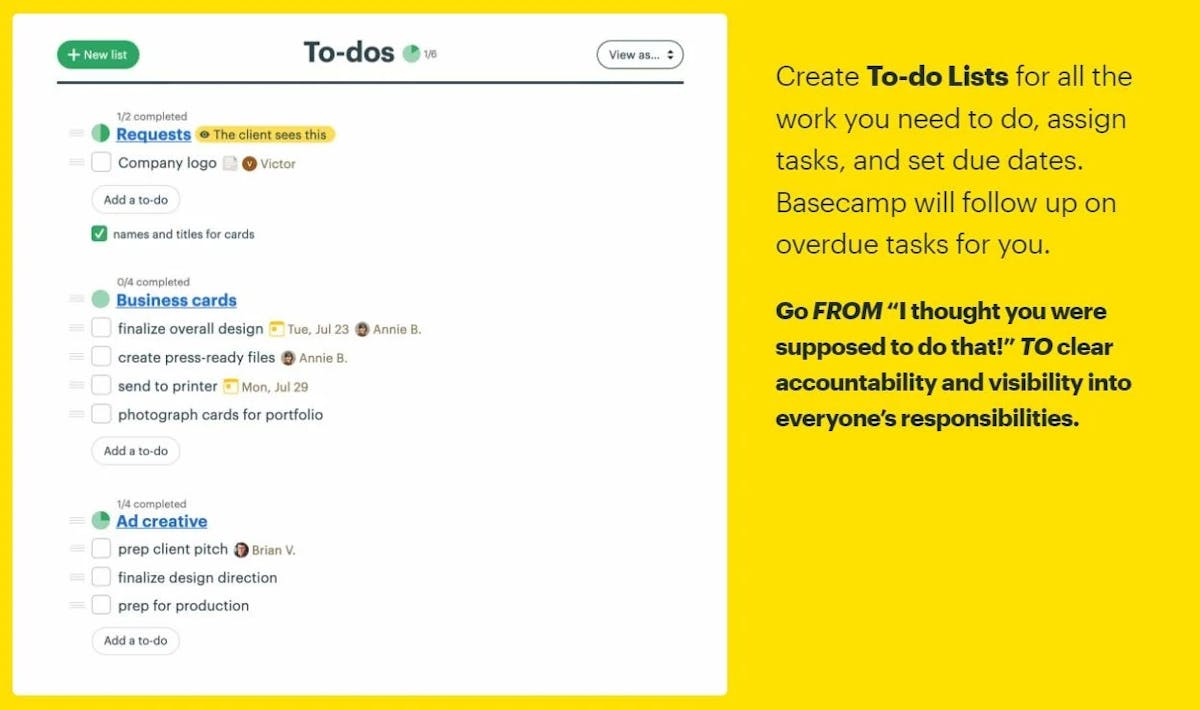 In a category dominated by look-alike tools with slight variations, Basecamp is a thing of its own. It boasts a heavily opinionated design, backed by sound logic and user-centricity.
From the home screen to all the different modules, a new way to tackle old problems is visible across the board. You do find familiar elements like lists and boards, but alongside new artifacts like Hill charts. As a result, the experience that Basecamp delivers falls into the love-it-or-hate-it bucket.
All in all, it's a wonderful tool built by incredibly smart people. If you appreciate software that takes chances while keeping things simple, chances are you'll like Basecamp.
Pros
Easy to learn
Has a good number of integrations and public API docs
Novel approach to project management
Great privacy controls for sharing progress updates with clients
Compelling brand story — founders are eager to share their thoughts online so you're always in the know about why Basecamp does things the way it does
Straightforward pricing with no per user charges — a flat $299/month charge for the Pro Unlimited plan
Cons
Campfire (Basecamp's take on instant messaging) is not refined enough to replace the likes of Slack
Kanban boards are not connected to task lists
Basecamp takes an essentialist approach to development — users expecting new features fast will be disappointed
Misses some advanced capabilities that traditional project management software offer
No native time tracking
Cost
Basecamp gives you two plans to choose from. They are:-
Entry-level plan (for freelancers and small teams): $15 per user per month
Basecamp Pro: $299 per month for unlimited users
You can't use Basecamp for free but can try out the pro plans for 30 days.
8. Jira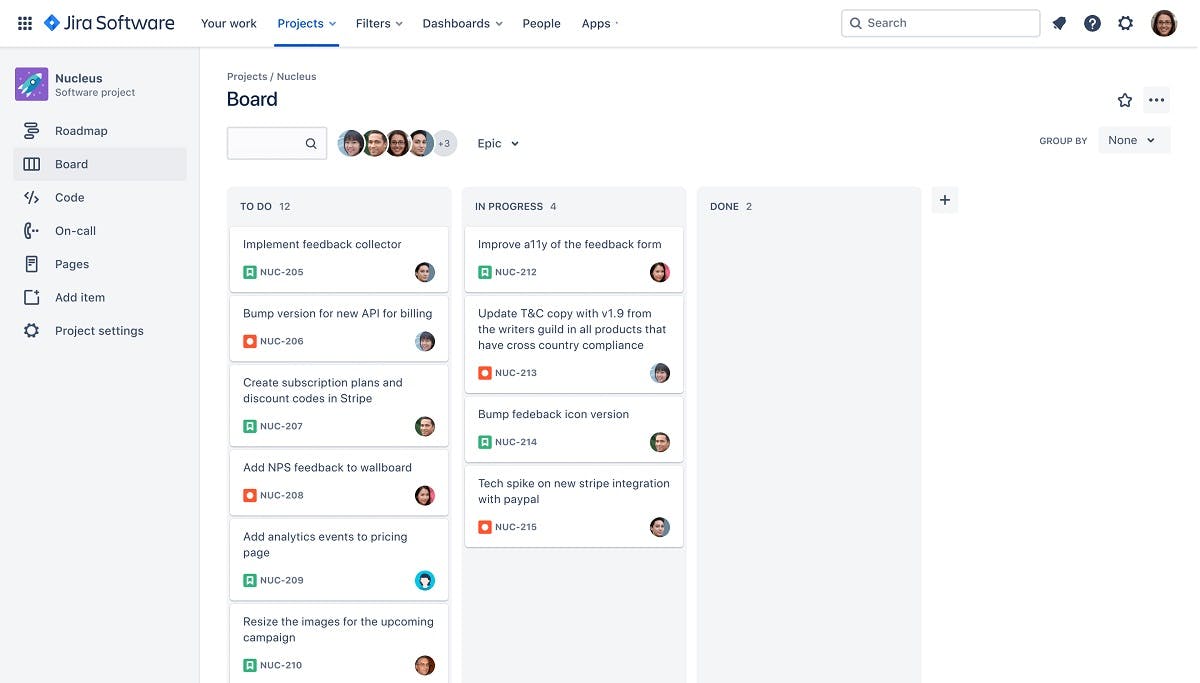 Jira — an issue and project tracking software — is another worthy addition to this list.
It's marketed towards software teams but can support other use-cases as well. From marketers to HR professionals, anyone invested in agile principles should consider Jira.
It integrates with 3000+ apps and gives you a few well-made templates to kickstart things. The reporting features at offer are not to scoff at either. You can create burn-up, burn-down, velocity, cumulative flow, and control charts with ease. That's something you don't find in Wrike.
However, teams that found Wrike to be complex will most likely have the same complaint with Jira. It does have a modern UI, but not the most intuitive UX you can find.
Pros
Extensive help docs
Integrates well with other products in the Atlassian cloud (Confluence, BitBucket, Trello)
Supports no-code drag-and-drop automation
Modern UI
Great templates for dev teams
Cons
Steep learning curve for non-tech users
Issue-tracking tool first, project management solution second
Can get overwhelming when managing multiple projects
Tends to take its sweet time when loading page data
Resource management isn't as intuitive as something you'd expect from an end-to-end work management solution
Cost
Jira offers three paid plans with pricing info available for the first two. The details are:-
Standard: $7.75 per user per month
Premium: $15.25 per user per month
Enterprise: Contact sales
A maximum of 10 users can use Jira for free. You can also avail a free trial before buying a paid plan.
9. nTask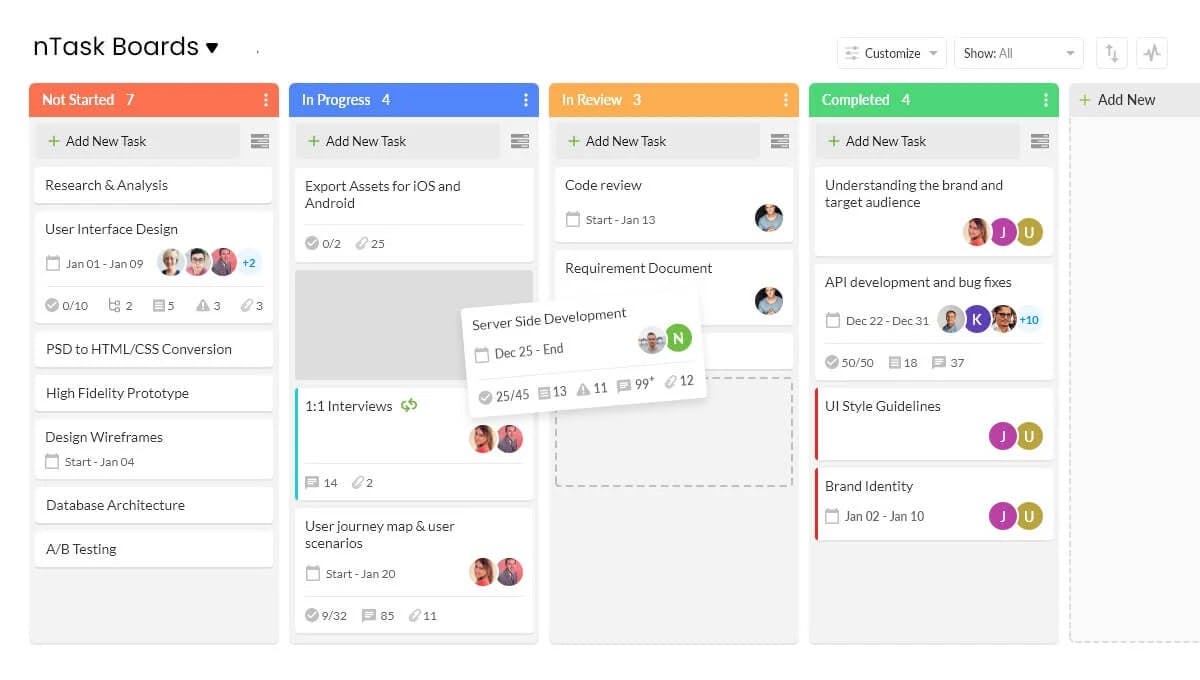 nTask has a breezy UX, packs all project management essentials, and is affordable. The triple-punch of these benefits is enough to make your transition from Wrike a smooth one.
From custom fields to time-tracking, it has all you'd expect to see in an end-to-end work management app. Thanks to their public roadmap, you can also see what nTask has in store for the future.
It offers impeccable value for startups or mid-sized companies. However, enterprises may have to look elsewhere. Users report slow loading times for large data sets, which is a bummer for teams of 50 and more.
Pros
Affordable pricing — entry level plan starts at $3/month
Feature parity with the likes of ClickUp & Asana — great ROI for the price point
Readily available support + help docs on the website
Intuitive UX — great for users who appreciate plug-and-play
The time tracking module is easy to use
Cons
Limited integrations & public API is unavailable
Users report slow loading times compared to other work management tools
Gantt charts are clunkier than most implementations
Free version doesn't feature a Kanban board
The mobile app doesn't stack well against the web app
Cost
nTask has three paid tiers, one of which is an enterprise plan with custom pricing. Here's what the other two cost:-
Premium: $3 per user per month
Business: $8 per user per month
A free plan and a trial are also available.
10. Nifty PM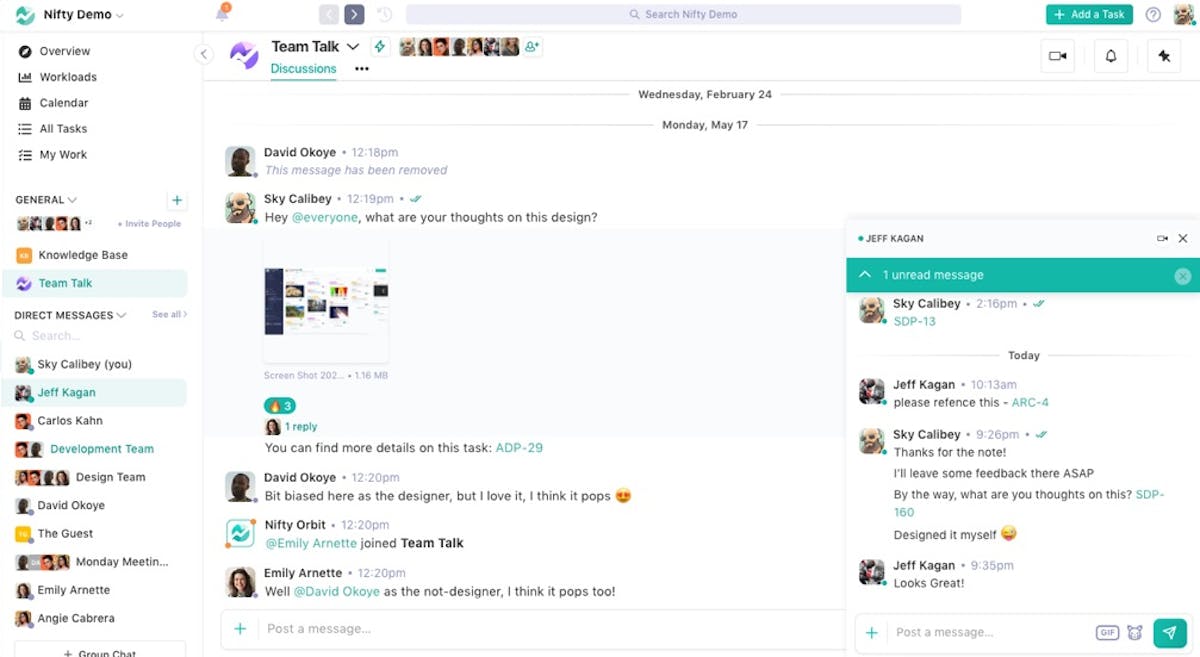 In a highly competitive market, Nifty is a fast-growing underdog capable of giving the heavyweights a run for their money. With docs, chat, tasks, and roadmaps in one place, Nifty makes browser-hopping a thing of the past.
As feature-rich as ClickUp minus the busy UX, it strikes a good balance between scalability and ease-of-adoption. However, enterprise teams may be deterred by the platform's stability. Slowdowns are not everyday events but happen at a noticeable frequency.
But with Nifty's team working at breakneck pace to improve their platform, performance issues may go away soon.
Pros
Affordable yet feature-packed plans for small businesses
Nifty is consistently pushing out updates to improve the in-app experience
It's easy to use and dons a clean UI
Color-coded milestones in Gantt charts
Built-in direct messaging, time-tracking, and docs
Important data from other project management apps is straightforward
Cons
Free version only supports 2 projects
Mobile app is prone to slowdowns
Calendar way looks cluttered when you have a good number of tasks
Nifty docs seem to be buggy for now
Some users have reported trouble getting notifications on time
Limited support for automation
Cost
You can use Nifty for free to try the basic features and choose to upgrade to one of four pricing plans, including:
Starter - $49
Pro - $99
Business - $149
Enterprise - $499
And like we mentioned, there's also a free forever plan that you can try out.
11. Microsoft Project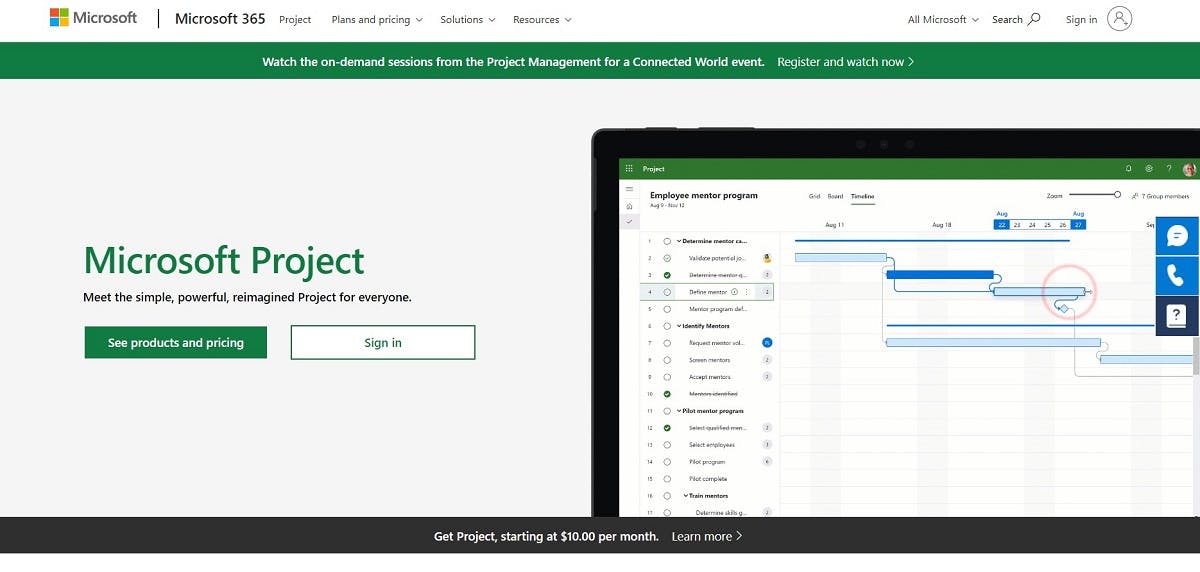 Microsoft Project is best suited for enterprises that already communicate using Teams. It's a hard-to-master tool but offers deep business intelligence and reporting capabilities.
Refined over more than a decade, the product rarely faces stability issues, and is secure enough to host sensitive data.
There's also the freedom to switch between grid, board, and timeline views. Resource management and time-tracking are no trouble either.
The big red flags? The pricing and the UI. The former is unaffordable for small teams while the latter feels vanilla when compared to modern alternatives.
Pros
Integrates readily with Teams
Time-tested and built for scale
Has powerful reporting capabilities — supports Power BI visualization
Powerful enough to let you create custom business apps (mobile and desktop)
Dynamic scheduling that takes the guesswork out of project planning
Cons
Expensive and confusing pricing plans
Self-help resources could have been more thorough
Has a dated user interface and poses a steep learning curve
Seems limited when used without Teams which may not be ideal for every team out there
Cost
You can consider on-premises as well as cloud-based pricing plans. The former cost $589.99 and $1159.99 respectively. The latter are:-
Plan 1 - $10 per user per month
Plan 3 - $30 per user per month
Plan 5 - $55 per user per month
There's no free plan but 30-day trials are available.
12. ProofHub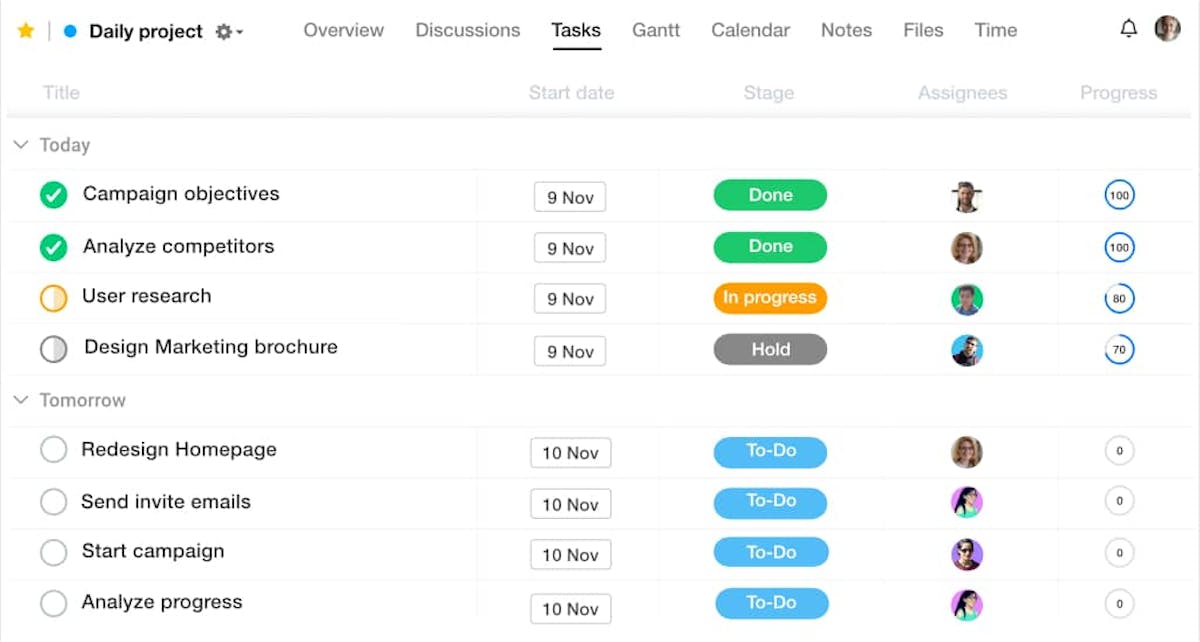 ProofHub is a beloved work management solution built with great efficiency. Today, the tool offers nearly all of its capabilities in its mobile app as well.
Talking about standout features, it's hard not to mention ProofHub's proofing capabilities. Collaborating on documents is a breeze, with markup and threaded comments making life easier for creative teams.
Project management basics are also well-implemented. The usual variability in views is present and works well. Notes, chat, and time-tracking pad up the offering further and function as expected.
However, resource-strapped teams may have to look elsewhere owing to lack of a free plan.
Pros
Straightforward pricing that's ideal for small and mid-sized teams
A useful changelog (with information about upcoming features) hosted on the website that displays ProofHub's commitment to transparency
Proofing capabilities are a godsend for creative teams
A simple UI that may look dated but is clutter-free
Cons
UI could use a revamp
The template library is limited
Mobile app faces responsiveness woes
Could use more native integrations
Cost
The two flat-pricing plans (when billed annually) are:-
Essential - $45 per month
Ultimate control - $89 per month
You can opt for a 14-day free trial before committing to a payment schedule.
13. Workzone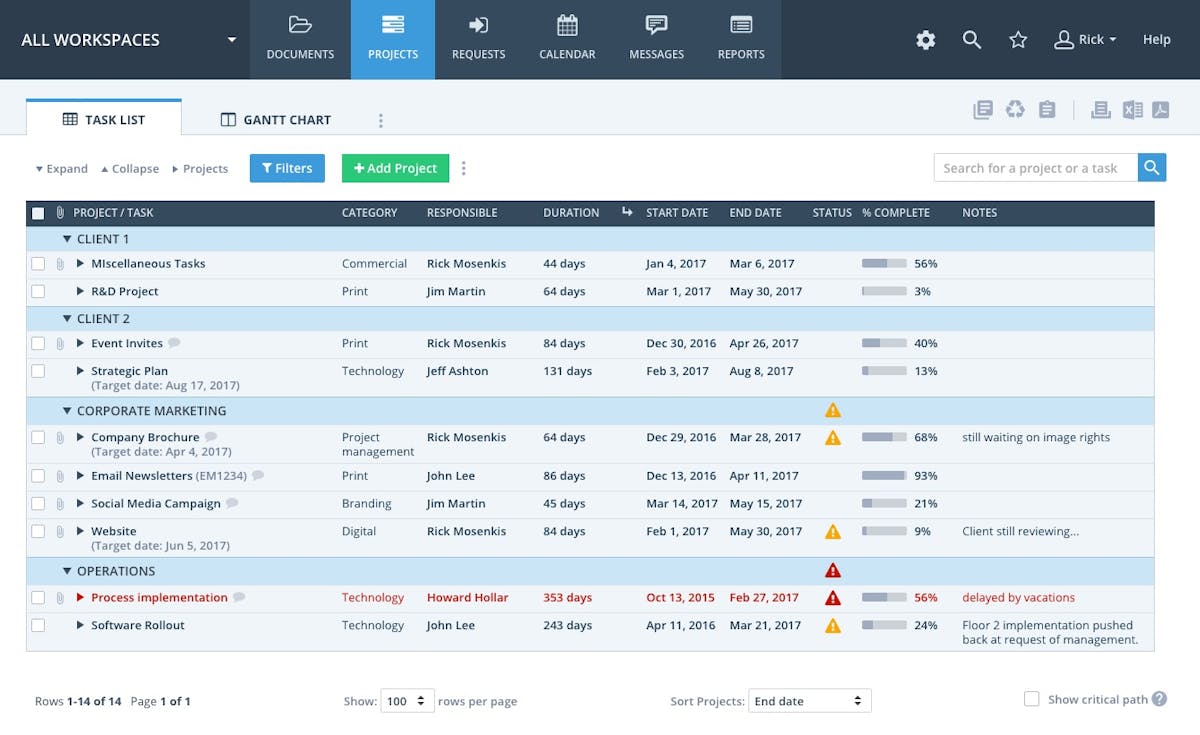 Workzone is a great Wrike alternative with great stability and room for customization.
The tool offers everything from bare-bone project management to advanced dashboards. It also has dependable time tracking, proofing, and reporting capabilities.
But where it loses its luminance is in how it is packaged. The app's UI is dated and can feel a decade-old. Now, this may not be a deal-breaker for teams looking for a simple, no-nonsense work management software. It could even be a nice change of pace for ex-Wrike users.
Moreover, the company showcases unwavering commitment to supporting users. Every plan boasts access to unlimited training and support.
Pros
Markup tools make it easy to manage approvals on documents
Not the best choice for users seeking a modern UI
Reporting features are quite extensive
Phenomenal support team that's accessible and helpful
Cons
Creating and managing templates feels convoluted
Expensive and lacks a free plan
Despite great support, the in-app onboarding experience isn't ideal
Cost
There are three plans to choose from, each offering unlimited support and training. They are:-
Team: $24 per user per month
Professional: $34 per user per month
Enterprise: $43 per user per month
There's no free plan to get you started without giving away credit card information. Even availing a trial needs getting in touch with a Workzone rep.
14. Flow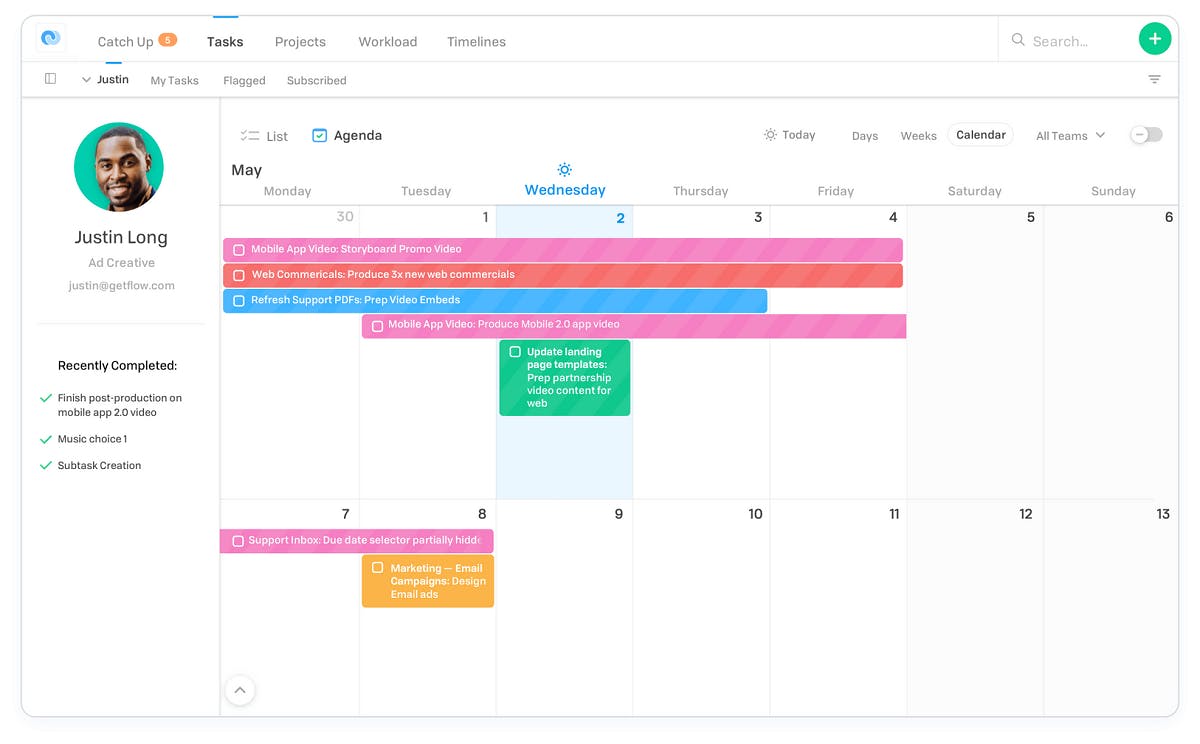 Flow earns fanfare among project managers in places like Shopify, Subway, and Ogilvy. It boasts a well-designed UI that separates it from cookie-cutter apps in the segment.
It feels simple to use across modules, and has native support for all things project management except time tracking and invoicing. Managing resources feels intuitive, thanks to a splash of color and smart design elements.
So, what keeps Flow from rising up the ranks? Mostly two things. The first is its limited entry level plan. Second? The self-serve knowledge base could've also been more put together.
Pros
UI feels inspired — users can choose from 15 theme and color combinations
Has an intuitive and vibrant resource management module
The in-app chat experience is quite pleasant
Cons
Entry-level plan is quite limited — simple features like adding due-dates to tasks are missing
Doesn't support native time-tracking
Mobile app is slower than the web-based variant
Cost
The pricing plans to pick from are:-
Basic - $6 per user per month
Plus - $8 per user per month
Pro - $10 per user per month
There's no free-version but a 30-day trial is available.
15. Quire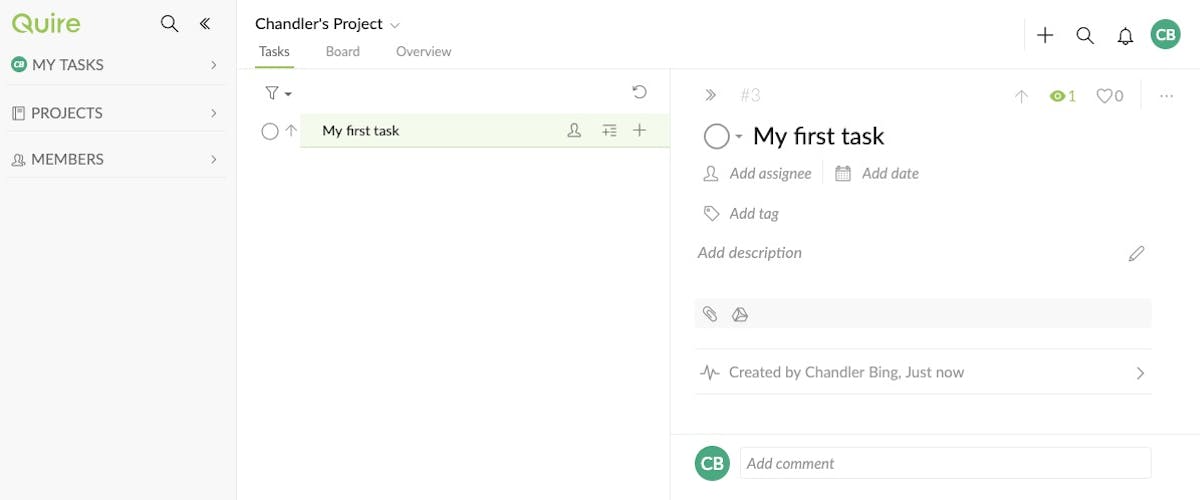 Quire is a relatively unknown Wrike alternative that strikes a great balance between power and affordability. It may not win any awards for its UI, but using the app doesn't feel overwhelming either.
Time-tracking capabilities, including the pomodoro timer, are a nice addition. They're present even in the entry-level plan.
Further, the app allows you to have external teams, making it easier to collaborate with outsourced resources.
Pros
Feels bloat-free and simple to use
Has a serviceable free plan and a powerful entry-level plan
Has native markdown support
Integrates with most Microsoft and G-Suite products
Cons
Support is offered only via email
The mobile experience is not at par with the web-based app
The UI lacks polish
No desktop app
Cost
The tool is affordable even for small-business. Available plans are:-
Free
Professional - $8.50 per user per month
Premium - $14.95 per user per month
Enterprise - $19.95 per user per month
16. Teamwork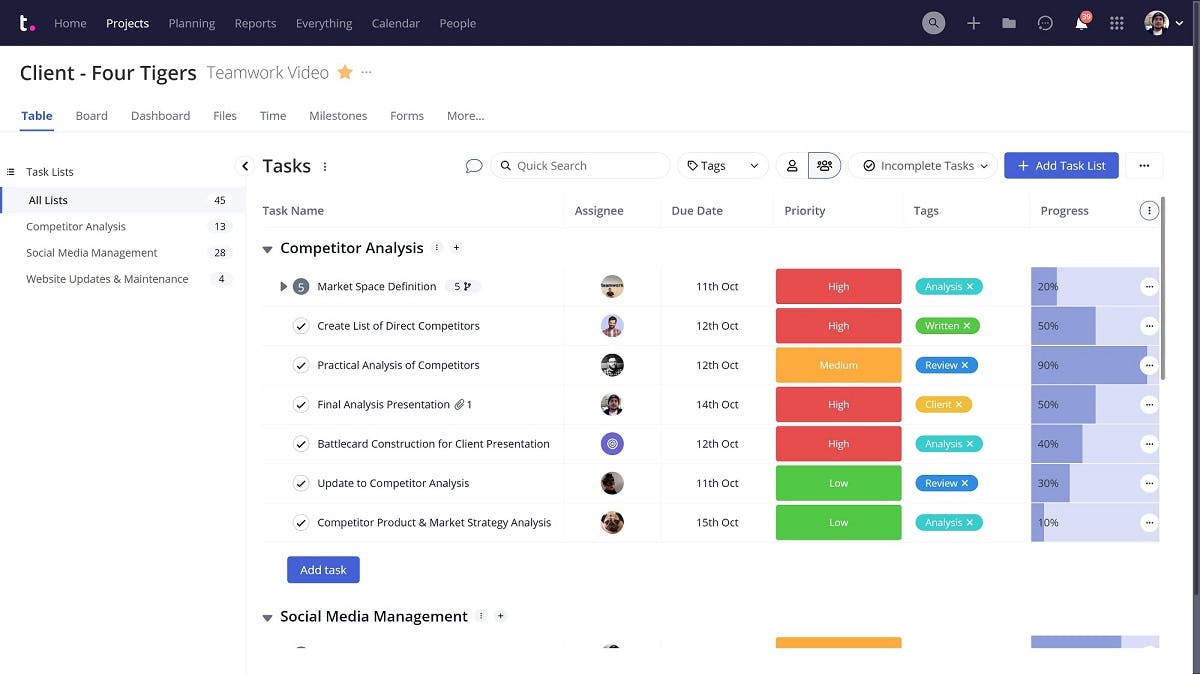 Built by former agency owners, Teamwork was among the earliest tools made for client work.
It covers all the bases needed to go toe-to-toe with Wrike. In some regards, it even comes out on top. For instance, it has a dedicated portfolio view and offers better budgeting capabilities.
Next, Teamwork expands into a complete management suite called Teamwork One. It consists of 5 tools: Projects, Spaces, CRM, Chat, and Desk. In its full glory, the platform helps you manage everything from teams and projects to clients, content, and beyond.
However, Teamwork One is an expensive purchase. We recommend going for it only if you think adoption won't be a problem.
Pros
Importing data from other PM tools (including Wrike) is quite straightforward
Is great for team communication, especially if you purchase the chat add-on
Has a pleasant, newly revamped UI
Cons
Proves quite expensive for small teams
Reporting features could use improvement
Cost
Teamwork offers three paid plans, one of which is an enterprise option. The breakdown is:-
Deliver – $9.99 per user per month
Grow – $17.99 per user per month
Scale – Need to contact Teamwork for details
You can also try out Teamwork's free forever version which comes with Gantt charts unlocked.
17. Scoro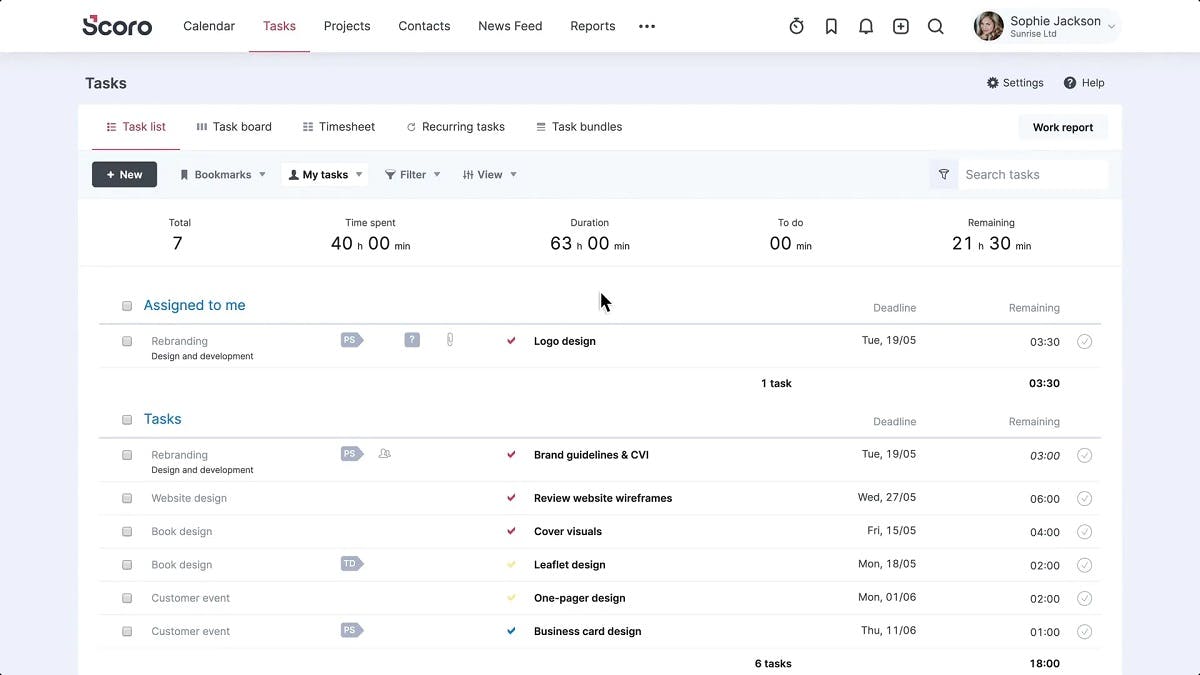 A G2 leader from Spring 2022, Scoro is best suited for consultancies, agencies, and professional service firms.
It comes with a clean UI that strikes a good balance between having enough white space and being vibrant. Nailing all the basics, it stands out because of its extensive reporting capabilities.
Variable project views, custom fields, time-tracking, and invoicing are all there. Lastly, it also functions as a CRM, making it the only app you need to manage client work.
Pros
Can avail paid onboarding services to accelerate time-to-value
Can schedule recurring invoices for long-term clients
Reports and dashboards are modern and well-designed
Cons
Scoro receives frequent updates which don't come with ample product education
Navigating between different modules feels a little clunky
Cost
Scoro is a well-made tool but could have been priced better. You can choose from four tiers which are:-
Essential – $26 per user per month
Standard – $37 per user per month
Pro – $63 per user per month
Enterprise – Contact Scoro for details
You can't use it for free but can avail a 14-day free trial without adding any credit card information.
18. Toggl Plan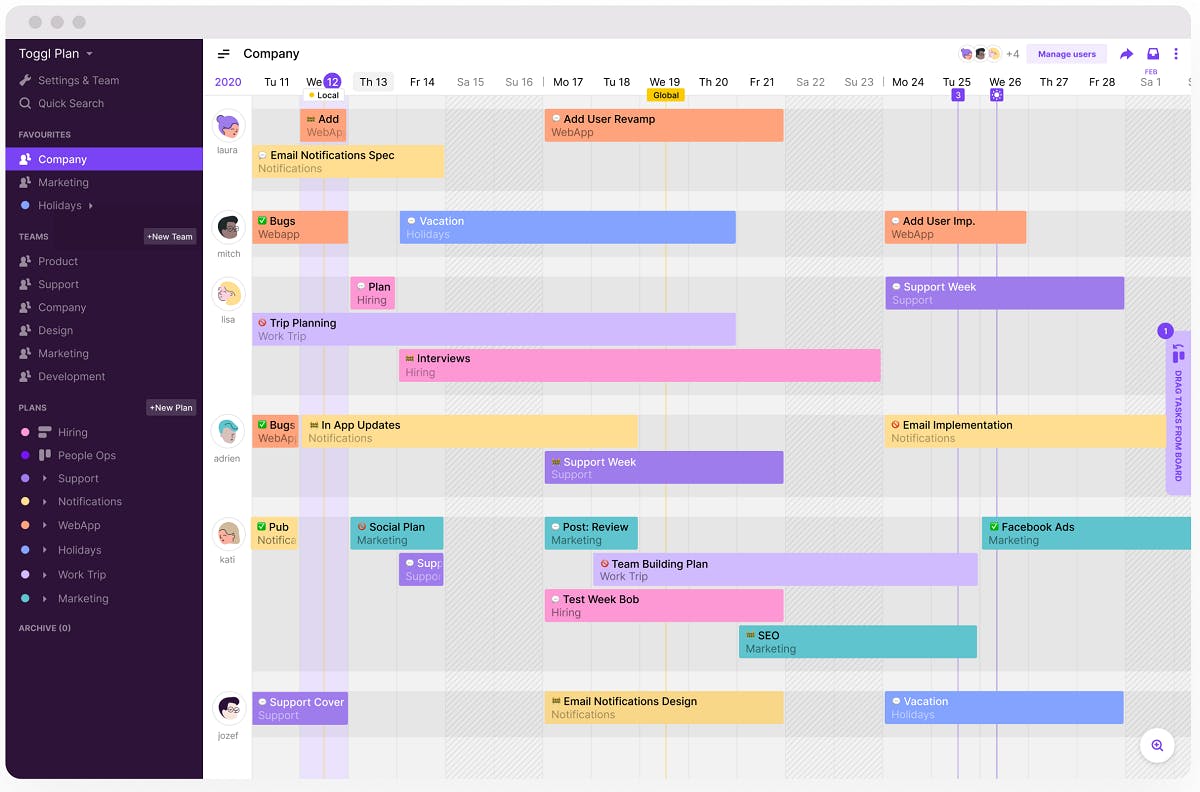 Part of Toggl's trio of productivity apps, Toggl Plan is equal parts simple and beautiful.
It outdoes Wrike with its simple UX, and makes adoption across teams a breeze. Mostly built around drag-and-drop enabled timelines, the tool proves that less can sometimes be more.
But teams that need a little extra oomph from their project management software will have to move on. Toggl Plan lacks advanced features like portfolio management, white labeling, and in-built CRM.
Pros
Ridiculously simple to use (as evident by the 2021 Capterra award for best ease-of-use)
Great support
Inspired UI that's pleasant to interact with
Cons
Can start to feel a little too simple for complex use-cases
Limited integrations
Mobile app feels stunted when compared to the web app
Cost
Toggl Plan has two pricing plans with a vastly similar feature-set. Their breakdown is:-
Team - $8 per user per month
Business - $13.35 per user per month
A free plan is absent but you can try the tool in its full glory for 14 days.
Which Wrike Alternative is Best?
Long list, wasn't it? But if you're still undecided, here are some final words.
20,000+ teams nail their work day using SmartTask, knowing that there's 24/7 support waiting if they ever need it.
And you too can join the list, alongside names like Amul, ABB, Adecco, and Ecolab.
Get in touch, to know more