SmartTask
Why should Employers Focus on Improving Employees' Health?
By Nidhi ParikhMay 12, 2019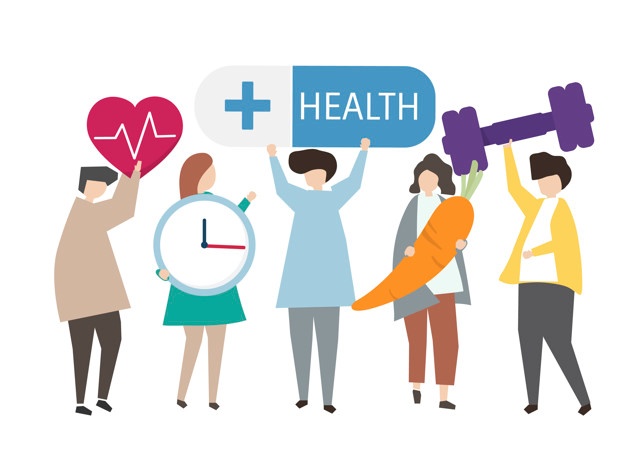 The health of people working in the corporate sector has been adversely affected over the past two decades due to their increased rate of adopting unhealthy habits, excessive workload, tight deadlines of project delivery, lack of work-life balance and many other unpredictable causes.
"The Cigna TTK Health Insurance Company has revealed in one of the researches that 62 % of Indians show early signs of stress while 53% of the Indians are not ready for any unexpected medical expense. Check out the complete report in detail here."
Read more: How to build resilience to effectively deal with stress?
The workplace has a vital role to play in the health & well-being of employees as they spend a fair amount of time in the workplace. A healthy and productive workplace culture is the key to better employee retention and improved business performance. Many companies in India have now started including employee health and wellness as a part of their business strategy.
The wellness initiatives that have taken off in organizations in recent years include workplace yoga sessions, employee health checks, group meditation, fitness challenges, stress management, weight management, etc. However, a well-defined comprehensive health & wellness strategy is still missing in the companies owing to a lack of vision of a long term health and wellness plan for their workforce.
A well-defined, outcome-oriented and tailored workplace wellness program is more advantageous than the occasional health and fitness activities practiced by employees in a common group. Having a tailored program can also lead to unexpected improvement in the business as a whole. Let's look at why it's important to focus on the health and wellness of your employees.
Lowers Healthcare Cost and Increases Employee Productivity
The clearer benefit of workplace wellness programs is reduced healthcare and insurance cost as the employees will be less likely to suffer from health-related complications. This will also help your employees in terms of increased happiness levels in the family and workplace. Investing in employee health and wellness can also reduce the other costs dramatically if the plan is strategized in the right manner. Many kinds of research have been done to prove that companies that run health & productivity programs with the help of worksite wellnesscompanies produce more revenue than the ones whose wellness programs are not effective. In India 'Truworth Wellness' is one of the best options to opt for the well-being of your employees.
By employing health and wellness expert in your organization, you can reduce the rate of presenteeism and absenteeism gradually. Presenteeism is when your employee underperforms due to some health concerns. It can be reduced using comprehensive and thoughtful wellness programs designed to target the health issue that covers the majority of impacted employees.
If the employees' health risk concerns are not looked into, companies will have a large population of employees suffering from chronic diseases which in turn will increase the rate of absenteeism. Absenteeism is when the employee remains absent in the workplace most of the time due to certain diseases. It will be very tough for employers to get rid of these undiagnosed health and wellness issues at this stage.
Enhances Business Performance
Healthy employees have an increased level of confidence. They remain energized most of the time at work which eventually raises the engagement rate of the organization. Hence, productive and engaged people will have an ability to strengthen the business processes to produce a better outcome. This helps in generating new growth opportunities every business needs.
Strong Brand Value of Organization
Many successful organizations have claimed that employee health and well-being programs add value to the company brand. The company that understands the importance of health and wellness at the workplace signals a strong, positive message in terms of employee recruitment and retention.
Raises Social Value of the Organization
Over the past decade, the talented population in India has started questioning the health and wellness culture in the companies who want to hire them. This is very much true for millennials who seek out wellness benefits in the workplace. The companies have to raise the level of health and wellness culture in the workplace in order to recruit and retain talented employees. The talented workforce of any organization are the real assets who will eventually lead to the increased social value of the company.
Candidates, particularly top performers, are judicious when selecting their next organization, and a lot of companies completely miss out on appointing a rock star because of competing for offers from other organizations. Companies that capitalize on employee management programs that succeed in other wellness programs, boost the appeal of the organization to potential candidates. Presenting solid benefits also establishes the fact that you believe in your organization enough to invest in your employees and their health and well-being. This hence proves that you're stable, which helps you in recruiting A-list talent.
Helps the organization save and earn money
"A good and healthy employee is like just like 'money in the bank".
A well-trained, engaged and confident employee will perform better work for you in the long run, when your organization most needs them. This eventually helps you save money, as good employees become proficient and efficient with time in their work performance. Employee development holds a lot of potential in increasing output and sales. That's exactly why it is rightly said, "look at employee development not as an expense, but as an investment."
Helps in Behavior Changes
Workplace wellness programs can help employees adopt healthy behavior. The benefits of worksite wellness activities include behavior changes such as increased workout, higher consumption of healthy eatables, improvement in obesity and cholesterol levels of the workforce. As per the 'Illinois Workplace Wellness Study' the employees who participate in the suggested wellness program at the workplace, have lower medical expenditures and healthier behaviors than non-participants.
Raises Employee Satisfaction
The employees who regularly participate in health & wellness activities are likely to be more satisfied than the ones who don't.
According to the employee wellness 2017 survey report from The International Foundation of Employee Benefit Plans, The employees who work with companies that offer worksite wellness programs are 67% more satisfied than the employees who do not have any kind of worksite wellness program in the organization.
Conclusion
With the rising costs of healthcare being a part of the current discourse, it is absolutely paramount for employers to invest in the well-being and health of their employees by presenting more comprehensive wellness programs and initiatives at the workplace. Employees who show interest in the wellness sessions organized by the company are physically fit and satisfied with their jobs. This results in reduced absenteeism, higher engagement, and productivity which in turn leads to higher profits of the business.
Many companies in India have observed that employee wellness can help them retain the existing talent as well as attract new talent.
In short, employee-wellness is a win-win situation for both employees and employers as it is a key to improve the health of employees as well as the business.
Subscribe to SmartTask Blog
Get the latest posts in email.