SmartTask
Contents
A Complete Guide to Recruiting Automation
By Shyamal ParikhJul 19, 2022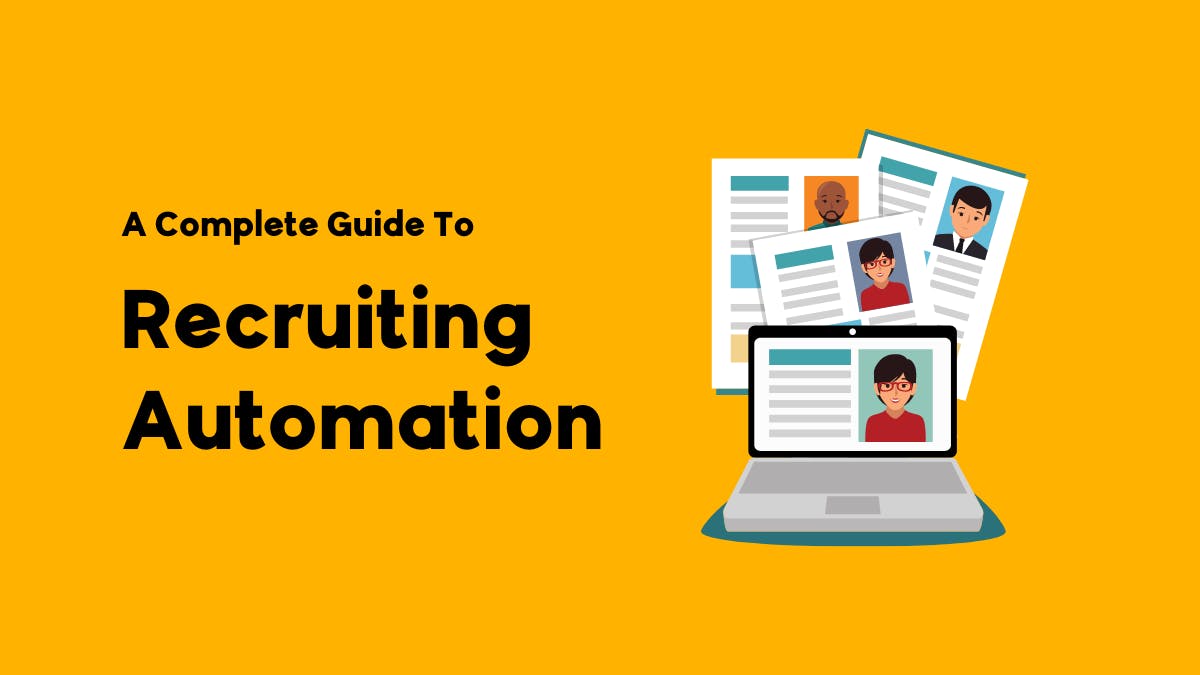 According to Statista's 2021 forecast, the HR technology industry will rise to 81% by 2025, thanks to a surge in startup activity. This report also suggests the global market for human resources technology is forecast to grow by $90 billion over the next six years. It might seem strange to digitize parts of the application process in an industry that's almost entirely about people. There are many benefits to digitizing parts of the application process, mainly because you're hiring many people.
What is Recruiting Automation
Recruitment automation is a technology that creates automated processes for tasks that would traditionally fall under the purview of human resources (HR) and recruiting departments. A significant amount of time is often spent by recruiters on activities like applicant sourcing, correspondence, scheduling, and evaluations. Recruiting automation may help expedite these processes.
Recruitment automation is a service that helps businesses automate their recruitment processes and increase their efficiency. As a result, these businesses can save money on talent acquisition, improve their organization's talent profile, increase their productivity, and shorten the time required to hire new employees.
What are the primary forces behind the rise of automated recruiting?
Talented Competitors - Due to historically low unemployment rates and a widening skills gap, many of the major firms throughout the globe are now engaged in a fight for talent. As competition for skilled workers becomes more intense, many businesses have begun investing in technologies that will enable them to engage more quicker with eligible candidates.
The Overload of Information - The sheer volume of information about applicants, including online profiles and incoming resumes, is now overwhelming the capacity of recruitment teams to handle the material. The majority of recruiters just do not have the time to seek, evaluate, and screen applicants in an effective manner. Firms can swiftly examine applicant data using recruiting automation tools, which enables the companies to make better selections more quickly.
Better Technology - The concept of automating the recruitment process is not a novel idea. People have been discussing the prospect of automating the recruitment process for years. Until recently, the technology needed to make a difference in recruiting efficiency did not exist on a large scale.
What are the Benefits of Recruiting Automation?
1. Increases productivity
Recruitment won't be rendered obsolete by automation anytime soon; instead, it will equip them to do their jobs more effectively and arrive at sound conclusions while working at a more frenetic pace. You will be able to devote more of your attention to more meaningful work if you automate tasks such as manually assessing resumes and arranging interviews.
2. Reduces time to hire
Companies risk experiencing decreased profitability and production each day when an open position remains vacant. You will be able to significantly cut down on the total amount of time it takes to acquire new employees and create a more favorable experience for candidates if you automate some stages of the recruitment process, such as applicant pre-screening, candidate nurturing, and evaluation.
3. Improves hiring quality
As a result of recruiting automation, a company's hiring activities are more efficient and effective than before. Recruiters may use it to make hiring decisions based on the likelihood that an applicant would be successful in a particular position. Because automation eliminates many factors that aren't indicative of job success, it is easier to make more repeatable recruiting judgments. Verticals need to pay particular attention, including retail, quick-service restaurants, and contact centers/BPOs, where recruiting teams analyze and assess thousands of applicants each month.
4. Eliminates hiring bias
You may eliminate typical recruiting biases and ensure an objective hiring process by using technology to screen, analyze, and rate prospects. Increasing the level of workplace diversity is made possible via the use of automation in the search for perfect employees. Custom pre-employment exams designed to minimize the negative effect may help guarantee a more equitable hiring process.
5. Enhances candidate experience
Candidates also stand to gain from the advantages offered by automation technologies, in addition to recruiters. Candidates enjoy a seamless experience, get a quick response, and don't have to stay as long as a potential employee when certain stages in the recruiting process are automated. It allows recruiters to concentrate more on establishing relationships with candidates, while candidates benefit from the streamlined procedure and faster responses.
How to use Recruiting Automation in the Hiring Process?
1. Candidate sourcing
You may find potential applicants for a particular work order by searching through the prospects you already have in your pool of candidates. Perhaps you maintain the information about your candidates in a spreadsheet created in Excel. Or, whether you have recruitment tools, you may search through your pool of prospects to see if any match the requirements of the position you are trying to fill.
Finding qualified applicants is made much simpler by using recruiting tools. When you get a work order from your customer, all you have to do is input some keywords into your program, and it will pull up applicants whose education, experience, or talents match the keywords. In addition, the software you use for recruitment will analyze the resumes you get and extract information from them so that you have consistent records for each candidate.
The process of discovering and qualifying applicants who have not been put directly to a vacant post is known as candidate sourcing. This process might include both active and passive candidates. It is the task of identifying outstanding talent that satisfies your company's or your client's company's requirements for skills, qualifications, and interests for available positions in either of those companies.
2. Applicant tracking
One of the most widespread applications of automated technology in recruiting is the applicant tracking system, sometimes known as an ATS. Recruiters use these technologies to gather information about the recruiting process and monitor it as it progresses in a database.
Tracking starts as soon as a prospect applies for an open post and continues throughout the recruiting process. It is done to ensure that recruiters can immediately get data on a candidate's stage and communicate throughout the recruitment process.
This approach is crucial for maintaining organization when there are so many applicants vying for so many vacant jobs, not to mention that it ensures you won't inadvertently lose track of someone who would be an excellent match for the post!
When selecting an applicant tracking system (ATS), you should carefully assess your requirements since these systems provide a wide variety of features, ranging from a jobs site editor to source extension and even video interviews.
Workday's Lever and SAP SuccessFactors' SmartRecruiters, and Recruitee are just a few of the well-known applicant tracking systems (ATS) suppliers.
3. Candidate pre-screening
Using pre-screening tools for candidates, employers may quickly determine which applicants are most likely to succeed in the recruiting process.
Automated applications such as intelligent résumé screeners use contextual evaluation of a candidate's past work experience, abilities, and personality traits to select the most suitable candidates. However, many ATSs provide at least some rudimentary resume screening capabilities, such as Ideal and Freshteam.
Chatbots, or virtual recruiting aides, are also becoming more widespread for pre-screening purposes. When you use chatbots to acquire basic information about prospects, you may spend more time interacting with prospective hires. Because of machine learning advances, they can ask questions, interpret responses, and engage with applicants.
Companies may better communicate with job seekers by using chatbots to quickly answer simple inquiries, which frees up recruiters' time to address more complicated ones. You may find chatbots like Mya and Olivia by Paradox and JobPal, Xor, and AllyO.
4. Pre-employment assessments
Platforms that conduct pre-hire evaluations are particularly beneficial since they allow for the assessment of appropriate skills and qualities, the automated ranking of applicants scored based, and the reduction of any possible hiring prejudices that might affect candidate selection.
There are a variety of pre-employment exams, each of which is a test meant to determine whether or not an applicant is qualified to fill a particular position.
Some exams are targeted at testing technical abilities, such as mechanical reasoning tests. In contrast, others are designed to measure cognitive capacity, personality traits, and conduct in certain situations.
Pre-employment assessment systems often provide recruiters & hiring managers with a comprehensive picture of candidates by merging many tests into a single online experience. It gives recruiters but also hiring managers a competitive advantage.
Most assessment platforms for skills can also readily interface with your firm's applicant tracking system (ATS). It ensures that you always have the most recent information on candidates as they take exams and go through the recruiting process.
4. Interview scheduling
It may not seem like a time-consuming effort to schedule interviews manually. Still, until you're faced with the task of going back and forth to verify availability for all of the various candidates you'd want to meet with, you'll realize just how much time is involved in this process.
The procedure of scheduling interviews with potential applicants is often mentioned as among the most time-consuming aspects of the hiring process. Automating the interview scheduling process results in time savings and simplifies the interview procedure, which contributes to an improved experience for both applicants and recruiters.
If a candidate's assessment score meets your criteria, most platforms allow them to arrange an appointment with your recruitment team immediately following the application process.
5. Candidate nurturing
It is essential to keep in contact with applicants not just during the phase of the recruiting process in which they are being actively considered and interviewed but also throughout the rest of the process. Companies can engage applicants via email automation if they use candidate nurturing tools, also known as candidate relationship management (CRM) systems.
Candidates are kept engaged and ensured that they are not uninterested in the post via automated email flows that are nurtured throughout the process. You may also send applicants automatic reminders to keep them informed on the subsequent phases in the process, such as forthcoming planned interviews and due evaluations.
Some of the most popular CRM systems recruiters use to keep prospects interested and involved during the recruiting process include Beamery, Avature, Jibe, Smashfly, and TalentBrew.
6. Background checking
Even the most successful individuals must demonstrate that they can complete a criminal record check before being formally employed. This step of the recruiting process can also automate.
Your ability to conduct background checks quickly and accurately may significantly improve with functionalities such as name-matching software, automated research on applicants, the lookup and elimination of false hits, and the search for red flags. Automation suppliers like Checkr, OKHire, and Intelligo are just a handful of the most well-known.
Final Words
It is time to concentrate on building a recruitment automation plan if your team is having problems reaching targets or growing the recruiting procedures you have put in place. When considering whether or not automating the recruitment process is the best course of action for your company, the following are some questions that you should ask yourself.
Is the volume of requests your recruiters need to fill causing them to feel overwhelmed?
Are there open requests available for a lengthy period without being filled?
Is the standard time it takes your company to acquire new employees longer than the average for other businesses in your field?
To what extent do you depend on help from other parties, such as RPOs or agencies, to fulfill your requirements?
Do you already have a successful plan that you'd want to use on a larger scale?
Using recruiting automation software may significantly improve the quality of your high-volume hiring process, making it both more productive and more satisfying for everyone involved.
It is not designed to take the job of recruitment but rather to liberate them from manual activities so that they can concentrate on getting to know applicants and making full use of their interpersonal abilities. And in an employment market that forces recruiters to discover new methods to compete with the top talent, these benefits are apparent advantages that you should begin reaping as soon as possible.