SmartTask
Contents
Overwhelmed with Work? Here's how to get things done without Bullshit!
By Pranav MistryMar 19, 2019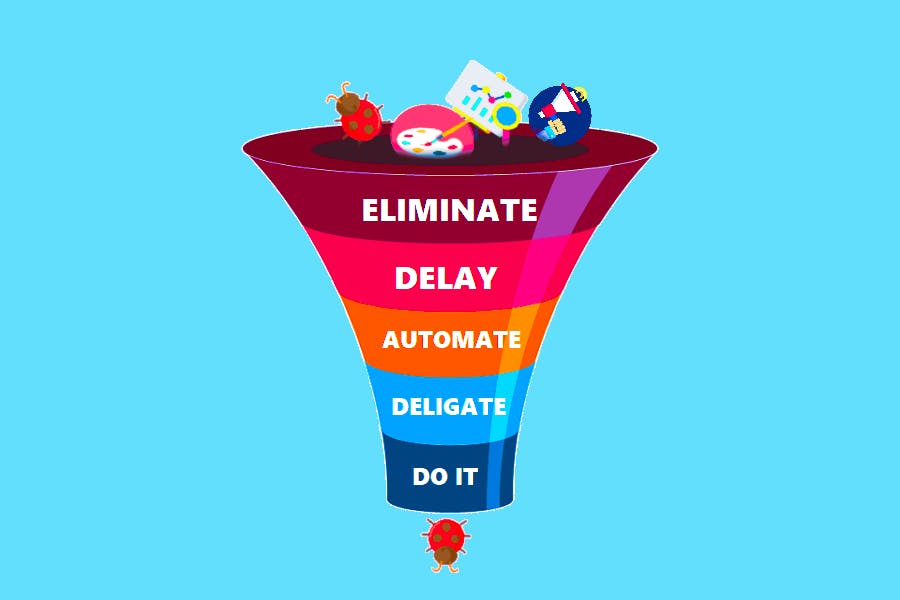 Have you ever had a feeling that your workday is spiraling out of control? You start your day with a solid plan but it doesn't take long for that plan to fall apart. This happens when you start by working on tasks that are neither urgent nor important. As a result of this, you end up doing work that takes up too much of your time and doesn't provide an appropriate result.
Pareto's law states that 80% of outputs rely on 20% of inputs. This means if we focus on tasks that rank on the top 20% in terms of importance, we'll get an 80% return on efforts. So according to this law if your task list contains 10 tasks then 2 most important tasks will give you 80% return on your time and the rest of 80% tasks can be delayed or some even discarded. But how to find that 20 % of the most important tasks?
Here is a 5 step process that helps me make sure things are getting done in the organization and at the same time I am not overwhelmed with work.
Discard if possible:
We all are victims of wasting time on the unimportant and avoiding the important in the process. When Willy Sutton an infamous bank robber was asked why he only robbed banks, his reply was, "Because that's where the money is." Are we wasting our time robbing a grocery store rather than going straight for the bank?
Your brain seems to work against you and this is because a phenomenon called the urgency effect. A study done on the urgency effect found that subjects were more likely to perform smaller tasks than they were to perform more important ones. This was true even if the outcome of the smaller task was objectively worse than that of the larger one.
Our brains seem to prioritize immediate satisfaction over long term rewards.
Take a good look at the given task, is it avoidable? If it is small and unimportant enough that it is avoidable all together, get rid of it. And discard tasks which are mere distractions. These small and unimportant tasks are usually temptations that your brain can't resist.
Remove Temptations: Resist the urge to check emails and other social media while you are working. If this proves to be difficult for you then set a timer for 20 minutes and commit to focus on the present task after which allow yourself 1 minute of distraction.
But what if you discarding the task isn't an option?
2) Delay if possible:
If the task cannot be discarded but still is small enough that it can be put on hold for a while then do so. Tatyana Sussex sums it up the best on how to prioritize work. In which she states that to set priorities you need to look at your task list, Identify what's urgent for example, missed client deadline, missed publication deadlines, etc. Now assess value to particular tasks based on their importance then order them by estimated effort. Try and focus your attention on something more urgent. When you are prioritizing work.
3) Automate if possible:
In the next stage ask yourself, can the task be automated?
Task Automation is the use of various systems and technologies to minimize or reduce the amount of human intervention to complete the task.
If a task can be automated, for example, Paying the electricity bill through google pay rather than physically going there yourself then automation is the best choice in that equation.
Automation results in increased productivity, efficiency, safety and saves time. Automation, when adopted saves a number of work hours on average per week.
4) Delegate if possible:
If the task cannot be discarded, delayed or automated then is it possible that you can pass it along to another teammate?
This not only increases productivity but also develops and enhances employee's skills, decreases delays and provides you time for more strategic thinking and development opportunities for you, the team and the organization. Your reputation will improve as being a trusting manager.
There are a few ways you can delegate tasks to employees.
Delegate based on skill and experience
Identify the tasks to be transferred to other members of your team. You need to consider who is the best person to carry on a particular task. Then identify if that person has the skills required to tackle the task.
Provide direction and context
After delegating the task to the team member, you need to provide them all the necessary information and documents they might need.
For instance, As a content writer, if I have to assign my work to someone else then I have to give that person all the information related to the post, all the referred sources and explain my workflow.
Encourage responsibility
It's necessary to give the team member full authority over the work so that they have a sense of engagement in finishing it successfully. Make sure the assigned person takes complete responsibility for the work. You need to make your team feel like owners.
Efficiency in delegation
You can use a work management tool that helps you easily delegate the work and all its related information with just a few clicks. A work management tool would ease the team management aspect of the job while increasing productivity and efficiency.
5) Do it:
After passing through the funnel any tasks that are left in the end would be the most urgent and important ones that have to be done by you and have to be done now no matter how undesirable.
These tasks have the highest priority and can't be avoided, delayed, automated or delegated. You have no choice but to do it.
But what if you don't want to do it? well, then you should Eat the frog. Mark Twain said, "Eat a live frog first thing in the morning and nothing worse will happen to you the rest of the day." Brian Tracy expanded this quote to counter issues with work management. What he means by that is if your most important task is the most undesirable like calling an annoying client or firing an employee then you should do it first after which the rest of the day would be a breeze in comparison.
Read more: 13 Scientific tips to stay on top of your daily task list
Conclusion:
Work management in a leadership position is no easy feat. you have to filter tasks through a funnel deciding what's urgent and important and what's not. When passing tasks through the funnel ask yourself,
Can I eliminate this?
If not, can I delay this?
If not, can I automate this?
If not, can I delegate this?
And If not then I have to do this myself.
Any remaining tasks in the final stage of the funnel will be the most important, and urgent tasks that must be completed right now.
It often happens that you have a work plan in place but later end up putting too much effort on tasks that are not worth it. Here is how you can overcome it.
Subscribe to SmartTask Blog
Get the latest posts in email.