SmartTask
Contents
7 Important Tips for Teams Working from Home during Coronavirus Outbreak
By Nidhi ParikhMar 20, 2020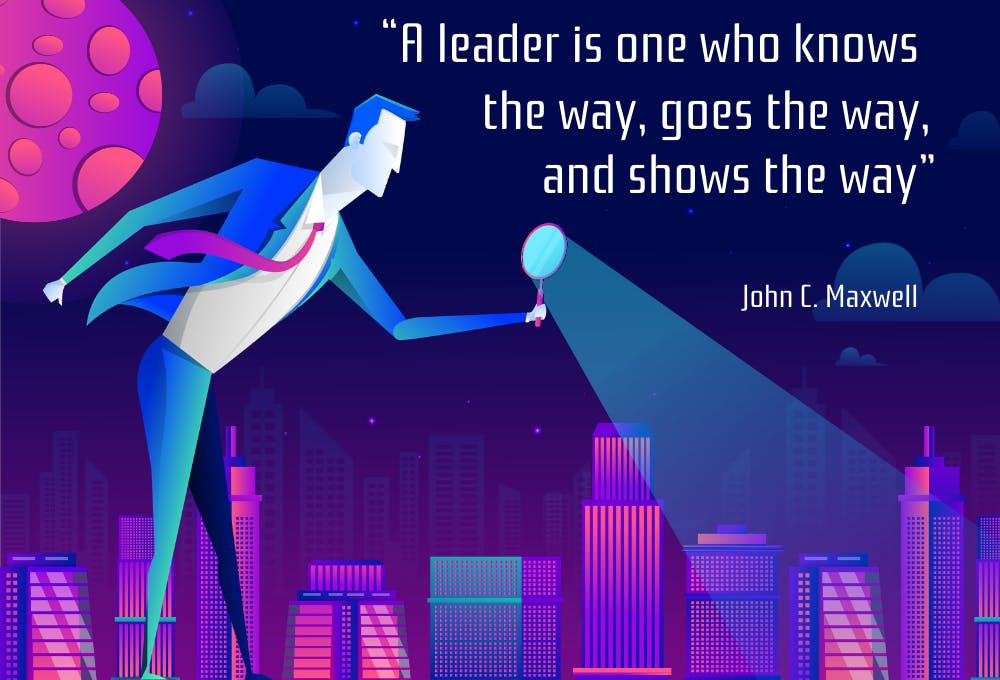 With the rapid spread of Coronavirus in almost 176 countries and death rate jumping to thousands now, many firms like Facebook, Google, Twitter and Amazon have ramped up remote working orders.
One thing to understand about remote working is that you don't have to replicate the physical working environment in home offices. Remote working and physical offices are two different things. You do not have to look for tools that allow you to see all your employees live through a perpetual videostream.
That's not what we are trying to achieve. Productivity falls when people are conscious and not able to focus. This is exactly what happened years ago when digital players replaced CD-players. The program designers tried to replicate CD-player design in the digital format. The design was never going to be optimal.
We need to look at this remote-working situation in a new light and turn this into an advantage so that even when we're relieved from this Coronavirus situation, we bring out the good points of remote work and apply it in our day-to-day lives.
Best Work from Home Tool - Schedule a Free Demo
1. Educate your team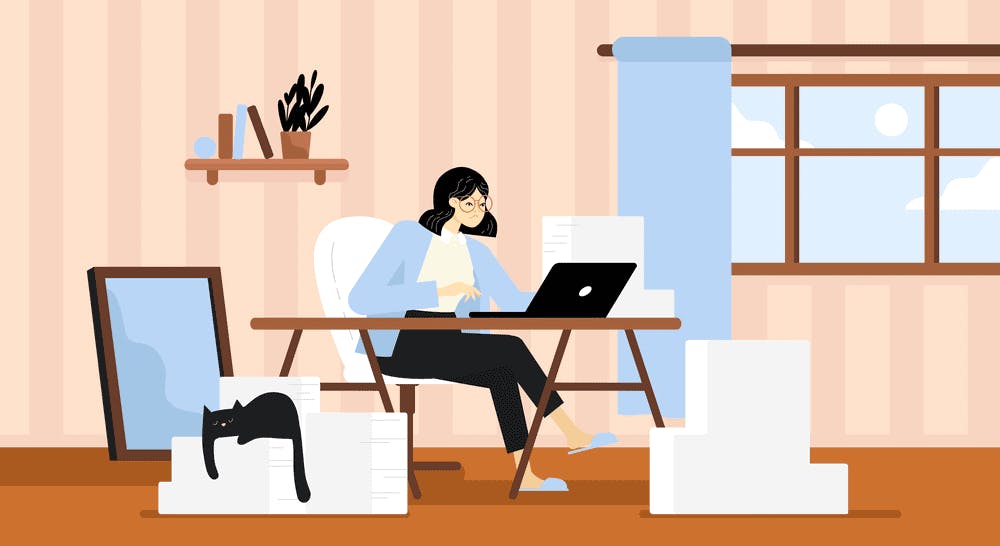 If it's difficult for you, there are high chances that it's even more difficult for your team. After all, they are used to the office working environment, culture, chitchatting with their colleagues and having a face-to-face conversation with their superiors.
Some productivity tips that you can share with them are:
Schedule a start time and an end time, preferably the ones they kept at the office.
Working in your cozy pajamas is a sure-shot way to go to sleep. So, have a shower before you start working and if you think you work better when you're in your work attire, put on that dashing white shirt.
Set a dedicated workspace in your home. It doesn't have to be something big. It could just be the table in your room but make sure you set that place apart just to work.
Take regular breaks while working. Just because you don't have your colleagues calling you for lunch doesn't mean you skip lunch altogether. You could set up a video call and catch up with them while eating salad.
Set boundaries for the people you live with. Let them know that just because you're working from home doesn't mean they can come and start gossiping about the new neighbor.

The more things your team knows about remote working, the more productive they will be. Here at SmartTask, we have created a group named "Succeeding at Remote Work" where all of us share tips, daily rituals and strategies that work for us.
2. Set clear expectations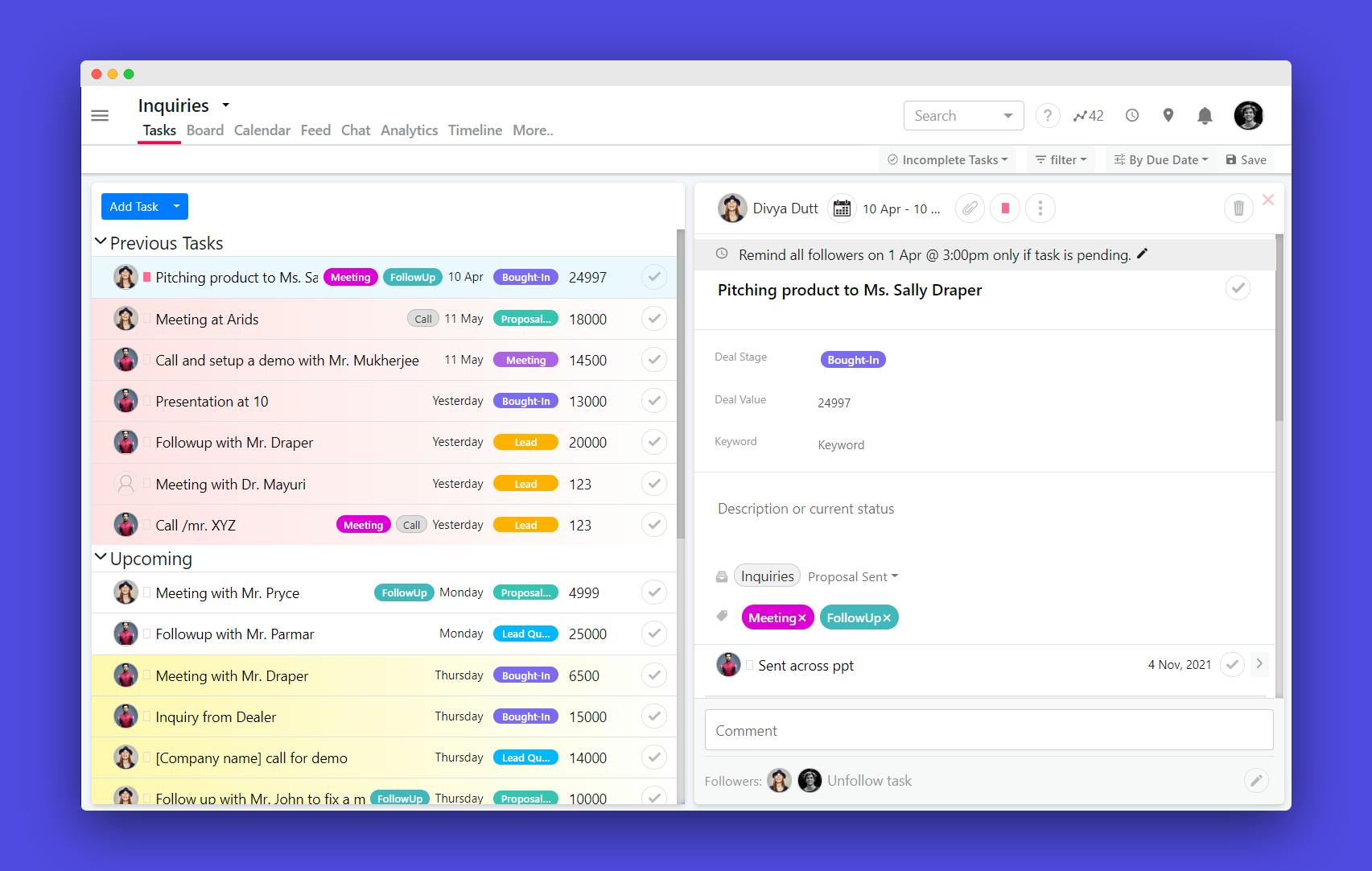 If you do not use any software for work management, now is the time to adapt one.
Schedule tasks with detailed descriptions for each individual on the software. Set clear priorities, deadlines and make sure resources are available on the software itself.
Your project shouldn't get delayed because an employee couldn't access the required reports or excel sheets. With SmartTask, you can assign tasks to your employees and get regular updates in the form of comments on the task itself. Employees do not have to wait to call you for any doubt or query. All they need to do is leave a comment.
Make it a rule that every task assigned should have a detailed description so that the follow-up calls, emails and texts regarding doubts could be curtailed. In case of a complex task, we at SmartTask attach a Google doc to the task wherein everything is explained in detail. For example, if the task is to write an article, a Google doc with the detailed outline of the content is attached to it.
In case you have project based work, you can utilize the Timeline view of SmartTask to track progress in an easier way.
To not miss out on meetings, schedule a video conference at the end of every week so that people can see each other. Lay ground rules like informing about the meeting 2-3 days before scheduling it, no multitasking during the meetings, having a clear agenda, etc.
The more detailed and clear you make things for your team, the better results you'll get.
Schedule a Free Demo of the Best Remote Work Tool
3. Communicate Often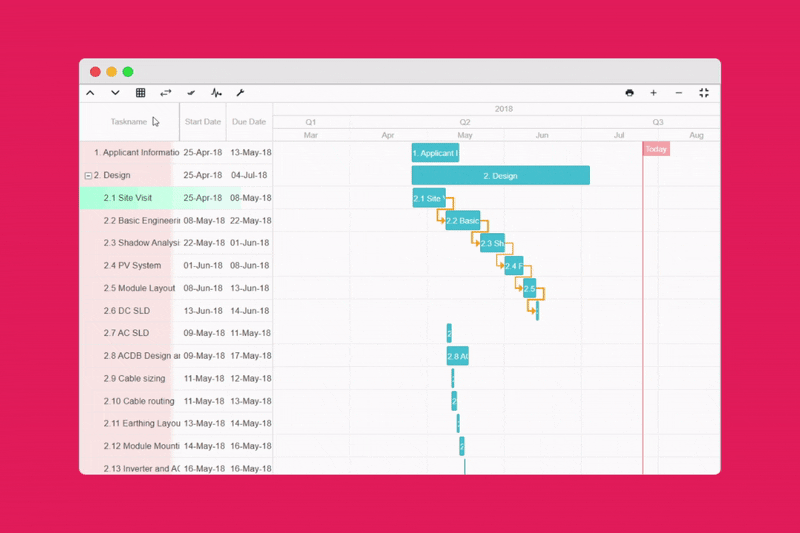 Communication is vital to remote working. According to a study by HBR, nearly half (46%) of remote workers expressed that the best managers were those who checked in regularly and frequently.
The article further mentioned, "The most successful managers communicate trust and respect, inquire about progress on goals and workload without micromanaging and err on the side of over communicating."
Below are some ways to not miss out on communicating with your team:
Have weekly meetings to discuss progress on portfolios or goals. Make sure that the meeting is not information-based. Share the information beforehand with the team and then plan a meeting to discuss the road ahead.
Once the meeting is over, follow it up by putting the outcome of the meeting on your work management software or by assigning tasks. It's important to have multiple touchpoints through various media so that things are not forgotten and the trail of conversation can be continued.
Use the Portfolio view of SmartTask to discuss project updates with the project manager and try and update the status regularly to keep the team in loop on what's happening.

Create a group where the team can share various non-work related things like the information on COVID-19, relaxing music, their views on the latest season of Money Heist and so on. This could be the replacement of those Watercooler conversations in the office.
Whatever you choose, make sure your team has an outlet where they can discuss things and clarify their doubts.
4. Make sure everyone feels connected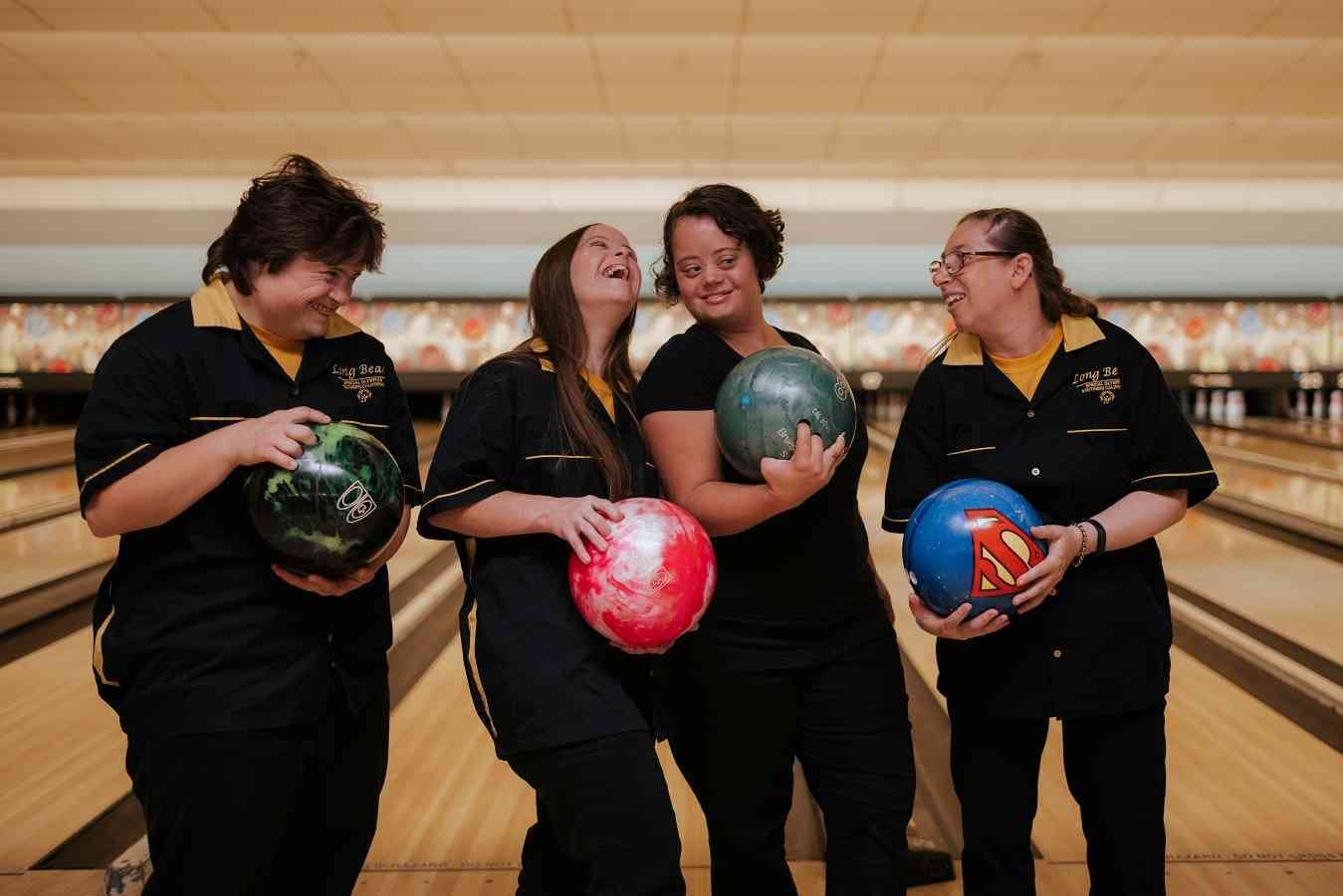 Believe it or not, there are many ways to bond virtually. You could organize a weekly hangout session where the entire team gets together to discuss a new topic or learn something. You could discuss a project or just have an informal talk about how they are coping up with social distancing. New teammates can share something about themselves, their backgrounds, hobbies or fun quirks.
If you're dealing with a large team, organizing a weekly session virtually would just end up being more noisy than fun. In such a case, you could have people on the team get paired up with someone else at random each week for a short call. You could keep interchanging the pairs so everyone gets a chance to bond with each other on the team.
The best thing about having a team is that there are a lot many different ideas and perspectives. You could just put a question on your forum saying "Apart from weekly hangouts, in which other ways can we stay connected with each other?"
5. Provide Support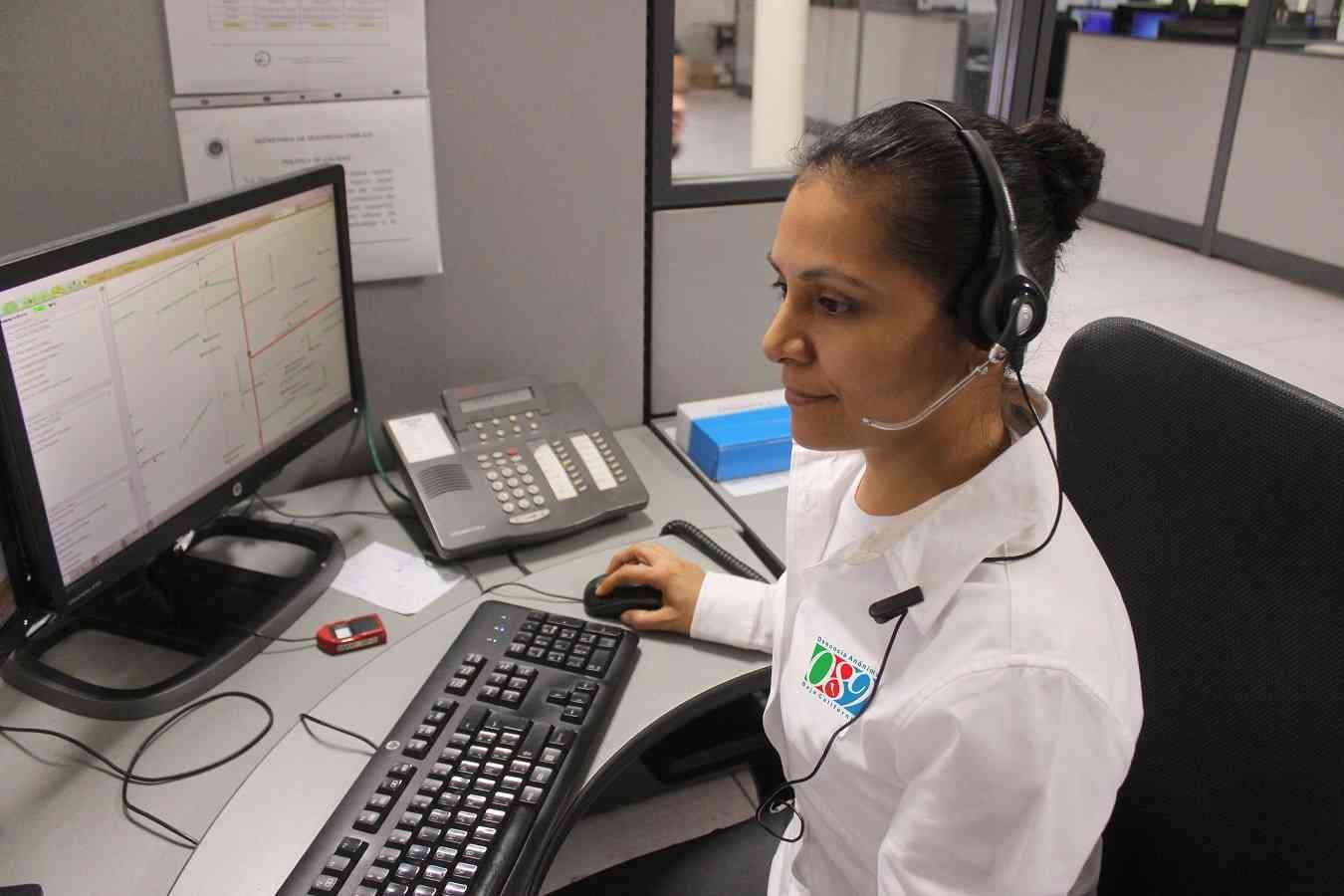 A sudden change in routine and a loss of connection with peers is bound to disturb some people, especially when the change is open-ended. If you notice some employees sending fewer emails, replying late or participating less in group conversations, reach out to them and ask others to do the same.
Listen to them, understand what they are going through and get them the help they require. Maybe someone in their close family is suffering from an illness or they are finding it difficult to cope with social distancing.
According to the 2018 State of Workplace Empathy study, 96% of employees consider it important for employers to demonstrate empathy while 93% of employees say they're more likely to stay with an empathetic employer.
In times like these, it's your responsibility as a CEO or team lead to be more visible, be it through weekly calls, daily status updates or just putting up recorded videos in the group to calm people down and give them support and confidence.
Ensure that employee assistance services are available to everyone in the organization.
6. Avoid Micromanaging
If you don't trust your employees, you're setting yourself and your team up for failure when it comes to remote work.
I have heard many managers sulkily saying, "But if I can't see them, how do I know they are working?"
To which I have a simple answer, "You have already provided your employees with the resources, right tools, clear and detailed tasks. So why do you need to monitor them? If they don't complete their tasks on time, it's eventually going to reflect in their report."
There is no reason to believe they won't work as well as they did in the office. After all, remote work has been here for a long time now.
In fact, according to the FlexJob's annual survey, it was found that 65% of employees responded that they are more productive in their home office than at a traditional workplace.
The reasons are pretty clear. Remote workers face less office distractions, have more autonomy, do not have to waste time in commuting and so much more.
So, it's time to shift your focus from activity based work to outcome based work. To help you keep a track of how your teammates are progressing through their goals, SmartTask has come up with a new feature called Automatic check-ins.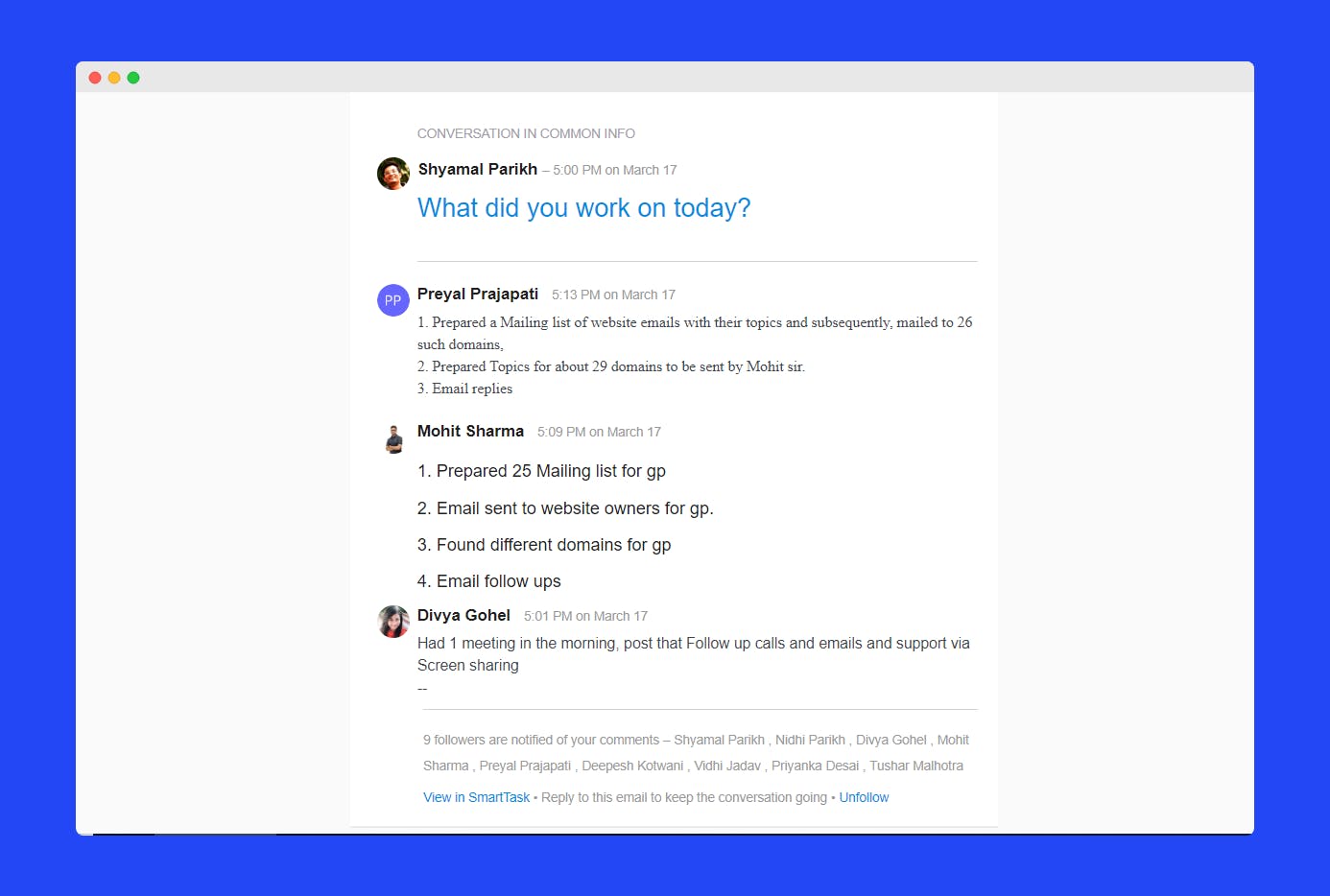 Automatic Check-Ins automatically summarizes everyone's work and sends a summary at end of the day. This not only helps keeping the team informed but also encouraging them to do their best while working from home.
7. Ensure that work-life balance doesn't get thrown out of the window
It's much harder to create boundaries when your home becomes your office.
My wife and children have slept. Let me just finish this report.
It's okay to work late one night but when that one night turns to six nights in a row, there is something wrong. This can be the case especially for people who love their work. (yes, we exist)
They are far more likely to get burnt out. With no peers there to ask them for a quick evening walk or a 5 minute gossip session, they could quickly get lost in the maze called Work Land. The worst part is, they won't see it as a problem until they realize they can't find a way out.
We don't want employees to work too little or too much. Just enough hours to get the tasks done is enough.
To enforce this, you could just share your own routine and how you avoid working too much by putting daily rituals in place like closing your laptop and logging off from work at 6 pm everyday to get some exercise done, cooking dinner with your partner at night and spending time with your family at the dinner table with no laptops and phones sneaking around.
In the grim situation we find ourselves in today, there's at least one positive ray of hope. Organizations, teams and individuals are experimenting more with virtual work and we may end up learning skills that will be valuable in the future.
Let us know in the comments what different strategies you and your team have come up with to succeed at remote work.
Schedule a Free demo of the Best Remote Work Tool