SmartTask
How to Keep Yourself Motivated While You're Working Remotely
By Mohsin AnsariApr 7, 2019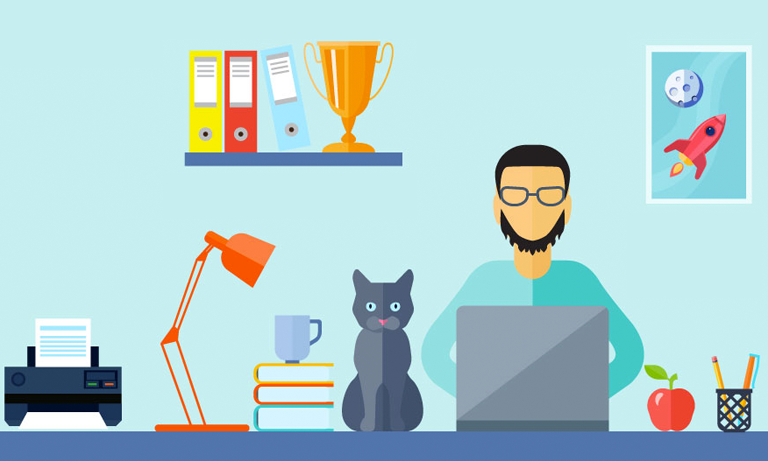 With the rise of economic growth, employers are seeking better working employees and getting more open to new ideas of working styles. Working from home is one such new idea that has caught the trend and is getting accepted by more employers.
While some people love it, there are others who hate the idea.
TYPES OF REMOTE WORKERS
Remote Employees– They are hired by a company that doesn't require them to attend office on a regular basis. They have a particular work schedule on a daily basis and scheduled meeting time.
Freelancer- They get paid to provide certain services to the client. They have the liberty to decide the kind of projects they want to work on, amount of work, can schedule their meetings and deadlines, and from where they want to work. They have a lot of freedom of work but may not enjoy job and income security.
Own Business– For the more independent spirits who like to be their boss. Though they enjoy maximum flexibility, they have to shoulder more responsibility to catch clients and projects for a regular flow of income. They may have to invest much more for startups and gradually need partners, more remote employees and freelancers for business growth.
MOTIVATIONAL PRACTICES FOR REMOTE EMPLOYEES TO ENSURE ENHANCED PRODUCTIVITY
One can follow certain disciplines to maintain a proper flow of work while at home. Some of them are as follows.
Having a dedicated Workplace or Home Office
Waking Up early
Dress well
Getting Organized
Reduce Distractions
Take breaks and regular vacations
Use proper security protocols
Increase Productivity by using various tools
Have a proper domain division to enhance accountability
Proper measures to overcome cultural barriers.
Use a proper hiring process to have higher retention
Facilitate more communication
Read more: How to utilize technology to boost productivity?
Remote working has plenty of advantages. Some of them are as follows.
PROS OF REMOTE WORKING
No daily commutes:
Saves Time:
Saves money:
Flexible Working Schedule:
Private working environment:
Reduced Stress:
Autonomy:
Healthy lifestyles:
More time with family:
Better finances:
Healthy work/ life balance:
Despite all these, like any situation, there are also many disadvantages of remote work. Some of them are are mentioned below.
CONS OF REMOTE WORKING
Difficulty in monitoring:
Lack of willpower and distractions:
Lack of communication and interactions:
Loss of Productivity:
Unhealthy Lifestyles:
Different time zones and lack of community:
Security problems:
Staff developmental problems:
Increase in Waiting time:
Social Stigma.
Lack of Accountability.
Due to all these issues arising, it is essential to develop new and more proactive methods to manage and motivate remote employees properly. One cannot deny the vast pool of resources a company can save by promoting remote employment.
CONCLUSION
Remote employees should be given equal importance as any other office staff. Recognition boosts employee morale like nothing else. It is a common practice that managers call the remote worker only when there is a problem. This negative feedback along with the insecurity of not sharing the same office space makes them feel left out and unappreciated. It is essential to recognize individual contribution and provide rewards accordingly.
Remote employees should also be given proper growth opportunities. Streamlining individual roles and providing work relevant to the skill of each employee will help to get better performances and keep the employees interested. Conducting more online training programs provides them more ways for self-development and promotion.
Use of more video calling applications like Skype and Messenger, phone calls, social media groups and other methods to inquire about the remote employees will help them feel like a part of a cohesive team and boost their productivity. This will earn the mutual trust among the employer and the employee who is absent due to the lack of presence. Thereby we conclude that being open-minded and helping each other will help the business flourish by creating a symbiotic relationship and mutually benefiting from each other.
Author bio - Md Mohsin Ansari is the Digital Marketing Analyst at Troop Messenger – a free slack alternative that comes with all the requisite features. It is a viable team communication tool that is spreading its wings across all industries by bringing all the internal communication at one place. Connect with me on Linkedin.
Subscribe to SmartTask Blog
Get the latest posts in email.