SmartTask
Contents
How to Keep Yourself Motivated While You're Working Remotely
By Mohsin AnsariApr 7, 2019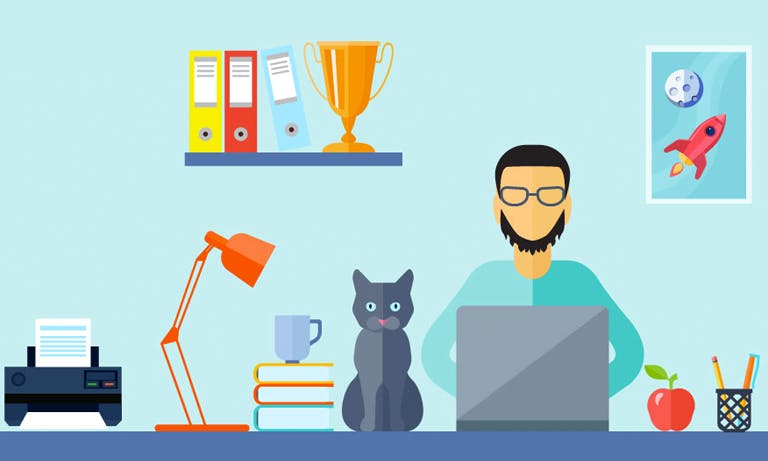 With the rise of economic growth, employers are seeking more better working employees and getting more open to new ideas of working styles. Working from home is one such new idea that has caught the trend and is getting accepted by more employers.
While some people love it, there are others who hate the idea.
TYPES OF REMOTE WORKS
Remote Employees– They are hired by a company that doesn't require them to attend office on a regular basis. They have a particular work schedule on a daily basis and scheduled meeting time.
Freelancer- They gets paid to provide certain services to the client. They can decide the kind of projects they want to work on, amount of work, can schedule their meetings and deadlines, and from where they want to work. They have a lot of freedom of work but can't enjoy job and income security.
Own Business– For the more independent spirits who like to be their boss. Though they enjoy maximum flexibility, they have to shoulder more responsibility to catch clients and projects for a regular flow of income. They may have to invest much more for startups and gradually need partners, more remote employees and freelancers for business growth.
MOTIVATIONAL PRACTICES FOR REMOTE EMPLOYEES TO ENSURE ENHANCED PRODUCTIVITY
One can follow certain disciplines to maintain a proper flow of work while at home Some of them are as follows.
1. Having a dedicated Workplace or Home Office
Making a proper space dedicated to work helps to maintain proper discipline. The home office should be devoid of distractions; the door should have a locking device and all the necessary instruments for work like computer, printers, video conference devices, etc. should be placed properly and at convinient locations. Roommates or family members should be intimidated to not disturb during an ongoing video conference or while meeting project deadlines and should not enter the office room, without permission. One can even decorate the office motivational posters, achievement records, or mementos which will boost more work morale
2. Waking Up early
Even working from home having a fixed work schedule helps proper splitting of work and home responsibilities. Waking early helps to plan ahead, be more proactive, and have a head start of the day
3. Dress well
Though a common misunderstanding, getting actually dressed for works make one feel more powerful and feel like a real worker. It will boost confidence, even when working alone.
4. Getting Organized
A properly organized workspace is the key to better work ethics. Messy work stations hinder the smooth flow of work and affect one's ability to think properly.
5. Reduce Distractions
Avoid all distracting software and if necessary, put the phone on flight mode. Set a proper chat time limit or be simply invisible. Self-discipline is the best way to increase motivation.
6. Take breaks and regular vacations
Working at a stretch will bore one out and slow down the work. Taking frequent breaks while working like mediating, snack breaks help one to reevaluate oneself. Taking weekend vacations is essential for relaxation and refreshment. It will, in turn, free the mind of work burden and help in getting a fresh start at work.
7. Use proper security protocols
To minimize the leakage of potentially sensitive data, always use a password and VPN and a proper antivirus. Always keep the phone and laptop locked even when in idle mode, and if possible get virtual insurance.
8. Increase Productivity by using various tools
The use of productivity tools like
Troop Messenger (Team communication app);
Dropbox (Cloud app for sharing files);
Time Doctor ( Time Tracking software),
SmartTask (Task management software);
Azendoo (An application for Work management),
Join Me (cloud mode video conferencing software)
and other project management applications will help in monitoring productivity among remote workers irrespective of their locations.
9. Have a proper domain division to enhance accountability
Installing a real-time tracking tool can be very helpful. Having a transparent culture, knowing each other's tasks and responsibilities help to encourage accountability. Employees should be given clarified work instructions with full authority in their individual domain to ensure equal distribution of work.
10. Proper measures to overcome cultural barriers.
Hosting various social events like annual meetups, online meetings will help interactions between employees with different cultural backgrounds. If possible, hosting annual programs where the employees meet up in person, will ensure better intermingling and friendlier relations among co-workers.
11. Use a proper hiring process to have higher retentions
Look for people who have actual experience in remote working keeping all the detailed records of the hiring process for later use. Use of proper content checking software helps prevent plagiarism. Non-monetary benefits like monthly grocery coupons, annual vacations trips will help in more employee retention.
12. Facilitate more communication
Investing in communications ecosystems available online like chat, video, PM and other telecommunications software helps in setting smooth communication among the team. Conduct regular virtual meetings among remote workers and office workers to provide a better flow of information.
Remote working has plenty of advantages. Some of them are as follows.
PROS OF REMOTE WORKING
No daily commutes: You no longer have to travel in crowded buses or worry about missing the train on time, running to get the last minute train or worry about explaining the boss about late entries. These help in mitigating the stress and provide a better start to work.
Saving time: No longer daily morning bathroom rush or cooking early breakfasts or traveling.
Saving money: Now, you don't have to spend a considerable amount of money on travelling or petrol or at the office lunch. Now, you are free to cook your lunch at home and eat at whatever time you please. This, in turn, promotes health as you no longer have to skip lunch for those meetings or meeting the deadline.
Comfort: You don't have to be overly conscious about office wear. You can work in your pajamas or comfortable home clothes.
Flexible Working Schedule: This is particularly beneficial for stay at home mothers and caregivers and employees with any disability as they cannot afford to leave their home for regular office jobs. They can both manage home responsibilities and work at a suitable time.
Private working environment: Now, you can work at the comfort of your home and don't have to worry about nosy co-workers, distracting chatters, blaring ACs and uncomfortable environments. This promotes better concentration and more creativity.
Reduced Stress: Remote workers enjoy a reduced level of stress as they don't have to face annoying coworkers, overpowering bosses, office bullying, or fights.
Autonomy: You no longer are stuck in the office hierarchy. Even when you are employed, you have more decision- making powers with more responsibilities. This boosts a lot of confidence.
Healthy lifestyles: Remote workers enjoy a better lifestyle as they can cook their fresh meals, sleep at their will, and work at will. They also fell less sick as they don't get contaminated by the germs that are likely to be found in closed office spaces or travelling in crowded transport.
More time with family: This is a very crucial aspect for remote workers as they get to spend more time with family and friends and attend more to the children. This makes them happier and hence, boosts their productivity.
Better finances: Employers have the flexibility to provide projects whenever necessary and reduce finances by savings on office spaces and facilities.
Healthy work/ life balance: All these facilities and a healthy lifestyle boost employee morale as well help them to be more close to your private life, thereby improving the work-life balance.
Despite all these, like any situation, there are also many disadvantages of remote works. Some of them are given as follows.
CONS OF REMOTE WORKING
Difficulty in monitoring: The employers may face difficulty in managing remote employees and monitoring their overall performance.
Lack of willpower and distractions: Remote workers can get easily distracted by potential causes like Netflix, Facebook or Twitter. Day to day activities may also interfere with the work at home.
Hard to separate private and professional life: As remote workers don't have any particular time limits, they tend to lose the balance of work and private life as they tend to work all the time. It will result in early burnout and unhealthy mental health.
Lack of communication and interactions: Though there are emails and video calls, they can never replace the face-to-face interactions that provide much better flow of ideas and communications. Working alone all the time can bore the employees. Moreover, the camaraderie feeling among coworkers is missing which may lead to differences.
Loss of Productivity: Sometimes, the lack of pressure from the boss can demotivate a remote worker. Missed calls and missed video conferences may act as an issue hindering teamwork and collaborations. This, along with the lack of office disciples and homely distractions, can reduce the productivity of the remote workers.
Unhealthy Lifestyles: In most offices, there are ergonomic chairs and even standing desks. But at home, one tends to work on the couch all day. This may cause severe back pain. Lack of willpower to cook may result in more ingestion of unhealthy fast foods that deteriorates health.
Different time zones and lack of community: Different places have different work ethics. Cultural differences may result in a lack of communal feelings in companies that operate the cross country. Also, different time zones may force employees to work at unwanted hours leading to communication problems.
Security problems: It is difficult to manage the security of information when working with remote workers from different backgrounds.
Staff developmental problems: Due to cross country operation, it may be difficult for the employer to conduct practical training programs or upgrade staff skills.
Cost to the company may arise: Initial setup cost like proper training and providing necessary instruments as well as meeting the health and safety standards for disabling employees may add up to the cost of the company.
Increase in Waiting time: Employers have to do more follow-ups and wait longer for responses from remote employees as they can't do quick checkups like those who are actually present at the office.
Social Stigma. People tend to take remote employment less seriously than regular office-going jobs. It may cause frustration among workers and lead to negative morale.
Lack of Accountability. It is difficult to hold a person accountable when he/she is not actually present. Accountability is a major issue with remote workers and needs more micromanagement to ensure timely delivery.
Due to all these issues arising, it is essential to develop new and more proactive methods to manage and motivate remote employees properly. One cannot deny the vast pool of resources a company can benefit from promoting remote employment and thereby help save valuable time and money.
CONCLUSION
Remote employees should be given equal importance as any other office staff. Understanding their best and worst moments will help evaluate the employees. Praising and recognition help to boost employee morale like nothing else. It is a common practice that managers call the remote worker only when there is a problem. This negative feedback along with the insecurity of not sharing the same office space make them feel left out and unappreciated. It is essential to recognize individual contribution and provide rewards accordingly.
Remote employees should also be given proper growth opportunities. Streamlining individual roles and providing works relevant to the skill of each employee will help to get better performances and keep the employees interested. Conducting more online training programs provide them more ways for self-development and promotion.
Use of more video calling applications like Skype and Messenger, phone calls, social media groups and other methods to inquire about the remote employees will help them to feel more part of a cohesive team and boost their productivity. This will earn the mutual trust among the employer and the employee who is absent due to the lack of presence. Thereby we conclude that being open-minded and helping each other will help the business flourish to potential employers using the vast manpower which remote working opportunities provides, by creating a symbiotic relationship and mutually benefitting from each other.
Author bio - Md Mohsin Ansari is the Digital Marketing Analyst at Troop Messenger – a free slack alternative that comes with all the requisite features. It is a viable team communication tool that is spreading its wings across all industries by bringing all the internal communication at one place. Connect with me on Linkedin.